CEVENNES
Climate and Weather


Popular destinations FRANCE
Climate and Weather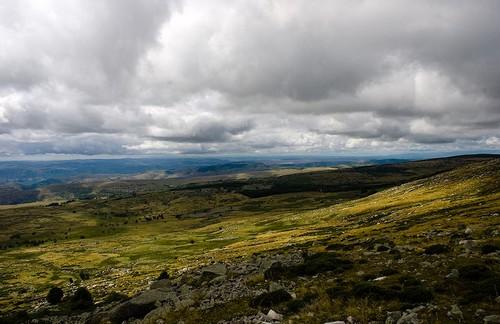 Rain is coming to the CevennesPhoto: Conor Lawless CC 2.0 Generic no changes made
Due to the altitude and the proximity of the Mediterranean Sea, the climate in the different areas of the Cévennes can vary quite a bit. In general, however, one can say that there is a Mediterranean climate.

On the plateaus in the south and east, there are big differences between summer and winter: in summer it is dry and temperatures up to 40°C are the order of the day; in winter it is often very cold and the ground can be covered in snow until March. Most precipitation falls in spring.

In the higher mountainous regions in the north and west, the climate is Atlantic with hot summers, wet autumns and long snowy winters. The foothills of the Cevennes, in the southeast, have a milder Mediterranean climate with warm, dry summers and rainy winters without the cold of the north.

The highest weather station in France is located on the Mont Aigoual, with a height of 1567 metres the second mountain of the Cevennes. The weather shows its special side here, with 264 days a year wind speeds of more than 60 km per hour, 120 days a year covered with snow and up to 519 mm precipitation per day (more than 2200 mm per year), more than 5 months a year. It is not for nothing that Mont Aigoual is called 'Aiqualis', the 'mountain of water' or 'rain mountain'. This is because clouds from the Atlantic Ocean collide with the vapours from the Mediterranean Sea. The Mont Aigoual feeds several sources of rivers like the Hérault, the Trèvezel, the Bonheur, the Dourbie and the Coudoulous.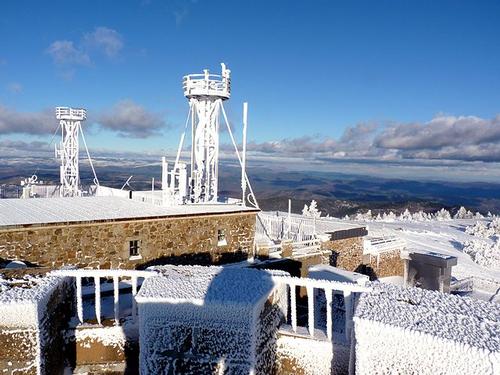 Snow-covered Observatoire Météologique du Mont AigoualPhoto: Office de Tourisme Mont Aigoual CC 2.0 Generic no changes made
Sources
BBC - Country Profiles

CIA - World Factbook

Forst, Bettina / Cevennen-Ardèche : met Grands Causses, Aigoual-Massiv en Mont Lozère : 50 wandelingen tussen Centraal Massief en Rhônedal

Graaf, Gjelt de / Languedoc, Rousillion : Cevennen, Tarn
ANWB

Pijnenburg, Hans / Languedoc, Cevennen en Tarn
Gottmer/Becht

Wikipedia
Last updated February 2023
Copyright: Team
The World of Info