BRITISH COLUMBIA
Vacations and Sightseeing

Basic information
Official language
English
Capital
Victoria
Area
944,735 km²
Population
5,147,712 (2020)
Currency
Canadian dollar (CAD)
Web
.ca
Code.
CA-BC
Tel.
+1

Popular destinations CANADA
Vacations and Sightseeing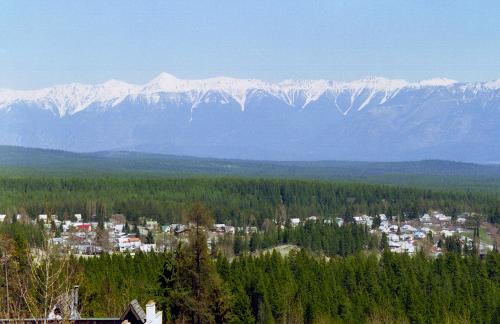 British Columbia NaturePhoto:Ken Eckert CC 4.0 Internation no changes made
British Columbia is an ideal vacation destination for nature and outdoor enthusiasts, in general for those looking for an active vacation. British Columbia treats its millions of visitors each year to impressive and highly varied natural beauty, including the Rocky Mountains with its lakes, forests and rainforests, mountains, glaciers, ice lakes, ski areas, canyons and prairies. But British Columbia is also the province of Canada with sandy beaches, impressive fjords and tens of thousands of islands, including Vancouver Island, the largest island on the North American west coast. In the south of the province is Canada's warmest area with even a self-proclaimed 'desert', but in fact a dry scrubland steppe. The most touristic city is the beautifully situated modern metropolis of Vancouver. The capital Victoria offers a wide variety of monuments and historic buildings.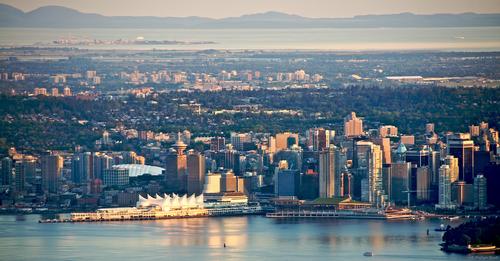 Vancouver British ColumbiaPhoto: Rollan Budi CC 2.0 Generic no changes made
Vancouver has a number of interesting museums, including the Vancouver Art Gallery (national and international art, including many works by British Columbian artist Emily Carr); Maritime Museum (history of Vancouver as a port and trading city); Vancouver Museum (history of Vancouver), University of British Columbia Museum of Anthropology (art by indigenous peoples, including a collection of totem poles); Science World (science museum).
Gastown, where Vancouver originated, is one of Vancouver's oldest neighborhoods with 19th-century brick buildings, as well as modern buildings such as the architectural masterpiece Canada Palace and Harbor Center Tower with a 167-meter tower. Also notable are Water Street with the world's first steam clock (c. 1870), the statue of 'gassy' Jack Deighton, the founder of the neighborhood, the Inuit Gallery with Inuit jewelry and paintings, and the striking Triangular Building.
Well worth a visit are Robson Street, one of the most expensive shopping streets in the world; the popular English Bay beach; Capilano Suspension Bridge & Lynn Valley Canyon (suspension bridges); Chinatown (declared historical heritage); BC Place Stadium (guided tours of Canada's first indoor stadium); Granville Island (separate, unique shops, no chains); Old Hastings Mill Store (1865 wooden building, Vancouver's first post office and department store).
The nature lover will also get their money's worth in Vancouver with the Dr. Sun Yat-sen Classical Chinese Garden; the Van Dusen Botanical Garden, opened in 1975; the beautiful city park Stanley Park, which includes the Vancouver Aquarium Marine Science Center (in addition to many fish species also belugas, dolphins, sea lions, sea otters, sea turtles, frogs, caimans, sloths and snakes) and the Ted & Mary Greig Rhododendron Garden with about 45,000 rhododendrons ; Lynn Canyon Park and Ecology Center, a popular hiking area; Grouse Mountain (1211 m), with stunning views at the top, on foot or via cable car, and ski facilities in winter; Lighthouse Park, home to the 1910 Atkinson Lighthouse, Canada's oldest manned lighthouse; Queen Elizabeth Park with the Bloedel Conservatory (approx. 500 tropical and subtropical plants, over 100 bird species); Cypress Provincial Park, a ski and cross-country ski area in winter, hiking and mountain biking in summer.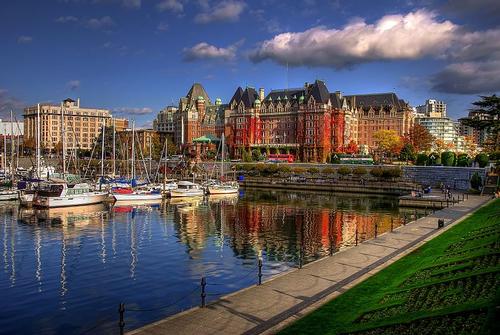 Victoria British ColumbiaPhoto: Brandon Godfrey CC 2.0 Generic no changes made
The capital Victoria, with an almost Mediterranean climate and an old British colonial atmosphere, is located at the southernmost tip of Vancouver Island and is home to two remarkable late-19th-century buildings: the Parliament Buildings of British Columbia Legislative Buildings (1898) and the Fairmont Empress Hotel (1905), both designed by renowned architect Francis Rattenbury (1867-1935). Other fine 19th-century buildings line Bastion Square and Market Square.
Nature lovers can visit Thunderbird Park (with a number of totem poles) and Beacon Hill Park (with the rare oak species Quercus garryana). Other places of interest are Helmcken House (British Columbia's oldest house from 1852), British Columbia Experience (multimedia exhibition in historic building about British Columbia with, among other things, 372 m2 large model), Carr House (birth house artist Emily Carr), Art Gallery of Greater Victoria (changing exhibitions and permanent Emily Carr exhibition), Craigdarroch Castle (gorgeous Art Nouveau stained glass windows), Government House (residence of the Lieutenant Governor of British Columbia; building not open to tourists, but the beautiful garden does have), Royal British Columbia Museum (history, geology, population, natural history, indigenous art and culture), China Town (with Fan Tan Alley, Canada's narrowest street), Royal London Wax Museum in the 1924 former Canadian Pacific Steamship Terminal, Pacific Undersea Gardens (floating aquarium), Crystal Garden (now meeting center, last Francis Rattenbury designed g . in 1925 building). Victoria and the surrounding area are also ideal for all kinds of outdoor activities such as hiking, cycling, golf, canoeing, diving, sailing and kayaking. Victoria also stands out because many lampposts are decorated with flower boxes, giving the city an extremely cheerful and friendly character.
In addition to the capital Victoria, Vancouver Island is above all a true paradise for nature lovers, hikers, cyclists, water sports enthusiasts, divers and water sports enthusiasts. The Pacific Rim National Park Reserve has three areas: Long Beach has beaches and many hiking opportunities, including the Schooner trail; The West Coast Trail (75 km) is a particularly difficult trail that leads through rainforests and deep rock gorges; the Broken Group Islands is a popular place for diving enthusiasts and canoeists. Popular with whalewatchers and stormwatchers alike, the west coast of Vancouver Island is known for its large number of whales to see, and whale watching trips from the towns of Tofino and Ucluelet are a holiday highlight for many tourists.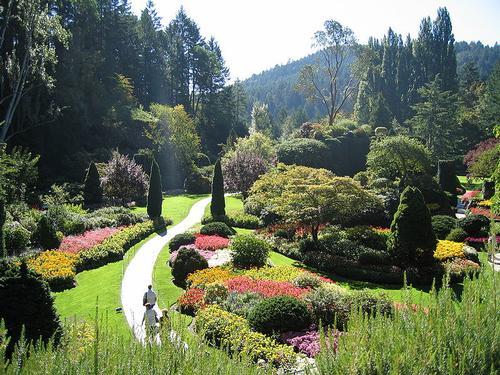 Butchart gardens British ColumbiaPhoto: Marcus CC 1.0 Generic no changes made
The beautiful 22-acre Butchart Gardens, one of Vancouver Island's most popular attractions, includes an Italianate garden and a rose garden with more than a hundred species. Several hundred orcas can be seen in the waters of Johnstone Strait, with Alert Bayt known as "Home of the Killer Whale." Each Falls Provincial Park has several waterfalls. The tidal changes in Juan de Fuca Provincial Park are spectacular and the Juan de Fuca Marine Trail is really only suitable for experienced hikers. Goldstream Provincial Park has various walking routes through extensive rainforests and along impressive waterfalls: including Arbutus Loop, Gold Mine Trail, Lower Goldstream Trail and Upper Goldstream Trail.

The Nanaimo District Museum shows a replica of the 19th-century Chinatown of the capital Victoria, and the Old City Quarter contains many 19th-century buildings.
Speleologists and tourists alike will find plenty to do in Gold River with more than 50 caves; Strathcona Provincial Park, with high mountains such as the Golden Hind (2200 m), Elkhorn Mountain (2195 m) and the highest waterfall in Canada (440 m), is the oldest provincial park in British Columbia, where in addition to mountain lions, bears and wolves, the very rare Vancouver Island marmot, one of the rarest animals in the world; the WWII minesweeper Uchuck III allows a visit to Friendly Cove, where Captain James Cook was the first European to have contact with the natives in 1778.
Duncan has 80 totem poles, and the Cowichan Community Center has the world's largest ice hockey stick, officially recognized by the Guinness World Records. Duncan is also home to the British Columbia Forest Discovery Center (forestry and forest management). Coombs has the World Parrot Refuge with over 700 parrots. Maquinna Provincial Park has one of the most extraordinary hot springs in the world, Hot Springs Cove, where hot water plunges floor-to-ceiling.
Chemainus is special, with murals on many homes about the history and population of the town. Beautiful beaches can be found in Comox. Campbell River is called the salmon capital of the world, where king salmon (Chinook salmon) of more than 20 kg are indeed removed from the river. Here one can also snorkel among hundreds of thousands of salmon during their migration to spawning grounds.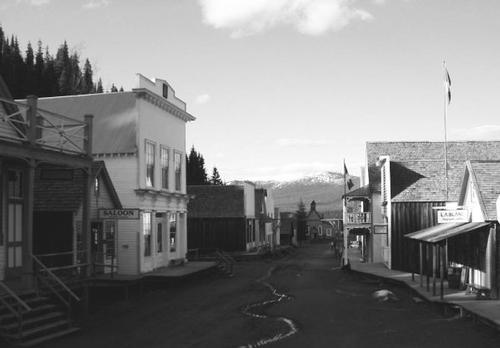 Barkerville British ColumbiaPhoto: Kickstart 70 in the public domain
Various sights:
-Barkerville: Barkerville Historic Town (open air museum)
-Bella Coola: Thorsen Creek Petroglyphs (Native American petroglyphs)
-Boswell: Glass House made from square bottles used for embalming fluid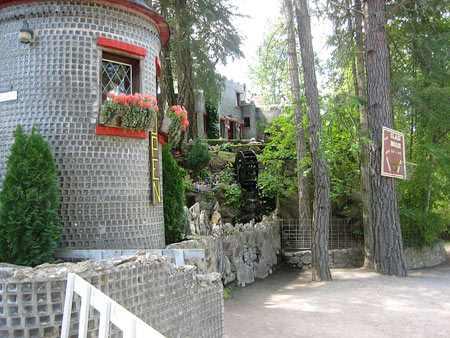 Glass House, British ColumbiaPhoto: TilJ CC 3.0 Unportedno changes made
-Bowron Lake Provincial Park: Bowron Lake Circuit (canoe trips)
-Britannia Beach: British Columbia Museum of Mining
-Cache Creek: Hat Creek Ranch (19th Century Ranch)
-Capilano: Capilano Suspension Bridge (137 m long suspension bridge)
-Castlegar: Dukhobor Discovery Center (Russian Community in Canada); Christina Lake (Canada's warmest lake, summer average 23°C)
-Cody Caves Provincial Park: Cave Tours
-Courtenay: Courtenay District Museum and Paleontology Center (including fossils and dinosaurs)
-Cranbrook: Canadian Museum of Rail Travel
-Dawson Creek: Alaska Highway starting point
-E.C. Manning Provincial Park: many different ecosystems and walking routes in a small area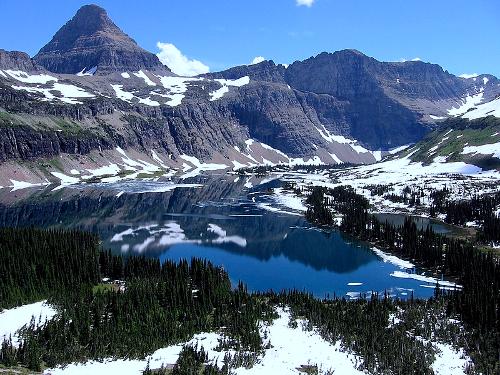 Glacier National Park British ColumbiaPhoto: Mark Wagner CC 2.5 Generic no changes made
-Glacier National Park: long trails (Great Glacier Trail, Balu Pass Trail); short trails (Hemlock Grove Trail, Abonded Rails Trail, Meeting of the Waters Trail, Bear Falls Trail, Loop Brook Trail)
-Golden: Northern Lights Wildlife Wolf Center
-Greenwood: preserved mining town and mining museum
-Hope: Othello-Quintette Tunnels (formerly part of the Kettle Valley Railroad, now part of the Trans-Canada Trail)
-Kasko: S.S. Moyle (North America's oldest paddle steamer)
-Kelowna: British Columbia Wine Museum; British Museum Orchard Industry Museum (fruit picking, packaging and preservation); Myra-Bellevue Provincial Park (very spectacular walk over 18 railway bridges built on wooden trestles); Kalamalka Lake (rare marl lake)
-Kicking Horseriver: spectacular rafting area
-Kokanee Glacier Provincial Park: one of the oldest parks in Canada with several glaciers: Kokanee Glacier, Caribou Glacier, Woodbury Glacier
-Kootenay Region: mountain and water sports; Sinclair Canyon
-Lytton: 'Rive Rafting Capital of Canada'
-Merritt: 'Country Music Capital' (July Merritt Mountain Music Festival); Canadian Country Music Hall of Honor & Museum; Walk of Stars (handprints of famous country singers)
-Mount Robson Provincial Park: Mount Robson is the highest mountain of the Canadian Rocky Mountains, 4000 m
-Mount Washington: ski resort
-Nelson: hundreds of beautiful Victorian properties
-Old-, South- and New Hazelton: 'Totem Pole Capital of the World'
-Osoyoos: Osoyoos Desert Center (Desert Museum): Canada's Desert Region, Pocket Desert
-Penticton: Okanagan Inland Marine Heritage Park (paddle steamers and other historic ships); Okanagan Dominion Radio Astrophysical Observatory (telescopes)
-Port Edward: North Pacific Historic Fishing Village: (open air museum with original fish cannery and working class neighborhood from 1889)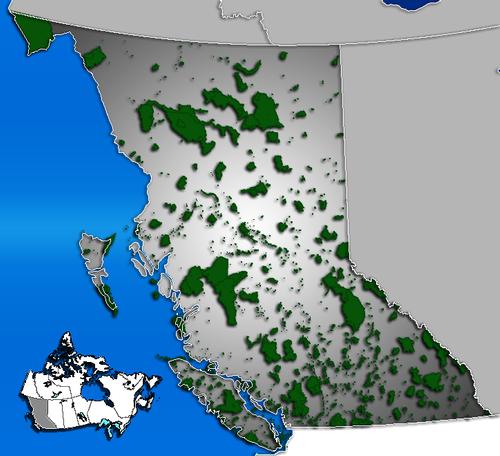 Overview provincial parks and protected nature areasPhoto: Public domain
-Prince Rupert: Museum of Northern British Columbia (Native American utensils and artifacts); Khutzeymateen Grizzly Bear Sanctuary and Whale Watching (Excursions)
-Qualicum Beach: Old Schoolhouse Arts Center (art); Qualicum Beach Museum (fossils)
-Queen Charlotte Islands of Haida Gwaii: unique plants and animals; Gwaii Haanas National Park with Remains of Haida Villages and Ancient Rainforest
-Revelstoke Mountain Resort: North America's longest descent ski area; Railway Museum (historic locomotives and wagons)
-Sicamous: 'Houseboat Capital of Canada' (hundreds of houseboats for rent)
-Squamish: rock climbing, mountain biking; West Coast Railway Heritage Park (Western Canada's largest railway exhibit); Stawamus Chief (652 m high rock wall with 200 climbing routes second largest granite monolith in the world)
-Squilax: Roderick Haig-Brown Provincial Park ('salmon runs', return of salmon to their spawning grounds)
-Sunshine Coast: beautiful beaches
-Wells Gray Provincial Park: nature reserve with about 250 waterfalls, including Spahats Falls, Moul Falls, Dawson Falls and especially Helmcken Falls)
-Whistler Mountain / Blackcomb Peak: top ski destination; Peak-2Peak Gondola (gondola connecting Whistler Mountain and Blackcomb Peak, length 4.5 km); Shannon Falls (335 m high waterfall)
-Williams Lake: Williams Lake Stampede (one of the largest rodeos in North America)
-Yale: St. John the Divine (British Columbia's Oldest Church)
-Yoho National Park: UNESCO World Heritage Site (location of 500 million year old fossils); hoodoos (pyramidal rock pillars); Takakkaw Falls (Canada's second highest waterfall)
---
Sources
BBC - Country Profiles
British Columbia and the Rockies
Michelin Apa Publications
Canada
Cambium
Canada
Lonely Planet
CIA - World Factbook
Elmar Landeninformatie
Jepson, Tim / Vancouver en de Canadese Rockies
Wat & Hoe
Leigh Fleming, Janet / British Columbia : a walking guide
Cicerone
Ohlhoff, Kurt Jochen / Canada west & Alaska
ANWB
Phenix, Penny / Canada
Wat & Hoe
The rough guide to Canada
Rough Guides
Struijk, Aad / West-Canada
Elmar
Veldt, Marc / Canada
Gottmer/Becht
Ver Berkmoes, Ryan / British Columbia & the Yukon
Lonely Planet
Wagner, Heike / West-Canada : Alberta, British Columbia
Lannoo
Wikipedia
Last updated August 2023
Copyright: Team
The World of Info