BRITISH COLUMBIA
Economy


Popular destinations CANADA
Economy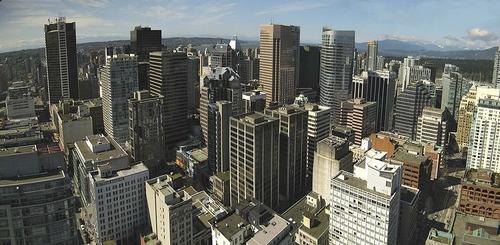 British Columbia Downtown VancouverPhoto: Bobanny CC 3.0 Unported no changes made
British Columbia's economy is booming again after the 2008 economic and financial crisis. In early 2016, Canada's westernmost province created more than 10,000 jobs monthly and the unemployment rate dropped to 5.8%, since 1976 British Columbia again had the fewest unemployed people in Canada. While the rest of the country was still suffering from falling real estate prices and a faltering industry, British Columbia benefited from a strong recovery in the real estate market, boosting consumer confidence and associated spending. These favorable economic conditions also coincided with a revival of the timber industry. British Columbia's gross domestic product, like that of the province of Ontario, is expected to grow at a rate of 2.5% per year through 2017. The last time British Columbia experienced such growth was in 2005, and the largest growth in two consecutive years was in 1961 and 1962.
In terms of employment, British Columbia outperforms the rest of Canada in almost every sector, especially wholesale, retail and housing. Retail employment has grown by 5-10% a year in recent years, compared to just 1.5% in the rest of Canada. The differences with the rest of the country are also great in the wholesale sector. But the industry is also increasingly establishing itself in British Columbia. House prices in Vancouver shot up in one year by tens of percentages up to 25%.

British Columbia's agri-food sector (primary manufacturing, manufacturing, supply chain, distribution, retail and hospitality) is one of the most diverse in Canada. Processed is milk, meat, chicken, fish, fruit (especially in the Okanagan Valley), vegetables, berries, grapes, mushrooms, flower bulbs, ornamental plants and shrubs. The production of food and drink, British Columbia's second largest processing industry, yielded approximately 7.5 billion euros in 2013. Port Alberni, a major center of the timber industry, like Port McNeill, has declared itself the 'salmon capital' of the world, as has Campbell River, by the way. Grass Root Diaries in Salmon Arm, formerly Gort's Gouda Cheese Farm, makes Gouda and Maasdammer cheese in the traditional way.
British Columbia's forestry sector remains very important to the province's economy. While the demand for wood, pulp and paper from the United States continues to persist, the demand for wood pulp and wood from Asia appears to be increasing annually. For example, forestry remains vital for many communities in British Columbia, not only in rural areas, but also in urban regions and First Nations communities. Of the more than 100 trillion tons of cellulose produced worldwide, about 10% comes from Canada and half of that comes from the forests of British Columbia. British Columbia's entire forestry sector provides more than 60,000 jobs and exports alone generate more than $10 billion annually. Centers of the timber industry include places like Squamish, Port Alberni, Golden, Revelstoke and Powell River and Vancouver Island.
In earlier years, the forests on the west coast of British Columbia in particular were severely plundered. At the moment, more trees are being felled than are being planted. Environmentalists have now enforced stricter rules for logging.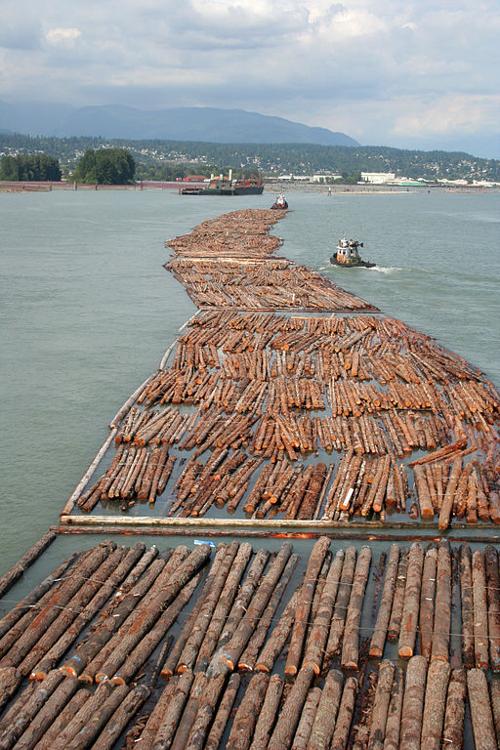 Wood Transportation Near Vancouver, British ColumbiaPhoto: Tony Hisgett CC 2.0 Unported no changes made
Known as Hollywood North, the Vancouver region is the third largest feature film production location in North America, after Los Angeles and New York, with dozens of filmed, often American, feature films and TV series each year.
Marijuana cultivation also plays an important role in British Columbia's economy, some say it plays a greater role than forestry.
While British Columbia may not be the first winegrowing region to come to mind for Europeans, this Canadian province has been producing the finest wines in a wide variety for decades. The many climates and soil conditions allow growers to choose the best places for each grape variety.
More than sixty grape varieties are used in British Columbia; from Auxerrois to Zweigelt! While traditional strains like Merlot, Pinot Noir, Cabernet Sauvignon, Pinot Gris, Chardonnay, and Riesling still dominate, British Columbia also produces several unknown, but no less spectacular, strains.
British Columbia had 929 vineyards and 287 licensed wineries in 2016. These companies used about as much red as white grapes (52% to 48%). The most commonly used red grape varieties are Merlot, Syrah/Shiraz, Pinot Noir, Cabernet Sauvignon and Cabernet Franc; the most commonly used white grape varieties are Pinot Gris, Chardonnay, Gewuerztraminer, Riesling and Sauvignon Blanc.
Most wineries are in the Okanagan Valley (173), then Vancouver Island (39), Fraser Valley (37), Similkameen Valley (18), Gulf Islands (14), and in emerging regions such as Kootenays, Lillooet, Shuswap, Thompson Valley and Northern British Columbia (6). The 250 km long Okanagan Valley, with a vineyard area of almost 3500 hectares, is the largest and most important wine region of British Columbia. One of the best-known wineries is Sumac Ridge Estate Winery, as well as Summerhill Pyramid Winery, Cedar Creek Estate Winery and Mission Hill Family Estate. Famous is the Okanaga ice wine, a sweet desert wine, whose grapes are only picked when they are frozen by the first frost.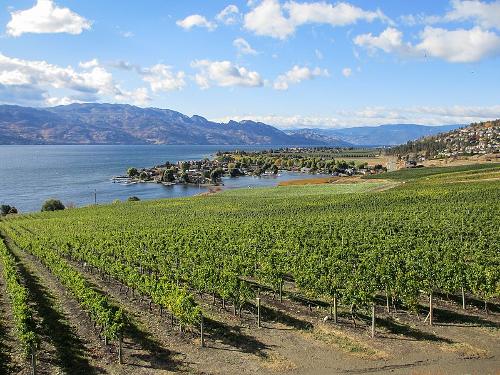 Vineyard in Kelowna (Okanagan Valley), British ColumbiaPhoto: Mack Male CC 2.0 Generic no changes made
Tourism, with approximately 15 million overnight stays, of which approximately 5 million are non-Canadians, is an important part of British Columbia's life and economy. With more than 20 million passengers in 2015, Vancouver International Airport is the busiest airport in western North America after Los Angeles International Airport (almost 75 passengers in 2015. More than 100,000 people are employed in tourism and the The economic value of tourism is more than $10 billion a year, of which more than $1 billion is generated by tourism to Vancouver alone, which attracts some nine million tourists a year, spending approximately $1 billion.
The Port of Vancouver is the largest port in Canada and the most diversified in North America, where approximately 400,000 cars and three million containers are handled annually, two terminals deal with general cargo (including wood products, steel and machinery) and two thirds of all tonnages consist of dry and liquid bulk goods. In addition, countless cruise ships, an average of about 120 a year with about 600,000 tourists on board, dock annually in the port.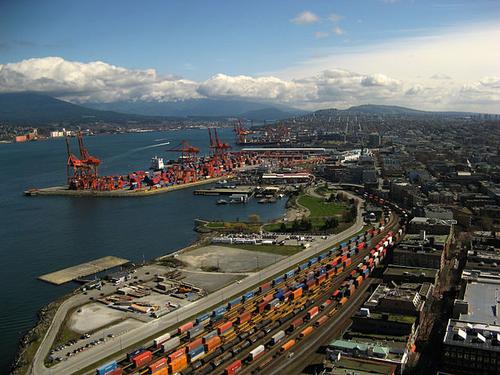 Port of Vancouver, British ColumbiaPhoto: Assumed Bobanny in the public domain
Important for the economy and opening up of British Columbia is the Alaska Highway (abbreviated Alcan), which runs from Dawson Creek in northern British Columbia to the Delta Junction in Alaska, located 2236 km away. Construction of this highway started in March 1942, and the road was ready for use in October of the same year.
---
Sources
BBC - Country Profiles
British Columbia and the Rockies
Michelin Apa Publications
Canada
Cambium
Canada
Lonely Planet
CIA - World Factbook
Elmar Landeninformatie
Jepson, Tim / Vancouver en de Canadese Rockies
Wat & Hoe
Leigh Fleming, Janet / British Columbia : a walking guide
Cicerone
Ohlhoff, Kurt Jochen / Canada west & Alaska
ANWB
Phenix, Penny / Canada
Wat & Hoe
The rough guide to Canada
Rough Guides
Struijk, Aad / West-Canada
Elmar
Veldt, Marc / Canada
Gottmer/Becht
Ver Berkmoes, Ryan / British Columbia & the Yukon
Lonely Planet
Wagner, Heike / West-Canada : Alberta, British Columbia
Lannoo
Wikipedia
Last updated May 2023
Copyright: Team
The World of Info