ALBERTA
Vacations and Sightseeing

Basic information
Official language
English
Capital
Edmonton
Area
661.848 km²
Population
4,442,879 (2021)
Currency
Canadian dollar (CAD)
Web
.ca
Code.
CA-AB
Tel.
+1

Popular destinations CANADA
Vacations and Sightseeing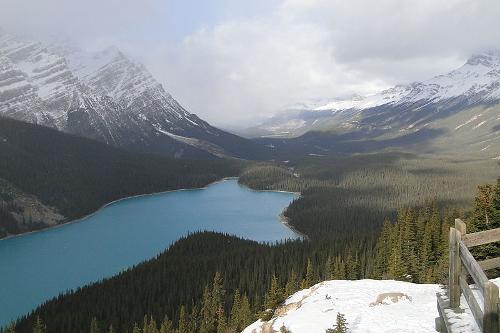 Alberta Rocky MountainsPhoto: Adam Jones CC 3.0 Unported no changes made
Alberta is a Canadian mountain province. The Canadian Rocky Mountains form Alberta's western border and rise from the prairie like a fortress. The peaks, glaciers, rivers and lakes have already posed for millions of postcards, and pictorial mountain villages like Banff, Jasper and Lake Louise are all located in Alberta territory. Banff National Park, Canada's first national park, and Jasper National Park are home to large wild mammals such as grizzly bear, moose, mountain goat and wapiti, but are also popular areas for skiers, cyclists and hikers.

Alberta Lake Louise Ski AreaPhoto: Chensiyuan CC 4.0 International no changes made
Lake Louise Ski Area is one of North America's largest winter sports areas with 17km of pistes and over 130 runs. Other beautiful winter sports areas in Alberta are Banff Mount Norquay, Banff Sunshine Village and Jasper Marmot Basin. In addition to skiing, Alberta has several other ways to enjoy snow and ice, including icewalking past columns of ice and frozen waterfalls in Johnston Canyon near Banff and Maligne Canyon near Jasper, heli snowshoeing, ice skating, horse-drawn sleigh rides, dog sledding, cross-country, ice climbing, snow tubing, torchlight skiing and relaxing in warm pools with mineral water.
But the cities of Alberta are also not to be sneezed at. The provincial capital of Edmonton has one of Western Canada's most special neighborhoods, Old Strathcona, as well as the largest shopping center in the world, the West Edmonton Mall. The southern cowboy and oil city of Calgary is the fastest growing city in North America and hosts the annual Calgary Stampede, a 10-day rodeo festival that has was held for the first time in 1912.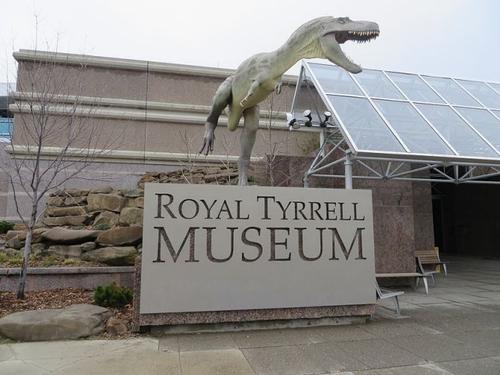 Royal Tyrrell Museum in Drumheller, AlbertaPhoto: Carolyn Miarel CC 3.0 Unported no changes made
The town of Drumheller, located in 'Dinosaur Valley', is called the 'Dinosaur Capital of the World'. Founded in 1985, the Royal Tyrrell Museum showcases the prehistoric world and paleontology with dozens of lifelike dinosaur models. The first dinosaur find was 1884 by James B. Tyrrell.
The 'hoodoos', mushroom-shaped 5-7 meter high rock formations, are also a tourist attraction.
Hoodoos near Drumheller, AlbertaPhoto: Gorgo in the public domain
---
Sources
Canada
Cambium

Canada
Lonely Planet

Hempstead, Andrew / Calgary
Avalon Travel
Hempstead, Andrew / Edmonton & Northern Alberta
Avalon Travel
Pashby, Christie / Frommer's Alberta
Wiley

Struijk, Aad / West-Canada
Elmar
Teuschl, Karl / Canada-West : Rocky Mountains, Vancouver
Uitgeverij Unieboek/Het Spectrum BV
Veldt, Marc / Canada
Gottmer/Becht
Wagner, Heike / West- Canada
Lannoo

Wikipedia

CIA - World Factbook

BBC - Country Profiles
Last updated April 2023
Copyright: Team
The World of Info