GRAN CANARIA
Vacations and Sightseeing

Basic information
Official language
Spanish
Capital
Las Palmas de Gran Canaria
Area
1.560 km²
Population
873,368 (2021)
Currency
euro (EUR)
Web
.es
Code.
ESP
Tel.
+34
Cities in GRAN CANARIA
Popular destinations SPAIN
Vacations and Sightseeing
From the 1960s onwards, the emerging mass tourism caused an important economic impulse. Many hotels, bungalows and apartment complexes were built, especially on the south coast of Gran Canaria. Since that time many Canarians have been working in construction and in the catering industry.

Lots of hotels, Gran CanariaPhoto: Bengt Nyman CC 4.0 International no changes made
Much of the current investment in the tourism sector comes from non-Canarian companies, diverting a lot of income to mainland Spain. Every year about 9 million tourists arrive on the different islands and the total service sector makes up about 80% of the gross national product. Gran Canaria attracts about 3 million tourists a year.
Many young people are moving from the countryside to the capital, Las Palmas, and to the tourist centers in the south such as Playa del Ingles and Maspalomas, and as a result the small village communities are severely demographically disrupted.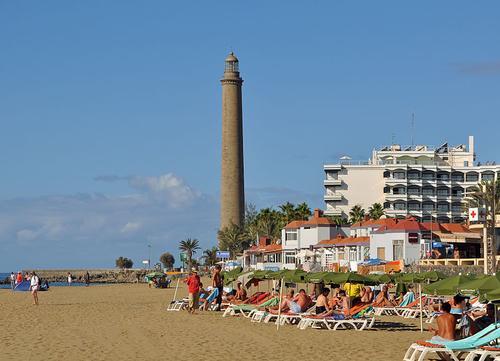 Maspalomas LighthousePhoto: Marc Ryckaert CC 3.0 Unported no changes made
The seaside resort of Maspalomas can be found at the extreme southern tip of the Spanish island of Gran Canaria. You don't have to go to Maspalomas for cultural attractions, but there are some other fun trips to take. This way you can imagine yourself in the Sahara for a day. East of Maspalomas you will find about 400 hectares of spectacular sand dunes. These dunes, declared a national park, can only be visited on foot or on the back of a camel. So you can take a trip as if you were staying several hundred kilometers east, on the African continent. Maspalomas is also an excellent destination for families with children. Not only because it is relatively quiet, but also because it has the largest aqua park in the Canary Islands. Aqualand Maspalomas has a multitude of attractions for both young and old. Locals come from all over the island to Maspalomas to take a dip in this high-quality water park. Read more on the Maspalomas page of TheWorldOfInfo.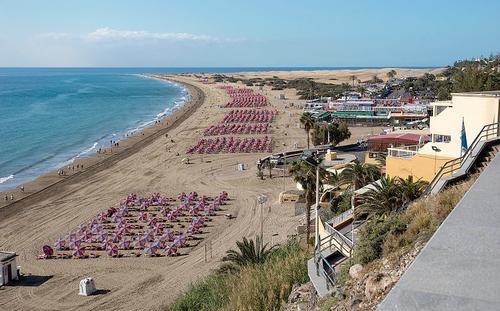 Playa del Ingles BeachPhoto: Wouter Hagens in the public domain
Playa del Ingles is the tourist center of Gran Canaria. The center of Playa del Ingles is seventh heaven for shopping enthusiasts. A short distance from each other you will find shopping centers Tropical, Kasbah, Metro and Yumbo. Shopping centers can be recognized by the sign CC (Centro Comercial). The city center is also equipped with numerous restaurants, bars and nightlife. The restaurant El Gaucho in Kasbah and Sakura in Cita are highly recommended. The lovely beach is of course one of the main attractions of Playa del Ingles. The long sandy beach has a separate section for naturists. There is also a section designed for homosexuals. The beach has cozy bars along its entire length and nice restaurants.Read more on the Playa del Ingles page of TheWorldOfInfo.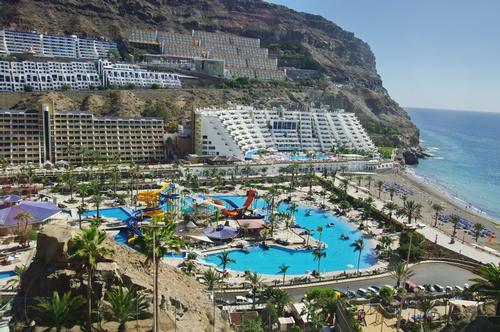 PLaya de Taurito, Gran CanariaPhoto: Bgabel at q373 shared CC 3.0 Unported no changes made\
Playa de Taurito is located on the southwest coast of the island. The seaside resort is best known for its beautiful beaches, which are sheltered from the wind by headlands and are the ultimate place for a day of relaxation. Or exercise, because all kinds of water sports can be practiced on the beach, including scuba diving. Ready for a change of view? The nearby lake offers a good alternative. In the immediate vicinity of Playa de Taurito you will also find the larger resorts of Maspalomas and Playa del Inglès. A night out in these coastal towns is well worth it and you can enjoy great shopping and dining here.
---
Sources
Anderson, B. / Gran Canaria
Deltas
Evers, K. / Gran Canaria, Fuerteventura, Lanzarote
Gottmer/Becht
Gruschwitz, B.F. / Canarische Eilanden
Het Spectrum
MacPhedran, G. / Gran Canaria
Kosmos-Z&K
Rokebrand, R. / Reishandboek Gran Canaria
Elmar
Weniger, S. / Gran Canaria
Van Reemst

CIA - World Factbook

BBC - Country Profiles
Last updated May 2023
Copyright: Team
The World of Info