GRAN CANARIA
Population

Cities in GRAN CANARIA
Popular destinations SPAIN
Population
Natives
The original inhabitants of the Canary Islands are the Guanches. The Guanches are believed to have been around 3000 BC. settled in the Canary Islands from North Africa, especially Tenerife. The external characteristics of the Guanches are also found in North African Berber tribes. The first islanders were herders and fishermen who also used primitive farming methods. The Guanches of Gran Canaria consisted of two tribal areas: Galdár and Telde. The members of a tribe were divided into three classes: royal family and king (guanarteme), nobles and priests, and the last group the shepherds, peasants and soldiers.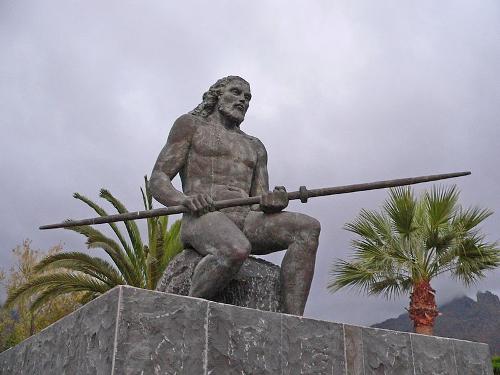 Guanche statue Gran CanariaPhoto: Frank C. Müller C 2.5 Generic no changes made
The language of the Guanches consisted of different dialects because the inhabitants of the various islands had little contact with each other. The Guanches mixed with the Spanish conquerors at the end of the 15th century, causing the Guanche language to become extinct in the 17th century. The descendants of these two groups were the ancestors of the current population.
The population was further mixed with the arrival of North African slaves who worked the sugar cane plantations. Later Portuguese and Majorcan Jews were added.
At the beginning of the 20th century, tens of thousands of 'canarios' emigrated to the Caribbean and to Latin America to escape starvation. Gran Canaria still has closer ties with the New World than with mainland Spain.
Some figures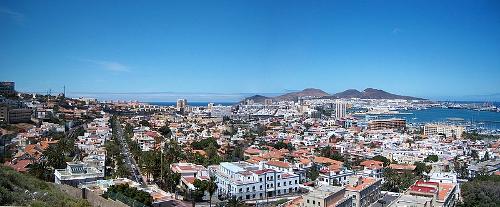 Las Palmas de Gran CanariaPhoto: Matti Mattila CC 2.0 Generic no changes made
About 1.5 million people live on all the Canary Islands together. Gran Canaria has about 850,000 inhabitants and has the highest population density with about 500 people per km2. Las Palmas de Gran Canaria is the largest city in the archipelago with approximately 380,000 inhabitants.
Sources
Anderson, B. / Gran Canaria
Deltas
Evers, K. / Gran Canaria, Fuerteventura, Lanzarote
Gottmer/Becht
Gruschwitz, B.F. / Canarische Eilanden
Het Spectrum
MacPhedran, G. / Gran Canaria
Kosmos-Z&K
Rokebrand, R. / Reishandboek Gran Canaria
Elmar
Weniger, S. / Gran Canaria
Van Reemst

CIA - World Factbook

BBC - Country Profiles
Last updated December 2022
Copyright: Team
The World of Info