GRAN CANARIA
Climate and Weather

Cities in GRAN CANARIA
Popular destinations SPAIN
Climate and Weather
Gran Canaria has a warm and sunny subtropical climate. The temperature is fairly even throughout the year due to the humid north-east trade wind (calisio), and the Canary Current, a branch of the Gulf Stream, helps to moderate the heat on the coast. In the mountains in the interior it is a bit cooler and on the highest mountains there may even be some snow for a few months a year.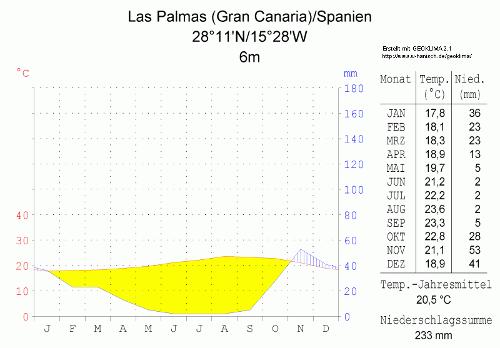 Climate diagram Las Palmas, Gran CanariaPhoto: Hedwig in Washington CC 3.0 Unported no changes made
The south of Gran Canaria is in the rain shadow of the mountains, with the result that it is drier and sunnier there than in the north. In winter it can be a few days less weather with rain, storm and somewhat lower temperatures. In the summer it can get extra hot due to the sirocco, a hot easterly wind that blows over Gran Canaria from the Sahara.
The average annual temperature is 12°C; the coldest month is January with an average monthly temperature of 17°C and August is the hottest month with an average of 24°C. Due to the moderating influences, the temperature rarely exceeds 30°C during the day and rarely drops below 10 ° C at night. During the day in the winter month of December, the air temperature in the south almost never drops below 20°C.
Gran Canaria has an average rainfall of 300 to 500 mm per year, but it never rains for long periods. Most rain falls in the winter months of November, December and January; the driest months are the summer months of June, July and August.
Due to the Gulf Stream, the temperature of the seawater is between 19 and 24°C almost all year round.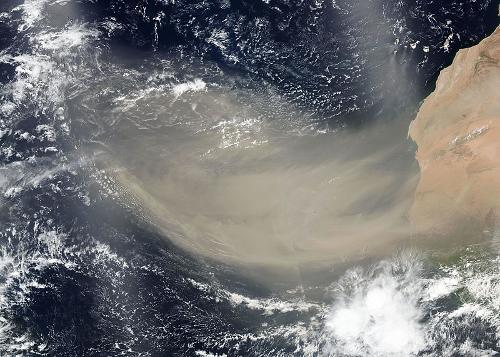 Dust wind from the Sahara over TenerifePhoto:Public domain
Several times a year, the "calima", a warm Sahara wind, ensures that the island is covered in a dust coat for three to six days, without any rays of sunlight coming through.
Some figures:
| | | | |
| --- | --- | --- | --- |
| Month | maximum temperature | minimum temperature | rainy days |
| January | 22,5°C | 15,0°C | 9 |
| February | 23,0°C | 15,0°C | 2 |
| March | | | |
| April | 22,3°C | 16,2°C | 6 |
| May | 24,7°C | 17,5°C | 2 |
| June | 25,8°C | 18,2°C | 0 |
| July | 25,8°C | 20,0°C | 0 |
| August | 28,5°C | 20,5°C | 0 |
| September | 26,0°C | 19,5°C | 3 |
| October | 25,7°C | 20,2°C | 2 |
| November | 23,8°C | 18,1°C | 9 |
| December | 22,7°C | 15,5°C | 4 |
---
Sources
Anderson, B. / Gran Canaria
Deltas
Evers, K. / Gran Canaria, Fuerteventura, Lanzarote
Gottmer/Becht
Gruschwitz, B.F. / Canarische Eilanden
Het Spectrum
MacPhedran, G. / Gran Canaria
Kosmos-Z&K
Rokebrand, R. / Reishandboek Gran Canaria
Elmar
Weniger, S. / Gran Canaria
Van Reemst

CIA - World Factbook

BBC - Country Profiles
Last updated April 2023
Copyright: Team
The World of Info