CATALONIA
History


Popular destinations SPAIN
History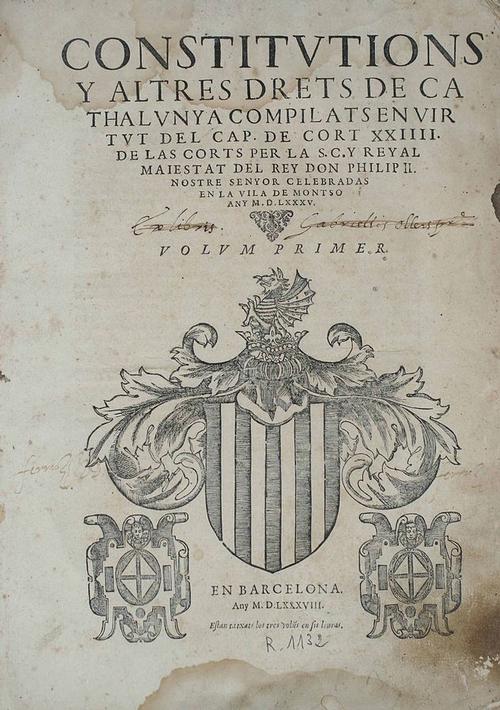 Constitution of Catalonia at the time of Philip IIPhoto: Public domain
In Catalonia there are traces of human existence from 80,000 years before Christ. Bones and tools have been found in caves around Moia and Reus.
Before Christ, the Celts, Phoenicians and Greeks appear successively in Catalonia. The Romans were of great influence and many remains can still be seen in Taragona. After the Romans came the Visigoths and the Moors. In the Middle Ages, Catalonia developed into a major maritime power under the Counts of Barcelona. After the Spanish War of Succession, Catalonia fell into Castilian hands. Philips V banned Catalan as the main language. In the 2nd half of the 19th century, Catalonia became the center of Spanish industrialization.
At the beginning of the 20th century, Catalonia was given more and less autonomy in turn. After the Spanish Civil War (1936-1939), Franco came to power and difficult times began for the Catalan language and culture. After the death of Franco, Catalonia received the status of an autonomous region and a new heyday for Catalonia began.
In November 2005, the Spanish Parliament approved a new statute that gave greater autonomy to the Catalonia region. In the statute, the region is given the status of 'nation'. In addition, Catalonia will have control over taxation and the regional Supreme Court will become the highest legal body. The autonomy of Catalonia is also at play in the years 2010 to 2014. A referendum is held in November 2014 that the central government tries to block, it continues under the name of citizen participation. The majority of the population votes for independence. During the regional elections in September 2015, the separatists took more than 50% of the seats. In October 2015, the Catalan parliament, led by Puigdemont, decided to call a binding referendum. In September 2017, Rajoy's Spanish government filed an appeal. The Spanish Constitutional Court calls the referendum illegal. In October 2017, the referendum will be held and the Spanish police will intervene hard. The majority of the population supports the Seperatists and the Catalan government declares independence. Puigdemont leaves for Brussels and an arrest warrant is issued against him. In December 2017, the Spanish government is organizing elections in the hope that the majority will now vote for Spain. The pro-Spanish party is becoming the largest, but the majority of the population unexpectedly supports seperatist movements. There is a stalemate. In January 2021, Spain still has an arrest warrant against Puigdemont, who has meanwhile secured a seat in the European Parliament, butcannot enter Spain.
See also the history of Spain on TheWorldOfInfo.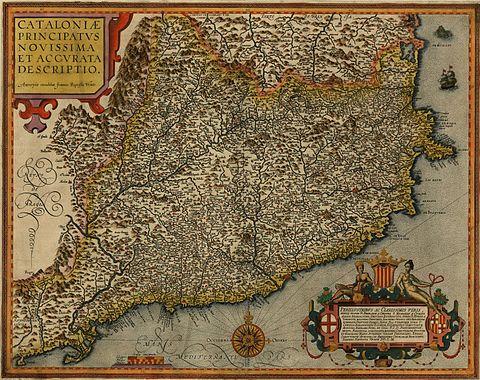 Map of the Principality of Catalonia in 1608Photo: Public domain
---
Sources
Wikipedia

theworldofinfo.com/spain

Hendriksen, B / Barcelona en Catalonië

CIA - World Factbook

BBC - Country Profiles
Last updated May 2023
Copyright: Team
The World of Info