CATALONIA
Geography and Landscape

Basic information
Official language
Catalan, Spanish
Capital
Barcelona
Area
32.113 km²
Population
7,669,999 (2021)
Currency
euro (EUR)
Web
.es
Code.
ESP
Tel.
+34

Popular destinations SPAIN
Geography and Landscape
Geography
Catalonia (Catalan: Catalunya) is one of the 17 autonomous regions with approximately 6.5 million inhabitants in the northeast of Spain. It is bounded on the south by Valencia, on the west by Aragon and the east by the Mediterranean Sea. In the north, Catalonia borders France and Andorra. The total area of Catalonia is 32,114 km².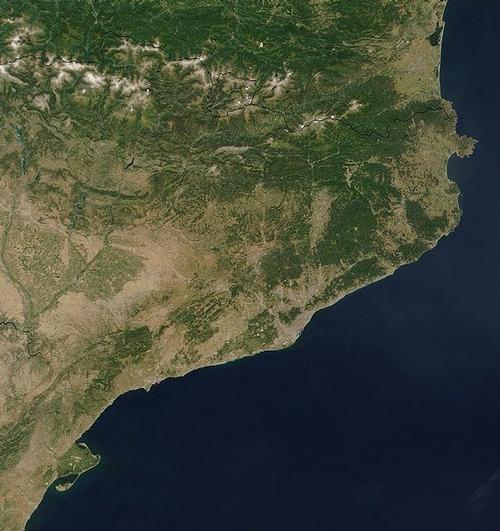 Catalonia Satellite photoPhoto: Public domain
Catalonia is the country's most prosperous region. The capital of Catalonia is Barcelona. Catalonia consists of four provinces. The name of the capital is the same as the name of the respective province. Barcelona, Gerona (Catalan: Girona), Lerida (Catalan: Lleida) and Tarragona.
Landscape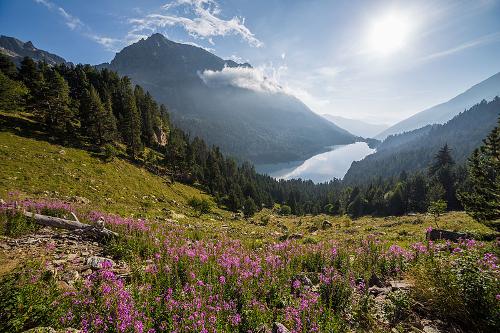 Catalonia LandscapePhoto: DAVID ILIFF CC 3.0 Unported no changes made
Catalonia is a very varied region. In addition to mountains (Pyrenees) there are vast fields and river deltas and of course the extensive coastline on the Mediterranean Sea.
Climate and Weather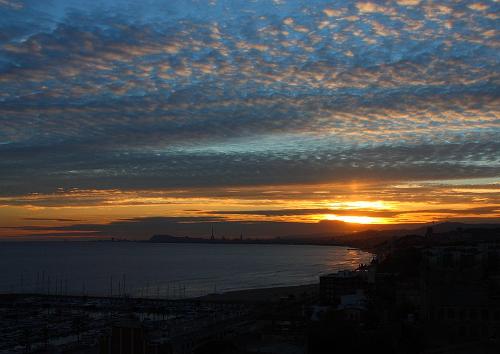 Catalonia Barcelona SunsetPhoto: Jeronimo Alcal CC 3.0 Unported no changes made
There are big climatic differences in Catalonia. The coast has a predominantly Mediterranean climate, with warm and dry summers and cool winters.Most precipitation falls in winter.
More inland there is a transition to a steppe climate with hot summers and cold winters. In the high Pyrenees, snow falls in winter. In summer, the Tramontana sometimes blows, blowing cold air from the Pyrenees to the coast. Spring and early summer are great times to visit Catalonia.
Plants and Animals
Plants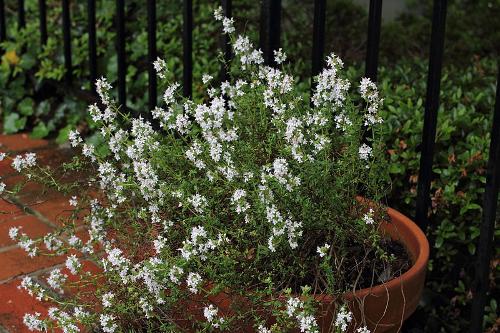 Thyme in bloom, CataloniaPhoto: Greenmars CC 3.0 Unported no changes made
The original vegetation of the lower part of Catalonia consisted of holm oak forests. This natural forest has largely disappeared due to logging and other human intervention. In its place there is the maquis, an almost impenetrable vegetation with shrubs and low trees and wild herbs such as lavender, thyme and rosemary. Oak, spruce and pine grow in the Pyrenees.
Animals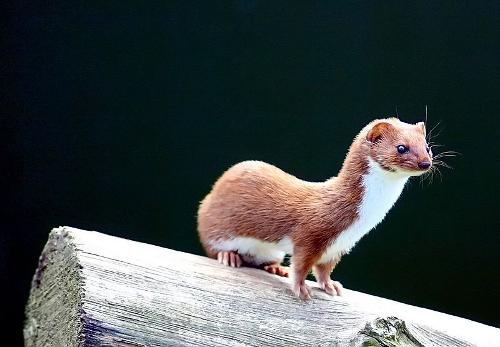 Catalonia WeaselPhoto: Keven Law CC 2.0 Generic no changes made
Catalonia is home to otters, rabbits, hares, squirrels, mice, bats and a number of small predators such as foxes, martens and weasels. Brown bears and wolves are almost extinct. Many bird species, including the flamingo, live in the Ebro Delta. In the mountains are birds of prey such as the griffon vulture. Also bearded vultures and eagles.
---
Sources
Wikipedia

theworldofinfo.com/spain

Hendriksen, B / Barcelona en Catalonië

CIA - World Factbook

BBC - Country Profiles
Last updated November 2023
Copyright: Team
The World of Info