ANDORRA



Cities in ANDORRA
Geography and Landscape
Geography
The Principality of Andorra (Catalan: Principat d' Andorra, French: Principautéd' Andorre, Spanish: Principado de Andorra: Andorran themselves call it Valls d' Andorra) is located high in the Eastern Pyrenees, sandwiched between the Spanish province Catalonia (department of Alt Urgell) and the French department of Ariège.
The border line with Spain is 64 km;the one with France is 57 km.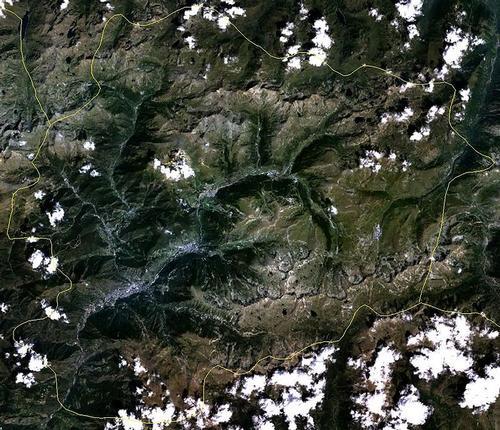 Andorra Satellite PhotoPhoto: Public domain
Andorra's surface is almost 468 km2. To give an impression of the size of Andorra: Greater London area encompasses a total of 1,583 square kilometers.
Landscape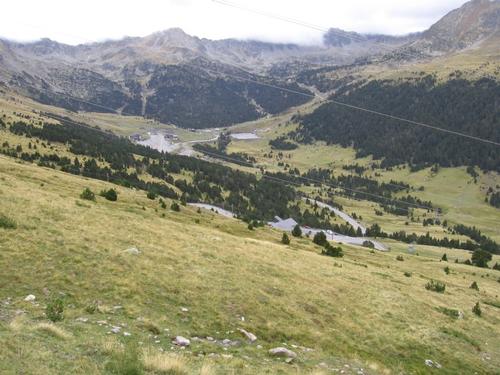 Andorra LandscapePhoto: Public domain
The rugged mountain landscape of Andorra is characterized by steep cliffs, narrow valleys and green valleys, interspersed with gigantic mountain peaks. The lowest point does not drop below 900 meters and the highest mountain, the fairly easy to climb Pic de la Coma Pedrosa, is 2946 meters high and lies on the border with Spain to the west. With an average altitude of 1996 meters, Andorra is the highest country in Europe. The Port d' Envalira is the highest mountain pass in the Pyrenees and is located at 2,408 meters.
Andorra is intersected by two clear rivers: the Valira d'Orient or Gran Valira and the Valira del Nord or d' Ordino. The Gran Valira is located at an altitude of 840 meters, making it the lowest point of Andorra. The two rivers flow into the Segre, a tributary of the Ebro, the longest river of Spain.
Besides rivers, Andorra also has a number of small and large glacial lakes, including the estanys de l' Angonella, the estanys de Juclar and the estanys de Tristaina (= three lakes), Estany del Mitg (at an altitude of 2,290 meters), Estany de Mès Amunt de Tristaina (at 2,310 meters) and Estany Primer (at 2,250 meters). The lakes are surrounded by the pic de Tristaina (2879 m) and the pic Fourcat (2862 m).
In the luxurious resort of La Caldea, water of 68°C rises at an altitude of 1000 meters from the springs of Escaldes-Engordany.
Sources
Allemann, F.R. / Catalonië : kunst en cultuur in Barcelona en wijde omgeving
Cantecleer bv
Joosten, T. / Wandelgids Spaanse Pyreneeën : Catalaanse Pyreneeën en Andorra : in 50 wandelingen
Elmar
Maarle, R. van / Pyreneeën
ANWB
Pyreneeën en Andorra
Touring/Lannoo
Zuid-Europa
The Reader's Digest
Zuidwest-Frankrijk : Toulouse, Lourdes, Andorra, Pyreneeën
Lannoo
Wikipedia

CIA - World Factbook

BBC - Country Profiles
Last updated February 2023
Copyright: Team
The World of Info