ANDORRA
Society


Cities in ANDORRA
Society
State structure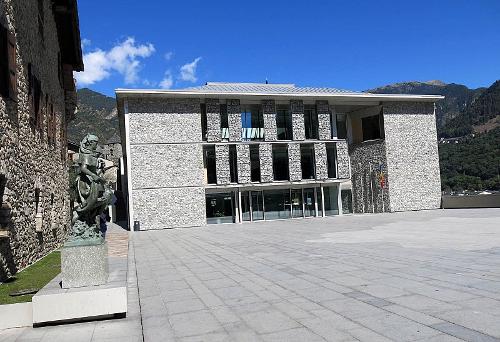 Andorra New Parliament BuildingPhoto: Enfo CC 3.0 Unported no changes made
Andorra has been feudally ruled over the centuries;political parties and trade unions were not allowed and until 1993 political parties were therefore not represented in parliament, which consisted only of individuals and groups.
Andorra is a co-principal under the common sovereignty of the French President and the Spanish Bishop of Seu d' Urgell. However, after the creation of a new constitution in 1993, their functions have become primarily ceremonial in nature and the Andorrans have acquired their own sovereignty.
The day-to-day government of Andorra was established in 1982 and is made up of six ministers headed by a prime minister, who is elected by the parliament, the' General Council' . After several changes to the electoral system, Andorran indigenous residents aged 18 and over have been entitled to vote since December 1985.
The 'General Council of the Valleys' of Consell General de les Valls has 28 members who are elected for a term of four years. Each of the seven parishes provides two members for this main legislative body. The other fourteen members are elected through a district system. The MPs elect their president, the 'Síndic' , and the vice-president of parliament, the 'Sub-Síndic' . The Government or 'Executive Council' consists of a prime minister and six ministers. The Prime Minister is elected and appointed by the Consell General and is, in effect, the head of state. The government directs Andorra's national and international policies, governs the state and exercises regulatory authority.
With the 1993 constitutional reform, an independent judiciary was established. A number of fundamental rights were also included, including allowing trade unions, freedom of religion, freedom of assembly and the possibility of holding a referendum. The last time this was in 1993 on the draft constitution and on membership of the Council of Europe.
For the current political situation see chapter history.
Administrative division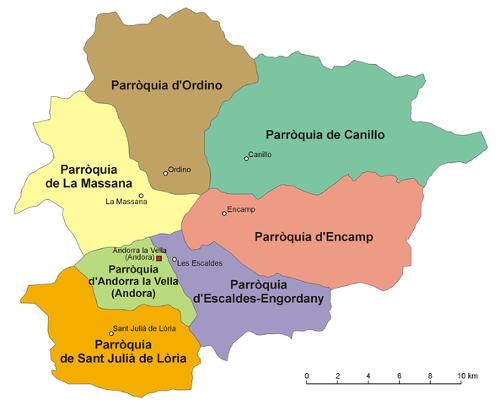 Andorra administrative divisionPhoto: Aotearoa CC 3.0 Unported no changes made
Since 1978 Andorra has been divided into seven administrative units, 'parròquies' or 'comúns called: Andorra la Vella (also the capital), Canillo, Elcaldes-Engordany, Encamp, La Massana, Ordino and Sant Juliàthe Lòria.
There are also a few dozen villages and hamlets.
Education
Andorra has several educational structures, including an Andorran system, a Spanish system, a French system and an English private system. All systems are free and compulsory education is compulsory up to the age of 16. Education is divided into three levels: kindergarten, primary and secondary education.
There are also a number of vocational training courses and an adult training course, including Catalan. The higher courses are a training school for nurses, a computer science school and the Open University.
---
Sources
Allemann, F.R. / Catalonië : kunst en cultuur in Barcelona en wijde omgeving
Cantecleer bv
Joosten, T. / Wandelgids Spaanse Pyreneeën : Catalaanse Pyreneeën en Andorra : in 50 wandelingen
Elmar
Maarle, R. van / Pyreneeën
ANWB
Pyreneeën en Andorra
Touring/Lannoo
Zuid-Europa
The Reader's Digest
Zuidwest-Frankrijk : Toulouse, Lourdes, Andorra, Pyreneeën
Lannoo
Wikipedia

CIA - World Factbook

BBC - Country Profiles
Last updated November 2023
Copyright: Team
The World of Info