ANDORRA
Climate and Weather


Cities in ANDORRA
Climate and Weather
Andorra has a temperate climate with cold, damp winters with lots of snow and quite cool, dry summers. In summer the average temperature is 18°C and in winter it is an average of 4°C.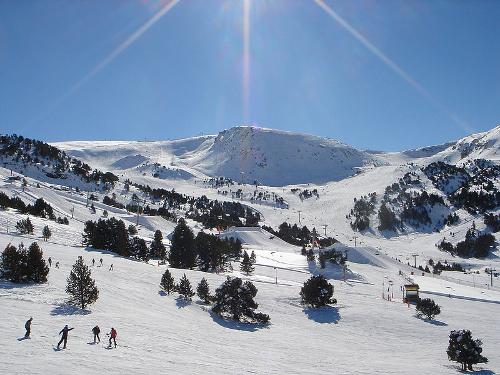 Andorra SnowePhoto: Christof Damian CC 2.0 Generic no changes made
Precipitation falls all year round, often in the form of snow in winter. Above 1500 meters more than half of the annual amount of precipitation falls in solid form. The first snow often falls in October, most snow falls in November and December. Andorra's highest peaks are rarely covered with snow in summer, but temperatures often hover around 0°C at night.
Climate data Les Elcaldes
Minimum temperatures:
January:-1°C
February:-1°C
March: 2°C
April: 4°C
May: 6°C
June: 8°C
July: 12°C
August: 12°C
September: 10°C
October: 6°C
November: 2°C
December:-1°C
Maximum temperatures:
January: 6°C
February: 7°C
March: 12°C
April: 14°C
May: 17°C
June: 23°C
July: 26°C
August: 24°C
September: 22°C
October: 16°C
November : 10°C
December: 6°C
Precipitation:
January: 34 mm
February: 37 mm
March: 46 mm
April: 63 mm
May: 105 mm
June : 69 mm
July: 65 mm
August: 98 mm
September: 81 mm
October: 73 mm
November: 68 mm
December: 69 mm
Sources
Allemann, F.R. / Catalonië : kunst en cultuur in Barcelona en wijde omgeving
Cantecleer bv
Joosten, T. / Wandelgids Spaanse Pyreneeën : Catalaanse Pyreneeën en Andorra : in 50 wandelingen
Elmar
Maarle, R. van / Pyreneeën
ANWB
Pyreneeën en Andorra
Touring/Lannoo
Zuid-Europa
The Reader's Digest
Zuidwest-Frankrijk : Toulouse, Lourdes, Andorra, Pyreneeën
Lannoo
Wikipedia

CIA - World Factbook

BBC - Country Profiles
Last updated February 2023
Copyright: Team
The World of Info