ARDECHE
Vacations and Sightseeing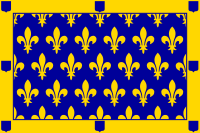 Basic information
Official language
French
Capital
Privas
Area
5.529 km²
Population
327,011 (2019)
Currency
euro (EUR)
Web
.fr
Code.
FRA
Tel.
+33

Popular destinations FRANCE
Vacations and Sightseeing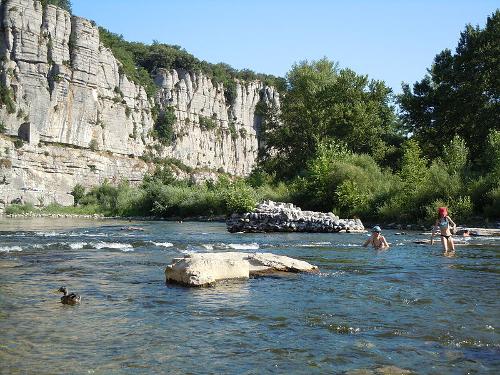 Ardeche RiverPhoto: Patrice78500 CC 3.0 Unported no changes made
The Ardèche is best known for its wild and unspoilt nature, a varied landscape overgrown with Mediterranean vegetation and chestnut forests, in short, a true hiking paradise, but mountain bikers also get their money's worth. As much as one third of the surface of the Ardèche is covered with forests. Kayakers and canoes are mainly drawn to the famous 'Gorge d'Ardèche', a hundreds of meters deep and about 31 km long gorge with jagged rock formations, through which the Ardèche winds its way. The center of kayak and canoe tourism is the town of Vallon-Pont-d'Arc and especially the last stretch of the Ardèche river is ideal for kayaking and canoe trips.
Amazing is the Pont d'Arc, a natural, approx. 34 meters high and 59 meters wide rock arch over the river Ardèche, and close by are caves with prehistoric petroglyphs, the most famous of which is Aven d'Orgnac (surface 3 ha and columns up to 50 meters high) and also Aven de la Forestière, Aven Marzal, the Grotte de la Madeleine and one of the most beautiful and largest cave systems in Europe, the Grottes de Saint-Marcel.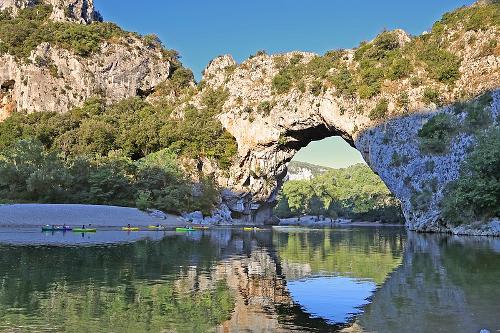 Pont d'Arc ArdèchePhoto: W.Bulach CC 4.0 International no changes made
Don't go to the sparsely populated Ardèche for urban beauty and entertainment, as there are no big cities, but medieval villages like Les Vans, Largentière and Balazuc and tourist towns like Ruoms and Aubenas are well worth a visit.
Beach lovers can also visit the Ardèche, along the banks of the Ardèche River there are numerous romantic pebbles and sandy beaches. Along rivers such as the Auzon, the Ligne, the Chassezac, the Beaume and the Eyrieux, in countless places you imagine yourself to be the owner of a private beach. The disadvantage is that in autumn and at the beginning of spring the beaches disappear under water during high tide.

Although the ski areas are much smaller than in the Alps, in winter in the west from the Ardèche, between the Croix de Bauzon and the Plateau de Lalouvesc, winter sports can be enjoyed to the full. Cross-country skiing is excellent on the western high plateaus Bèage, Coux, Bois de Cuzes, Suc du Pal and the Domaine de Ski de Fond.

Annonay takes place every year the first week of June the 'Fete des Montgolfières' site, an event celebrating the invention of the hot air balloon by the brothers Joseph Michel and Jacques Étienne Montgolfier. On June 4, 1783, the first unmanned hot air 'balloon' took off at Annonay. The first manned flight took place on October 15 of the same year.
Statue of the Montgolfier brothers in Annonay, ArdèchePhoto: Jacques Forêt CC 3.0 Unported no changes made
---
Sources
Ardèche
Lannoo
Ardèche
Touring/Lannoo

Ardèche, Drôme
Terra Lannoo

BBC - Country Profiles

CIA - World Factbook

Forst, Bettina
Cevennen, Ardèche

Graaf, Gjelt de / Auvergne, Ardèche
ANWB

Kalmbach, Gabriele
Ardèche

Talbot, Roseline
Natuurreisgids Ardèche en Auvergne

Wikipedia





Last updated May 2023
Copyright: Team
The World of Info