MENORCA
Society


Popular destinations SPAIN
Society
Since 1983, the Balearic Islands have been an autonomous community of Spain, along with sixteen others. The government of the Balearic Islands is based in Palma de Mallorca, the capital of Mallorca. Menorca itself still has an Island Council or "Consell Insular", just like the other major islands of the Balearic Islands.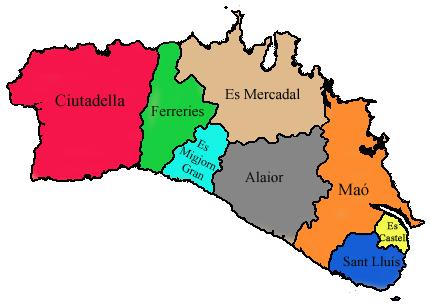 Municipalities of MenorcaPhoto: Public domain
The Central Island Council stands up for the general interests of Menorca, local interests are represented by the municipal councils and the mayors. Menorca has eight municipalities: Mahón, Ciutadella, Alaior, Es Castell, Ferreries, Sant Lluís, Es Mercadal and Es Migjorn Gran. For the current political situation in Spain see chapter history.
---
Sources
Kelly, T. / Menorca
Kosmos-Z&K
Klöcker, H. / Menorca
Deltas
Mallorca & Ibiza, Menorca & Formentera
APA Publications
Montserrat, J. / Reiseführer Menorca : ein Streifzug durch die Insel
Triangle Postals

CIA - World Factbook

BBC - Country Profiles
Last updated November 2023
Copyright: Team
The World of Info