MENORCA
Population


Popular destinations SPAIN
Population
Menorca has just under 100,000 inhabitants (2017). About 130 people live per km2, and Menorca is therefore about half as densely populated as Ibiza and Mallorca. More than half of all islanders live in the cities of Mahón and Ciutadella.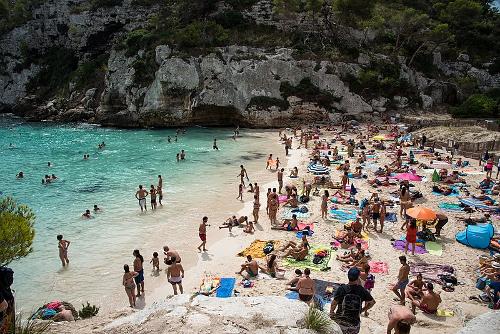 Tourists flock to Menorca every yearPhoto: Roberto Faccenda CC 2.0 Generic no changes made
More than a million tourists visit the island every year, especially in the months of May to October. Just under 7000 ex-pats, mostly British, live permanently in Menorca.
---
Sources
Kelly, T. / Menorca
Kosmos-Z&K
Klöcker, H. / Menorca
Deltas
Mallorca & Ibiza, Menorca & Formentera
APA Publications
Montserrat, J. / Reiseführer Menorca : ein Streifzug durch die Insel
Triangle Postals

CIA - World Factbook

BBC - Country Profiles
Last updated November 2023
Copyright: Team
The World of Info