BURGUNDY
Population


Popular destinations FRANCE
Population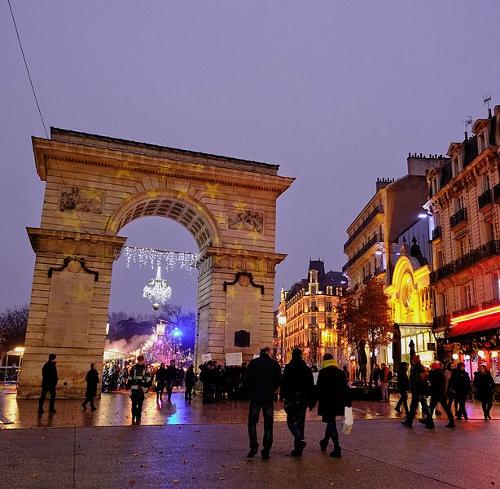 Old town of Dijon in BurgundyPhoto: Hervé Sartori CC 4.0 International no changes made
Burgundy has a total of approximately 1.7 million 'Bourguignons' (15th French region) and has a population density of approximately 51 inhabitants per km2 (The population numbers per department are as follows: Saône-et-Loire 580,000, Côte d'Or 535,000 , Yonne 340,000 and Nièvre 250,000. The distribution of the population over the various regions of Burgundy is very uneven: the Châtillonnais region has only 10 inhabitants per km2, the Morvan 10-15 inhabitants / km2 and the department Nièvre 35 inhabitants /. km2.
Burgundy consists largely of rural areas, but most people live in urban areas: about half of the Burgundians live on only 5% of the territory.
The age distribution also differs strongly from region to region: Nièvre has 25% over-60s, the Côte d'Or 17.7% and 46% of the population is under 30 years old.
Biggest cities
| | |
| --- | --- |
| Dijon | 155.000 inhabitants |
| Chalon-sur-Saône | 45.000 inhabitants |
| Nevers | 34.000 inhabitants |
| Auxerre | 34.000 inhabitants |
| Mâcon | 33.000 inhabitants |
| Fontaine-Française | 32.000 inhabitants |
| Sens | 25.000 inhabitants |
| Le Creusot | 22.000 inhabitants |
| Chenôve | 22.000 inhabitants |
| Beaune | 21.000 inhabitants |
| Montceau-les-Mines | 19.000 inhabitants |
| Autun | 18.000 inhabitants |
| Nuits-Saint-Georges | 14.000 inhabitants |
| Auxonne | 12.000 inhabitants |
Sources
Bourgondië
Lannoo
Bourgondië, Jura
Michelin Reisuitgaven
Bussmann, K. / Bourgondië : kastelen, kloosters, en kathedralen in het hart van Frankrijk
Cantecleer
Evers, K. / Bourgondië
Gottmer
Frankrijk : natuurreisgids
Cantecleer
Keuning, T. / Bourgondië, Champagne
ANWB
CIA - World Factbook
BBC - Country Profiles
Last updated February 2023
Copyright: Team
The World of Info