BRITTANY
Religion


Popular destinations FRANCE
Religion
Own saints
The Catholic faith was spread across Brittany as early as the 5th and 6th centuries by monks from Wales, Ireland and Cornwall. From the 1950s onwards, the number of practicing Catholics has declined drastically. In the early 1980s, only 20% of the Catholic population attended church regularly. Brittany still has seven dioceses.
Brittany has many hundreds of saints, almost none of which are recognized by the Catholic Church. Some were originally even religious leaders of the Celts who crossed over from Britain to Brittany in the 5th century. Others even date back to pre-Christianization in Brittany and are actually pagan gods under a new name. Most revered saints in Brittany are Sainte-Anne, the patroness of Brittany, and Saint-Yves.
"Pardons"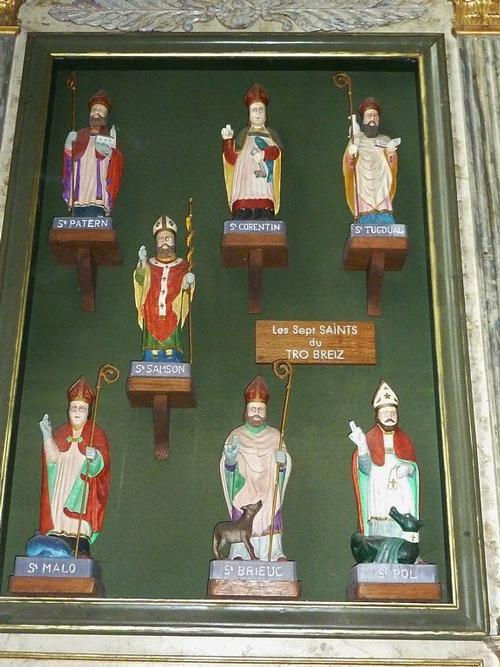 Tro Breizj BrittanyPhoto: Moreau.henri CC 3.0 Unported no changes made
Many local Saints are given thanks or asked for forgiveness once a year during so-called "pardons". Each parish has its own saint, so the pardons are many, especially in the west of Brittany, and very different. Sometimes they are purely pious manifestations, others have a somewhat more secular character. Some pardons are more than a normal procession: the trail then has a length of many kilometers and lasts several days. The women often wear traditional costume, the main eye-catcher being the famous headgear, the "coiffes".
In the 15th and 16th centuries, the 'Tro Breizh' was held, an approximately 525 kilometer long journey through Brittany, which took you past the tombs of the seven patron saints: Patern in Vannes, Corentin in Quimper, Pol-Aurélien in Saint-Pol- de-Léon, Tugdual in Tréguier, Brieuc in Saint-Brieuc, Malo in Saint-Malo and Samson in Dol-de-Bretagne. These patron saints, who came over from Great Britain in the 5th century, were active in Brittany as missionaries and christening the country.
In 1994 parts of this tour were restored by two organizations: "La route historique du Tro Breizh" and "Les chemins du Tro Breizh". The "Pardon de Ste-Anne d'Auray" is Brittany's greatest pardon. Four times a year they receive about 20,000-30,000 pilgrims. Two unusual pardons are the Islamic-Christian pardon of Le Vieux-Marché and the Madonna pardon of the motorcyclists in Porcaro. The pardon of Le Vieux-Marché was first held in 1954 with the aim of symbolizing the rapprochement between Islam and Christianity. During the motorcyclists' pardon, for the first time in 1979, thousands of motorcycles are blessed.
---
Sources
Beaart, P. / Bretagne
ANWB
Bretagne
Lannoo
Bretagne
Van Reemst
Bretagne noord
ANWB
Graaf, G. de / Normandië, Bretagne
ANWB
Radius, J. / Normandië, Bretagne
Gottmer/Becht
Roger, F. / Natuurreisgids Bretagne : ontdek de onverwachte en bijzondere natuur van Bretagne
Kosmos-Z&K
Simon, K. / Bretagne
ANWB
Ward, G. / Bretagne en Normandië
Van Reemst
Wikipedia
CIA - World Factbook
BBC - Country Profiles
Last updated November 2023
Copyright: Team
The World of Info