BRITTANY
Climate and Weather


Popular destinations FRANCE
Climate and Weather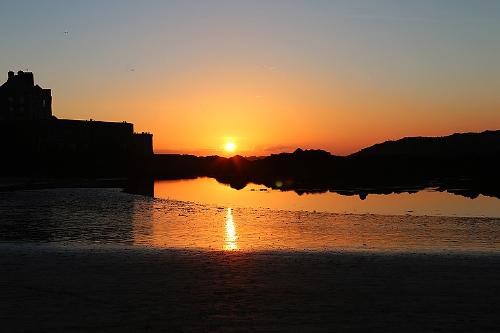 Brittany SunsetPhoto: Lilo S CC 3.0 Unported no changes made
Brittany has a changeable, mild maritime climate. The changeability is caused by the tides, the moon and the wind. The mild climate is due to the warm Gulf Stream that surrounds Brittany.
The temperature in Brittany does not differ that much from the south coast of England, on average it is slightly warmer on the Breton coasts, because in summer the average temperature is around 20°C. On the Côte de Granit Rose, the climate is almost subtropical due to the strong influence of the warm Gulf Stream.
The months of May, June and September are the sunniest. Southern Brittany receives more than 2,200 hours of sunshine per year, while the north has only 1,700 hours of sunshine per year. It rarely freezes in Brittany, on the north coast less than 15 days a year. In winter, temperatures average between 6 and 8°C, but warm, humid air from the tropics means temperatures can rise to 12°C in January. Heavy storms mainly occur in winter. Summer in Brittany starts around mid-June and continues until mid-October.
It is a myth that it "always rains" in Brittany. It does rain very regularly, but never very much because it usually drizzles. It is significant that the amount of precipitation in cities such as Brest and Rennes is almost equal to southern Toulouse. Most of the rain falls inland, especially in the months of April and October. In the highest parts of Brittany, up to 1200 mm of rain falls over an average of 200 days a year. The plateaus of western Brittany, on the other hand, only receive 800 mm of rain per year. The island of Belle Îlle is the Breton region with the least rainfall, averaging only 683 mm per year. The tides so prominent in Brittany are caused by the lunar pull of the moon on the waters of seas and oceans. The tide changes every six hours, and those changes shift a bit every day. The differences between high and low tides can vary considerably, the tidal range in the bay of Mont-Saint-Michel can be more than 16 meters, on the Atlantic side of the peninsula it is a maximum of six meters. The flood penetrates the sea arms and rivers for many miles; on the Loire this can be observed up to 75 kilometers inland.
---
Sources
Beaart, P. / Bretagne
ANWB
Bretagne
Lannoo
Bretagne
Van Reemst
Bretagne noord
ANWB
Graaf, G. de / Normandië, Bretagne
ANWB
Radius, J. / Normandië, Bretagne
Gottmer/Becht
Roger, F. / Natuurreisgids Bretagne : ontdek de onverwachte en bijzondere natuur van Bretagne
Kosmos-Z&K
Simon, K. / Bretagne
ANWB
Ward, G. / Bretagne en Normandië
Van Reemst
Wikipedia
CIA - World Factbook
BBC - Country Profiles
Last updated May 2023
Copyright: Team
The World of Info