BRITTANY
Vacations and Sightseeing

Basic information
Official language
French
Capital
Rennes
Area
27.208 km²
Population
3,306,529 (2019)
Currency
euro (EUR)
Web
.fr
Code.
FRA
Tel.
+33

Popular destinations FRANCE
Vacations and Sightseeing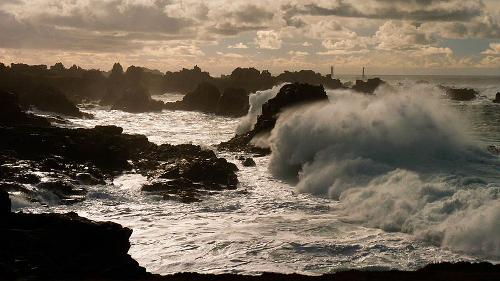 Parc naturel marin d'Iroise, brittanyPhoto: Ton Chirossel CC 4.0 International no changes made
Brittany is currently one of the most popular tourist regions in France, and many British also know their way to the most westerly point of mainland France, Pointe du Raz. During their holiday they can enjoy beautiful nature, including more than 3000 km of coast, in combination with a fascinating mixture of British and French culture.
The Breton landscape is never boring, because rugged cliffs (up to 100 meters high), jagged rocks, dunes, hills, heaths, forests, rivers, canals, bays and surprisingly beautiful and large sandy beaches in South Brittany and North Brittany provide more than enough variety. Natural heritage also includes natural parks such as Parc Naturel Régional d'Armorique, Parc de Brière with its marshes (40,000 ha) and the first marine nature park in France, Parc d'Iroise. Walking and cycling routes lead through these nature reserves, but also through the various cultural landscapes.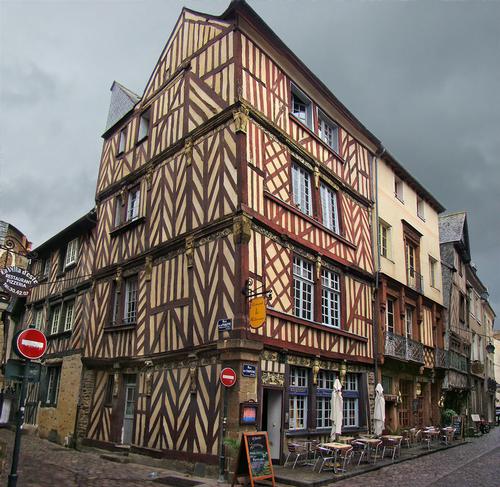 Town of Rennes BrittanyPhoto: Tango7174 CC 4.0 International no changes made
The main cities of Brittany are the capital Rennes, Brest, Vannes, Lorient, Quimper and Saint-Malo.
The inner city of Rennes consists of two parts, Vieux Rennes from before the fire of 1720 and the rebuilt part after the fire. Places of interest include the Musée des Beaux-Arts and the Musée de Bretagne, the classical Cathédrale St-Pierre and the Hôtel de Ville.
Mostly destroyed in the Second World War, Brest is now a very modern looking city, it still has an important military and civil port. These harbors are also Brest's main attraction, with a harbor tour of all kinds of warships and even submarines a must. Also not to be missed is the Océanopolis, one of the largest aquariums in Europe. For plant lovers there is the Conservatoire Botanique National de Brest (nursery rare plants).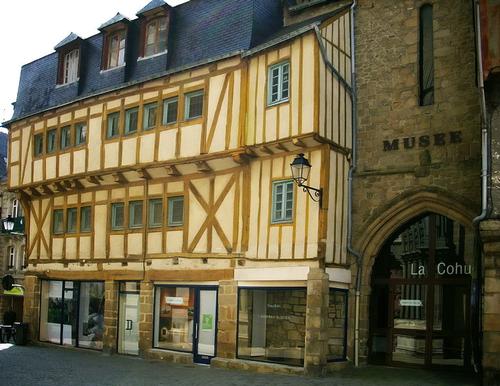 Vannes BrittanyPhoto: Fab5669 CC 3.0 Unported no changes made
Medieval-looking Vannes with all its half-timbered houses is worth a visit for the Musée d'histoire de Vannes, the Cathédrale St-Pierre, the Aquarium de Vannes (also tropical fish) and Le Jardin aux Papillons (butterflies),
Lorient, completely destroyed in World War II, still has 17th-century ramparts, but the highlight of this city, with an important fishing and marina, is the citadel by the sea, which also houses the Musée de la Compagnie-des-Indes and the Musée de la Marine are located.
Quimper is known for its 13th / 15th century gothic Cathédrale St-Corentin, the Musée des Beaux Arts and the Musée Départemental Breton, on the history and archeology of the Finistère region.
Like Lorient, Saint-Malo was also destroyed during the Second World War, but a walk on the ramparts of the old restored city center is still an experience, as is a visit to Fort National at the end of the 17th century. Furthermore, Saint-Malo houses a preserved 14th-century fortress, the Musée d'Histoire de la Ville and the Grand Aquarium St-Malo annex reptile house attracts many visitors.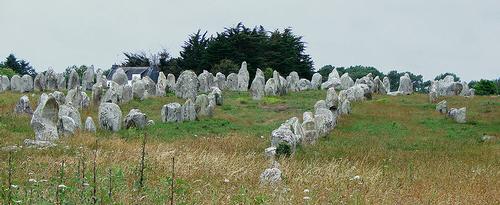 Carnac BrittanyPhoto: Vassil in the public domain
The area around Carnac can be called the megalithic world capital: to the north of this village, hundreds of megalithic stones are arranged in different shapes: menhirs (single stones), dolmens (hunebeds), tumuli (burial mounds), alignements (rows of stones) and cromlechs (rows of stones) that end in a stone circle). Near the hamlet of Kermario there are ten alignments of a total of 1029 menhirs, Ménec has 1099 menhirs and Kerlescan 555. Another special feature is an almost 7000 year old large burial mound near Kercado. Those who want to know more about these monuments can visit the Musée de Préhistoire in Carnac and the Maison des Mégalithes in Ménec.
Various sights:
Argol: Musée du Cidre (cider)
Audierne: L'Aquashow (fish, other aquatic animals, birds, bird of prey show), Musée Maritime du Cap Sizun
Baie des Trépassés: Cape Pointe du Van, Cape Pointe du Raz
Bazouges-la-Pérouse: children's playground
Bécherel: many antique dealers and monthly book market, remains of a medieval fortress, Château de la Chatolais,
Bruz: Parc Ornithologique de Bretagne (bird park)
Cap de la Chèvre: (minerals and fossils)
Cap Fréhel: stunning views, 17th century lighthouse, 14th century Fort la Latte
Carhaix-Plouguer: Karaez Adrénaline (tree climbing)
Concarneau: Ville Close (island in the harbor, also old town), Musée de la Peche (fishing), Marinarium du Collège de France (aquarium)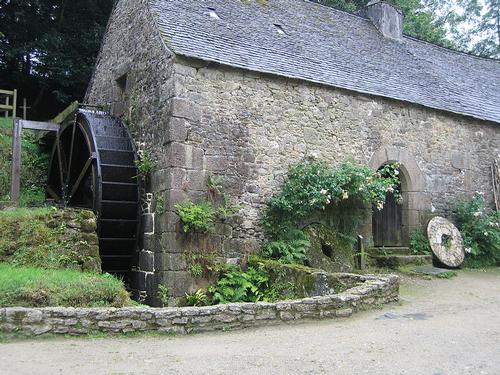 Moulins de Kerouat BrittanyPhoto: Thesupermat CC 3.0 Unported no changes made
Commana: Moulins de Kerouat (miller's life 17th-19th century)
Corseul: Musée de la Societé Archéologique (including Roman times), Château de Montafilan (12th-century castle)
Dol-de-Bretagne: Cathédrale St-Samson, Menhir de Champ Dolent (one of the largest menhirs in Brittany, approx. 9.5 m high)
Douarnenez: Port-Musée (dozens of old ships), Musée de Bateau (maritime museum)
Fougères: Château Fougères, Musée l'Artisan du Temps (clock museum), the second largest cattle market in France every Friday morning
Golfe du Morbihan: about 40 inhabited islands, Tumulus de Gavrinis (circumference 50 m, height 6 m)
Guérande: Musée de la Poupée et de Jouets (dolls and toys), Terre de Sel (salt production)
Guingamp: Basilique Notre-Dame-de-Bon-Secours, Grand Pardon de Guingamp (procession)
Hanvec: Maison de Ménez-Meur (draft horses)
Hennebont: Basilique Notre Dame-du-Paradis, 13th-century ramparts, Camors Adventure Forest (tree climbing)
La Baule: famous seaside resort (South Brittany), Océarium
Landévennec: ruin of the Abbaye de St-Guénolé (485)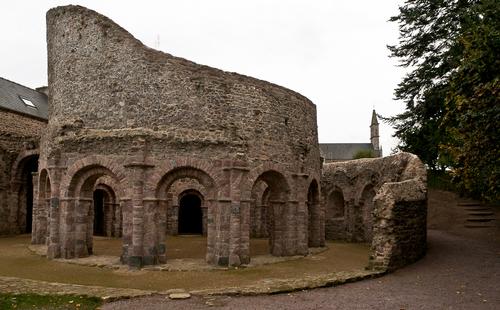 Temple de Lanleff BrittanyPhoto: Hugues Mitton CC 3.0 Unported no changes made
Lanleff: Temple de Lanleff (rebuilt chapel from the 11th century)
Le Cloitre St-Thégonnec: Musée du Loup (wolf)
Locmariaquer: important center of megalithic monuments
Locqueffret: Maison du Recteur (priestly life in previous centuries)
Locronan: Église St-Ronan (15th century) connected to the Chapelle du Pénity (16th century), Chapelle Notre-Dame-de-Bonne-Nouvelle, Le Musée d'Art et d'Histoire de Locronan, Pardon de Locronan (annual procession Petite Troménie, six-yearly Grande Troménie)
Malansac: Parc de Préhistoire (30 prehistoric scenes)
Moncontour: 13th-14th century city defense, Église st-Mathurin, Théatre du Costume (medieval clothing until 1900)
Morlaix: Église Ste-Mélanie, Musée de Jacobins (modern art), Cairn de Barnenez (very large burial mound)
Muzillac: Parc Animalier et Botanique de Branféré (mainly monkeys, antelopes, birds)
Ushant: Musée des Phares et Balises (Breton lighthouses)
Paimpont: Église Abbatiale (13th century), Forêt de Paimpont (forest)
Perros-Guirec: famous seaside resort (North Brittany)
Pleumeur-Bodou: Cosmopolis (largest planetarium in Europe)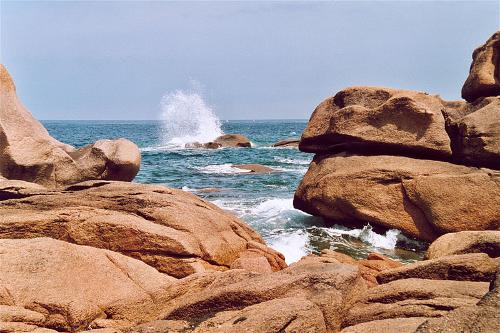 Côte de Granit Rose BrittanyPhoto: Patrick GIRAUD CC 3.0 Unported no changes made
Ploumanac'h: Côte de Granit Rose (pink granite rock formations)
Pont-l'Abbé: Musée Bigouden (traditional Breton costume)
Pontivy: Château des Rohan (16th century late medieval military architecture)
Redon: St-Saveur church (9th century)
Roscoff: Aquarium Charles-Pérez (Channel fish species)
Scrignac: Musée de la Faune Sauvage et de la Chasse (game and hunting)
St-Brieuc: Cathédrale St-Étienne (13th century), Musée d'Art et d'Histoire (city and surroundings), Camp Romain de Péran (Roman camp), Parc Zoologique de Trégomeur (mainly Asian animals)
St-Just: important center of megalithic monuments from the period 3800-3500 BC.
St-Ségal: Musée des Champs (Breton agriculture since 19th century)
Ste-Anne-d'Auray: pilgrimage site with the largest procession or 'pardon' of Brittany four times a year
Trégastel-Plage: Marine Aquarium Tregastel
Tréguier: Cathédrale St-Tugdual
Sources
Beaart, P. / Bretagne
ANWB
Bretagne
Lannoo
Bretagne
Van Reemst
Bretagne noord
ANWB
Graaf, G. de / Normandië, Bretagne
ANWB
Radius, J. / Normandië, Bretagne
Gottmer/Becht
Roger, F. / Natuurreisgids Bretagne : ontdek de onverwachte en bijzondere natuur van Bretagne
Kosmos-Z&K
Simon, K. / Bretagne
ANWB
Ward, G. / Bretagne en Normandië
Van Reemst
Wikipedia
CIA - World Factbook
BBC - Country Profiles
Last updated December 2022
Copyright: Team
The World of Info