AUVERGNE
Climate and Weather


Popular destinations FRANCE
Climate and Weather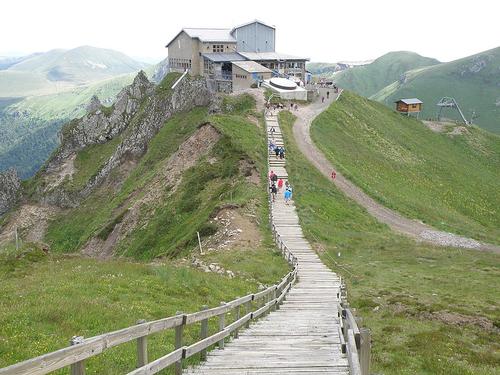 Auvergne Mont-DorePhoto: Torsade de Pointes in the public domain
Auvergne has a temperate continental climate with generally warm summers and harsh winters. In the summer season it can get very hot, especially on the plains and in the valleys. From May, the temperature quickly rises to well above twenty degrees. In summer, temperatures range from 21 to 26°C. In the mountains there is always a cool breeze. Summers are also characterized by heavy thunderstorms. In autumn the temperatures are on average about five degrees lower and in winter the average is 7°C.
It can also rain a lot in Auvergne, but especially in the spring and autumn. There is more rainfall on average than in the south of France, but there are quite large regional differences. More than 2000 mm falls per year on the western side of the Monts Dore, and only 500 mm on the eastern side. There is an average of 730 mm in Auvergne.
The number of sun hours is averaging 2,100 hours annually. Auvergne is very suitable for winter sports in winter, because there is always a lot of snow. More than 200 km of ski slopes and almost 900 km of cross-country trails are found here.
On the Puy de Dôme, temperature inversion has been observed in winter, ie it freezes in the valleys but at the top of this mountain above or around zero
Is! Differences of 20°C have even been measured.

Climate table Auvergne
jan
Feb
Mon
Apr
May
Jun
Jul
Aug
Sep
Oct
Nov
Dec
day temp. in°C
4
7
12
15
19
23
26
25
22
14
8
5
night temp. in°C
-2
-1
2
5
7
13
12
10
5
3
-1
solar hours p/d
3
4
6
6
7
7
8
8
7
5
3
2
rainy days p/m
12
11
9
12
12
10
8
9
10
11
12
12
---
Sources
Graaf, G. de / Auvergne, Ardèche
ANWB

Strijbos, E. / Auvergne, Ardèche, Lyon, Beaujolais
Gottmer/Becht

CIA - World Factbook

BBC - Country Profiles
Last updated November 2023
Copyright: Team
The World of Info