USA
Language


Cities in USA
Popular destinations USA
Language
The vast majority of the American population is native English speaker, but large groups also speak other European and non-European languages, notably Spanish. Especially in the big cities live groups that have often retained the language of origin for many generations.
For example, French dialects are still spoken in parts of Louisiana, and some French Canadians in New England have also retained the language of their neighbors in Canada.
The Portoricans and many people of Spanish descent speak Spanish. The Inuit also have their own language in Alaska and a Polynesian language is also spoken in Hawaii.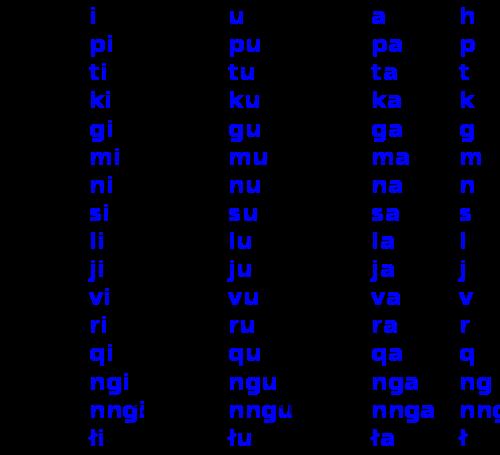 Inuit alfabet, USAPhoto: Mysid in the public domain
American as a language does not exist: there is really only Americanized English. The main difference with British English lies in the deviating pronunciation. A distinction is made between the dialects of the north, east and south, but despite the great distances, the dialects are still less diverse than in a small country in Europe. New living conditions and a different mentality created new words, sayings and expressions. Some words took on a different meaning, and a few things have also changed in spelling and grammar. However, the language differences between English and English-American are not very large.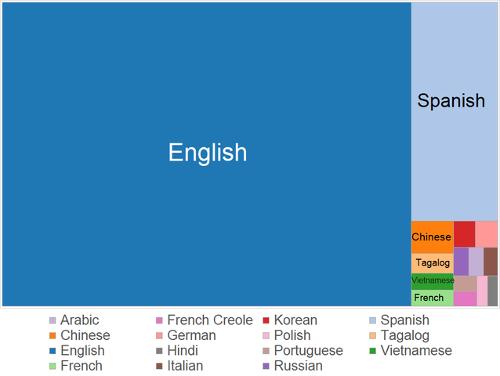 Overview of languages in the United StatesPhoto:Dennis Bratland: CC 3.0 Unported no changes made
Americans like short and anything that goes fast and saves time is much appreciated.
This aim can also be found in the language. Some examples of this are:
Television = TV
Science fiction = sf
Advertisement = ad
Bycicle = bike
Hello = hi
Reverend = rev
See you = C U

Another way to save time is to constrict words, both in the colloquial and the written language. Some examples of this are:
Radio operator = radio operator
Motor cavalcade = motorcade
Laundry automatic = laundromat
I am going to = I'm going to
I want to = I wanna
I don't know = dunno
Merry Christmas = Merry X-Mas
Through = thru
Almost all Indians speak American. In addition, dozens of widely divergent Native American languages have survived the assimilation technique of the American government.
Some ethnic groups still strongly adhere to the language and traditions of the mother country. In the big cities this is very noticeable in the many "Chinatowns" and "Little Italy".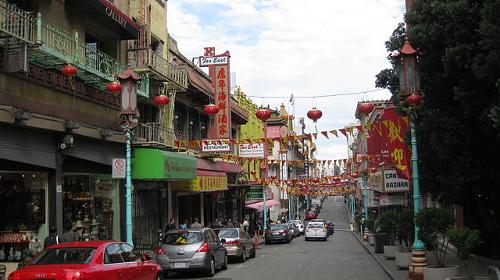 Chinese and English signs in Chinatown San Francisco, USAPhoto: Deror_avi CC 3.0 Unported no changes made
In the countryside, religious groups such as Mennonites of the old order, Hutterites and Amana still speak German from the 19th century.
Other names for the United States are:
United States of America, United States, US, USA, America
---
Sources
Phillipson, O. / USA
Heinemann Library
Sandak, C.R. / Verenigde Staten van Amerika
Corona
Stanic, S. / De Verenigde Staten
Schuyt & Co
Supermachten
Stichting Teleac 1: Verenigde Staten van Amerika
Verenigde Staten
Uitgeversmaatschappij The Reader's Digest NV
Webb, M. / The United States
Lucent Books
CIA - World Factbook
BBC - Country Profiles
Last updated November 2023
Copyright: Team
The World of Info