USA
Las Vegas

Las Vegas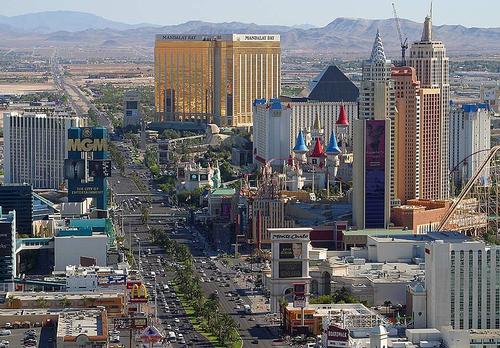 Las Vegas StripPhoto: Jon Sullivan in the public domain
This famous Nevada city is home to bright neon lights, bustling casinos, the famous Las Vegas Strip, huge hotels, numerous wedding chapels, vibrant nightlife and an average of 315 days of sunshine a year and many impressive tourist attractions. Where else in the world can you get married without even leaving your car or by a priest dressed as Elvis Presley?
There is so much more to do in this city than just the casinos. The Las Vegas Tourist Information Center on Paradise Road is a good place for information when you first visit Las Vegas. Tourism is big business in the city. With so much to choose from and all of that often just minutes from your hotel, it's worth figuring out what exactly is there so you don't miss a thing in this vibrant city.
Location
Las Vegas is located in southwestern Nevada near the California-Arizona border. Las Vegas is located 279.6 miles (450 km) from Los Angeles. The geographic coordinates of the city are Longitude 115.09 W, Latitude 36.10 N. The Las Vegas conurbation consists of the cities of Las Vegas, Henderson, North Las Vegas, Boulder City, a significant portion of the land area is managed by Clark County.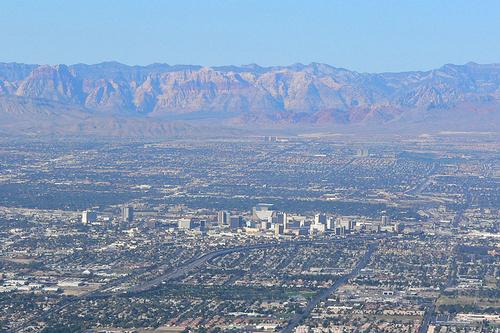 Las Vegas in SunlightPhoto: Stan Shebs CC 3.0 Unported no changes made
Weather
Spring and fall are generally the most pleasant times to visit Las Vegas. During the months of April and May, the temperature in Las Vegas is particularly pleasant, between 20 °C and 30 °C. The city has many swimming pools that allow you to cool off in an excellent way when the weather is hot and sunny.
The sun shines in Las Vegas on average 315 days a year. La Vegas has a minimal amount of rain and the surrounding area is desert-like.
History
The name Las Vegas comes from Spanish and means "the meadows". The country originally belonged to the Navajos and other nomadic American Indians. In 1855, the Mormons sent a small group of settlers to the local Native Americans to help them grow crops and create a safe stopover between Los Angeles and Salt Lake City. The city of Las Vegas was founded in 1905.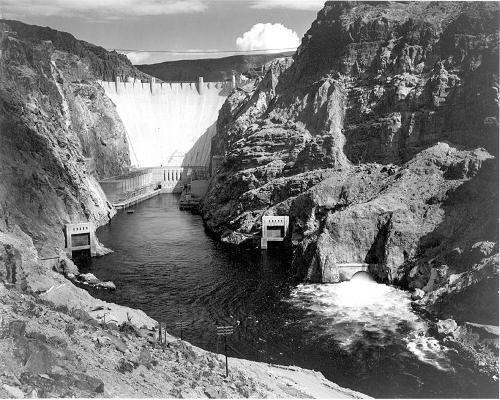 HooverdamPhoto: Public Domain
In 1931, two things happened that would change Las Vegas forever. Construction of the Hoover dam started and thousands of workers were sent to the city. At the same time, gambling was legalized. For years, the city struggled with a small-town image, until Bugsy Siegel, the infamous New York gangster opened his Flamingo Hotel in 1946. Today, Las Vegas is the fastest growing city in the United States, and its population growth is estimated to be between 4,000 and 8,000 people per month. Tourism and the gambling industry are the two major employers of Las Vegas.
Sights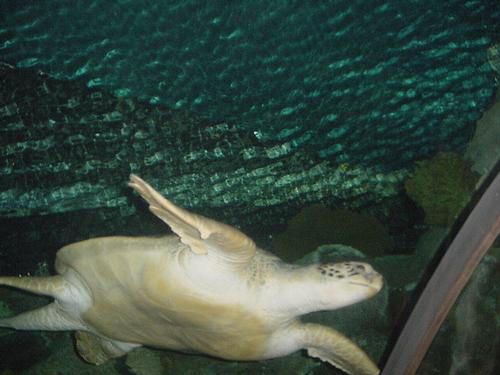 Sea Turtle in Mandalay Bay Shark Reef in Las VegasPhoto: Dragos Neagu CC 3.0 Unported no changes made
A popular Las Vegas tourist attraction is the Mandalay Bay Shark Reef. The aquarium is almost 22 meters deep and has a volume of about 2 million liters of water. The aquarium is home to more than 1,200 species of exotic fish, sharks and other marine animals.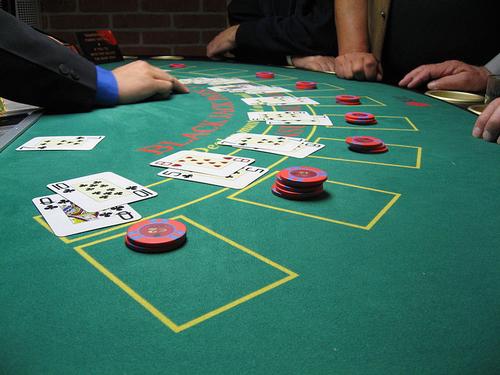 Las Vegas BlackjackPhoto: Public Domain
One of the most popular activities in Las Vegas is gambling. Las Vegas has more than 150 casinos and hotel casinos, with excellent facilities. This attracts a huge amount of visitors to the city. Las Vegas casinos feature a staggering number of options, including over 200,000 slot machines and 3,500 blackjack tables. Las Vegas casinos are rated among the best casinos in the world and can be found literally on every street corner.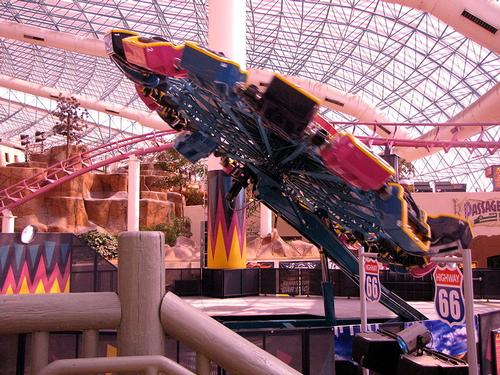 Adventuredome Las VegasPhoto: Public Domain
A few amusement parks in Las Vegas are: Adventuredome at Circus, the Big Shot and High Roller and Coney Island Emporium. The Coney Island Emporium is a family amusement park on the Las Vegas Strip. Visitors can enjoy a Daytona Race Simulator, among other things.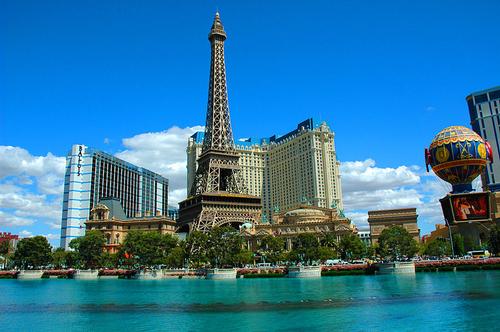 Paris Las VegasPhoto: Thinboyfatter CC 2.0 Generic no changes made
Paris Las Vegas was created in 1999 and immediately became one of the most famous and humorous sights in Las Vegas, recreating the iconic Eiffel Tower. Although the tower is to scale, about half its original size, the tower is still imposing. There are also several other Parisian replicas, such as the Arc de Triomphe, the Champs Elysees, the Opera and the Parc Monceau, as well as a private version of the River Seine.
Located in west Las Vegas, the Nevada State Museum is a large complex with many varied collections. It has an interesting exhibition with historical information about the origin and evolution of the city, many old newspapers, an extensive library and a beautiful garden. The museum also has a playground for children. One of the most surprising exhibits in this museum is a huge woolly mammoth skeleton, dating back to the Ice Age. There is also a life-size model of an ichthyosaur, which is 15 meters long and therefore very difficult to miss.
Tips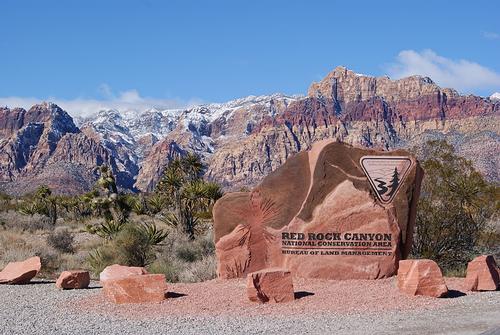 Red Rock National Conservation Area Las VegasPhoto: Denise Westerfield CC 3.0 Unported no changes made
If you are looking for outdoor activities in Las Vegas, there are several options available. There are several golf courses in the area. There are lakes, rivers, parks and gardens. One of the parks you can visit is the Red Rock Canyon National Conservation Area. There are several walking routes in this park. You can also enjoy the colorful rock formations. The scenery is breathtaking.
Boulder Beach near Las Vegas is one of the most popular places for camping or swimming. Eucalyptus trees that line the beach provide shade from the hot sun. Boulder Beach is located approximately one mile south of Boulder City.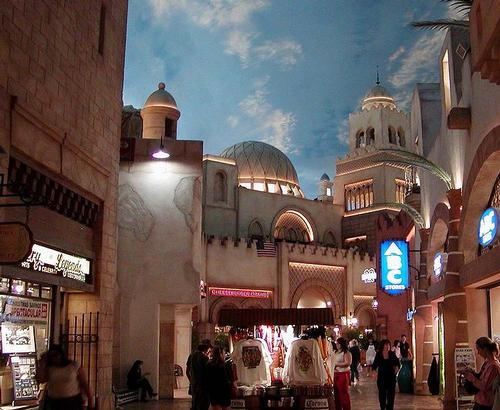 Aladdin Desert Passage Las VegasPhoto: Stan Shebs CC 3.0 Unported no changes made
Some famous shopping centers on the Strip in Las Vegas include the Fashion Show Mall, Desert Passage at Aladdin and the Showcase Mall. The Desert Passage at Aladdin has more than 140 stores and more than a dozen restaurants. There are shops for every budget.