TENERIFE
Climate and Weather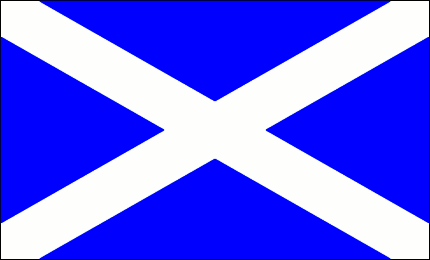 Cities in TENERIFE
Popular destinations SPAIN
Climate and Weather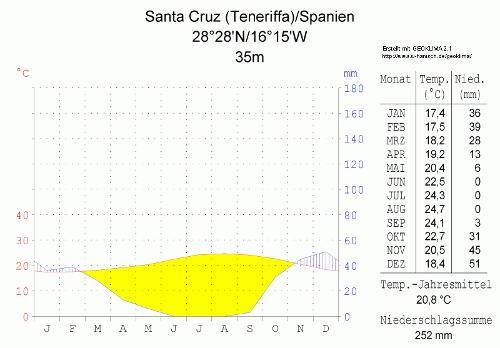 Climate diagram Santa Cruz, TenerifePhoto: Hedwig in Washington CC 3.0 no changes made
Throughout the year, Tenerife has a warm and sunny climate, partly due to the constantly blowing north-east trade wind ("alisio") and the Gulf Stream, which keep the temperature even. Especially on the coast, the temperature is tempered to such an extent that it is a pleasant place to be; normally it would be between 2-4°C warmer. The south of the island has the most hours of sunshine and it is much drier than the north. This is because the wind mainly blows from the northeast. Even in the winter months, temperatures of 20°C are measured in the south, in the middle of summer up to 30°C.
The mountains keep the clouds out and therefore it often remains dry and sunny in the south. The north has a pleasantly temperate climate and is often cloudy and humid, especially in winter. Tenerife has an average rainfall of 300 to 500 mm per year, but it rarely rains for long periods. Most rain falls in November, December and January; the driest months are June, July and August.
In the mountainous center of the island it is of course a lot colder; with every hundred meters of altitude, the temperature drops by about half a degree. Above 1800 meters snow falls regularly on the mountains of Tenerife, especially in the period October-April. Of course, the snow stays the longest on Mount Teide, the highest mountain on the island.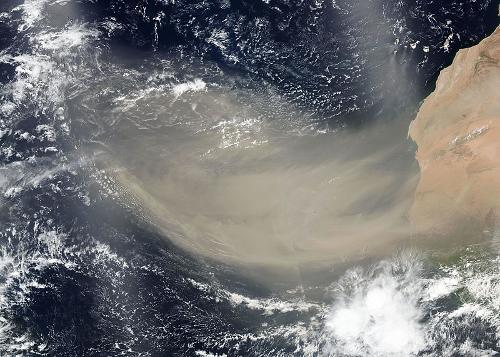 Dust wind from the Sahara over TenerifePhoto: Public domain
In autumn and spring it sometimes gets hot and dusty because of the sirocco, an east wind that blows over Tenerife from the African Sahara. The inhabitants also call this sirocco 'el tiempo de Africa'. The heat from the wind causes the humidity to drop to almost zero and temperatures can rise above 40°C. After three to five days, heavy rains put an end to this natural phenomenon. In winter, the northeast trade wind is occasionally driven off by a low-pressure area from the west. These low pressure areas bring rain, storm and low temperatures, but it never lasts longer than three days.
Average air and water temperatures North and South Tenerife
| | | |
| --- | --- | --- |
| | North | South |
| | airtemp. / watertemp. | airtemp. / watertemp. |
| January | 18°C / 19°C | 18°C / 19°C |
| February | 18°C / 18°C | 18°C / 18°C |
| March | 19°C / 19°C | 19°C / 19°C |
| April | 21°C / 19°C | 19°C / 19°C |
| May | 22°C / 20°C | 20°C / 20°C |
| June | 24°C / 21°C | 22°C / 21°C |
| July | 25°C / 23°C | 24°C / 23°C |
| August | 24°C / 23°C | 26°C / 24°C |
| September | 23°C / 23°C | 26°C / 24°C |
| October | 21°C / 22°C | 24°C / 23°C |
| November | 19°C / 21°C | 22°C / 21°C |
| December | 21°C / 20°C | 20°C / 20°C |
---
Sources
Gruschwitz, B.F. / Canarische Eilanden
Het Spectrum
Klöcker, H. / Tenerife
Zuidnederlandse Uitgeverij
Krause, D. / Tenerife
ANWB,
Nowaczyk, D. / Tenerife
Van Reemst
Rokebrand, R. / Reishandboek Tenerife
Elmar

CIA - World Factbook

BBC - Country Profiles
Last updated November 2023
Copyright: Team
The World of Info