TENERIFE
Los Cristianos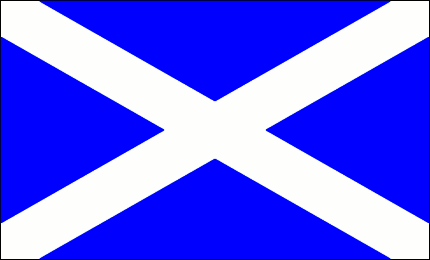 Los Cristianos
Together with the Costa Adeje and the Playa de las Americas, Los Cristianos forms the tourist trinity of beautiful Tenerife. Los Cristianos, however, offers something that not many other seaside resorts offer: it combines a fantastic beach and perfect tourist facilities with history and traditional life. It is one of the few places that has a history that goes back further than the moment when tourism started. That's why there are still many fishermen and other locals living here, whose families have lived here for centuries. This ensures that the place is more relaxed and authentic than other places and that tourism is less massive.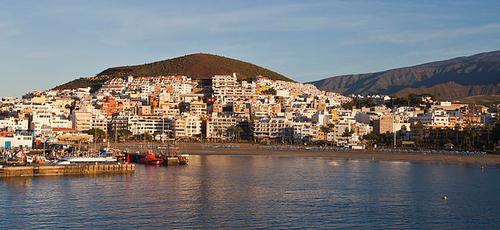 Los ChristianosPhoto: Diego Dellso license CC BY-SA no changes made
Location
Los Cristianos is located on the lovely south coast of Tenerife, about 20 minutes from Tenerife airport. To the west it borders Playa de las Americas. This place is more touristy and both seaside resorts automatically merge into each other. If you walk into Los Cristianos from Playa de las Americas, you can only see that the sandy beach widens that you are now in Los Cristianos. If you continue, you will automatically arrive at the central point of the city: the harbor, where fishermen have been sailing in with fresh fish every day since time immemorial. Moreover, this port connects Tenerife with other islands such as La Palma, La Gomera and El Hierro. Los Cristianos is home to two beaches: the Playa de Los Cristianos, not far from the harbor, and the Playa de la Vistas.
Weather
Los Cristianos' wonderful climate makes it one of many people's favorite winter sun destinations. Not only is it a good place to be here in summer, but also in winter the weather is warm, sunny and dry. Both air and water temperatures rarely drop below 20 degrees. In winter it can rain slightly more than in summer, but it is still a lot drier here than in the United Kingdom, for example. It can also be a bit windy, but Los Cristianos is reasonably sheltered due to the high buildings. In the summer there is absolutely nothing to complain about this kind of thing. Warm winds from the Sahara bring in dry air, which can cause temperatures to exceed 40 degrees.
History
As mentioned, its history is one of the distinguishing features of Los Cristianos. Fishing has been going on since the 16th century. Slowly but surely, the town grew and when a modern quay was built in 1909 that enabled large ships to moor, this only went faster. However, the town got its current shape through tourism. When it was discovered in 1955 that a stay here would be beneficial for the treatment of diseases such as mulltiple sclerosis and rheumatism, tourism took off. When other tourists then also discovered how wonderful it can be to stay here, the current airport was built for this reason, which has ensured the current popularity of the place.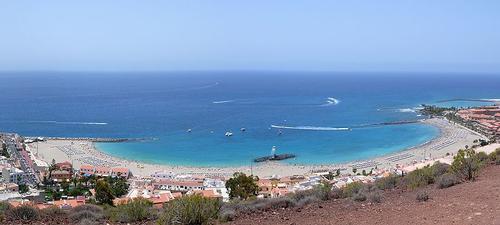 Los Christianos BeachPhoto: Mataparda in rthe public domain
Sights
A major attraction of the place are the two large beaches, which are connected by a long promenade with a wide range of restaurants and shops. In addition, the environment is fantastic: you will find the volcano El Teide, surrounded by a beautiful mountain range reminiscent of a moon landscape.
Tips
There is a black market every Sunday morning. A lot of fun is offered here, but there are certainly nice things in between. A must for the bargain hunter! Another advice, if you are with children, is to go to the Playa del Vistas because there is less current there.