EL HIERRO
Geography and Landscape

Basic information
Official language
Spanish
Capital
Valverde
Area
287 km²
Population
11,154 (2019)
Currency
euro (EUR)
Web
.es
Code.
ESP
Tel.
+34

Popular destinations SPAIN
Geography and Landscape
Geography
The Canary Islands (Spanish: Islas Canarias) are located in the Atlantic Ocean west of Africa, at the same altitude as Morocco. The archipelago consists of seven inhabited main islands and six smaller ones. The main islands are Tenerife, Fuerteventura, Gran Canaria, Lanzarote, La Palma, La Gomera and El Hierro.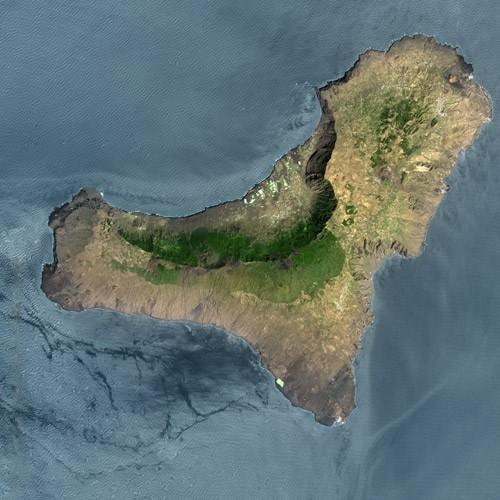 El Hierro Satellite PhotoPhoto: Public domain
Four small rocky islands are: La Graciosa, Montaña Clara, Alegranza and Los Lobos. The Canary Islands are geographically part of Africa, but politically they have been part of Spain since the 15th century. The archipelago consists of two provinces, under the name: Autonomous Region of the Canary Islands.
El Hierro is the smallest and westernmost island of the Canary archipelago; it is even the westernmost point of Europe. The Alexandrian philosopher and mathematician Ptolemy was certain in the second century AD that the world would end at El Hierro.
The total surface area of the island is only 278 km², and it measures a maximum of 24 by 27 kilometres.
Landscape
Despite its small size, the island has quite a few different landscapes. There is a high interior and there are cliffs that rise more than 1000 metres from the ocean. Because of the capricious coast, with mostly cliffs, rock formations and reefs, there are practically no sandy beaches. The plateaus, which are unique to the Canary Islands, stretch from the capital Valverde in a south-westerly direction and cover a large part of the island.
The highest peak on the steep island is the Pico de Malpaso, 1501 metres high, and other high peaks are the Mercader (1252 m) and the Ventejea (1216 m).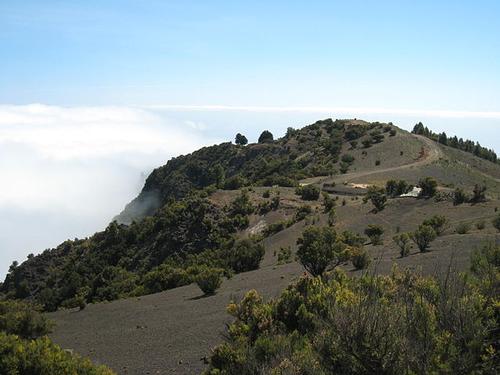 Pico del Malpaso, highest mountain on El HierroPhoto: Tbachner CC BY 3.0 no changes made
High (lookout) points on the island are:
Mirador de Jinama, 1250 metres
Mirador de las Playas, 1070 metres
Mirador de Bascos, 850 metres
Isora Mirador, 770 metres
Mirador de la Peña, 670 metres
Although not always visible because of the vegetation, El Hierro has the most volcanoes of the entire archipelago, about 500. The volcanic character of the island is best observed in the south. The last major eruption took place more than 200 years ago. In 2011, a spectacular submarine eruption took place 2 km into the sea at La Restinga. The volcano is still degassing.
The El Golfo area is located in a lowland plain on the northwest coast.
The fourteen-kilometre-long coastline follows part of a sunken crater that has continued to protrude above the water line. About 50,000 years ago, part of that crater must have slid violently into the sea. It is estimated that one third of the entire island disappeared into the sea this way.
El Hierro has no rivers and also no 'barrancos', deep ravines, which can be found on other Canary Islands.
---
Sources
Evers, K. / Canarische Eilanden : Tenerife, La Gomera, El Hierro, La Palma, Gran Canaria, Fuerteventura, Lanzarote
Gottmer
Leibl, M. / Gomera & Hierro
Van Reemst
Lipps, S. / Wandelgids La Gomera en El Hierro
ANWB
Murphy, P. / Canarische Eilanden
Kosmos-Z&K
Renouf, N. / Canarische Eilanden
Kosmos-Z&K
Rochford, N. / Wegwijzer voor La Palma en El Hierro : een landschapsgids
Sunflower Books

CIA - World Factbook

BBC - Country Profiles
Last updated October 2023
Copyright: Team
The World of Info