NORWAY
Economy


Cities in NORWAY
Economy
General
Norway has a stable economy with a vibrant private sector, a large public sector and an extensive social safety net. Norway excluded the EU in a referendum in November 1994. However, as a member of the European Economic Area, Norway participates partially in the EU internal market and contributes significantly to the EU budget.
The country is richly endowed with natural resources such as oil and gas, fish, forests and minerals. In anticipation of any declines in oil and gas production, Norway is saving state revenues from oil sector activities in the world's largest sovereign wealth fund.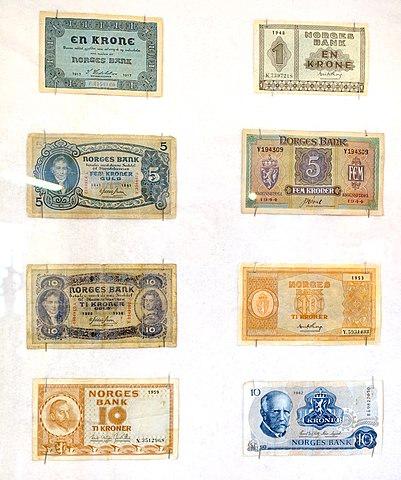 Old Norwegian banknotesPhoto: Wolfmann CC 4.0 International no changes made
After solid growth in the period 2004-2007, the economy slowed in 2008 and contracted in 2009, before returning to modest, positive growth from 2010 to 2017. In 2017, growth is expected to be 1.9%. economic growth will remain constant or improve somewhat in the coming years. Its GDP is $ 72,100 per capita.
Agriculture, livestock, forestry and fishing
Compared to the available agricultural land, the yield from arable farming, horticulture and livestock farming is very high. To avoid dependence on foreign countries, farmers are heavily subsidized and the prices of agricultural products are kept artificially high. In Southern Norway, for example, grain cultivation is being encouraged to enable animal husbandry in areas not suitable for grain production, which is still somewhat profitable (albeit heavily subsidized). In this way an attempt is also being made to combat the depopulation of Northern Norway in particular.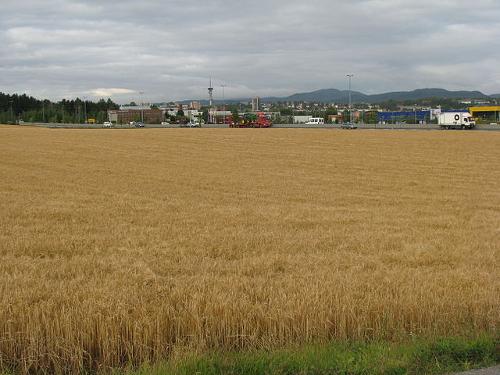 Grain field at Tungasletta, eastern Trondheim, NorwayPhoto: Orcaborealis CC 3.0 Unported no changes made
About two-thirds of forest ownership is in the hands of farmers and is mostly exploited on a small scale in combination with farming. About 80% of the Norwegian forests are used for wood production. Most Norwegian houses are still built of wood.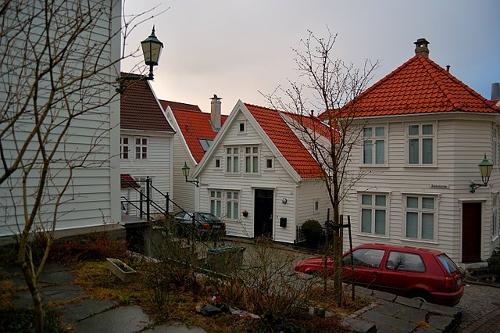 Wooden houses in Bergen, NorwayPhoto: Sveter CC 3.0 Unported no changes made
The sea continues to play an important role in the Norwegian economy. The export of fish products annually yields billions of Norwegian kroner. A 200-mile zone was established in 1977. Fish farming (including salmon and trout) is a growth industry that is becoming increasingly important.
Mining
On the mainland of Norway, iron ore, lead, copper, nickel, granite and zinc are extracted. Spitsbergen has large reserves of coal exploited by Norwegian and Russian companies. Oil and natural gas have been extracted from the North Sea since 1971. The state-owned company Statoil has played an increasingly important role in exploration and extraction. The petroleum is transported by tankers, the gas by pipeline to Emden (Germany) and Teesside (England).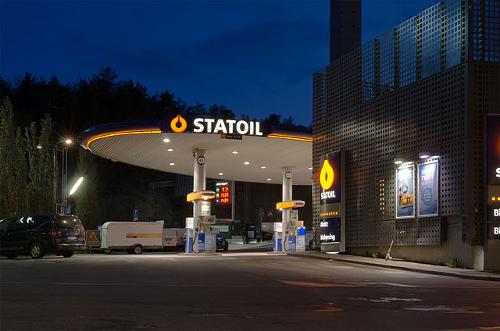 Statoil petrol station, Södra Hammarbyhamnen (Stockholm)Photo: Arild Vågen CC 3.0 Unported no changes made
Industry
The industry's share of the gross national product was 33.7% in 2017 and 19.3% of the labor force finds work there. Small businesses dominate. The aluminum industry is the most important branch. Besides Russia, Norway is the largest aluminum producer in Europe.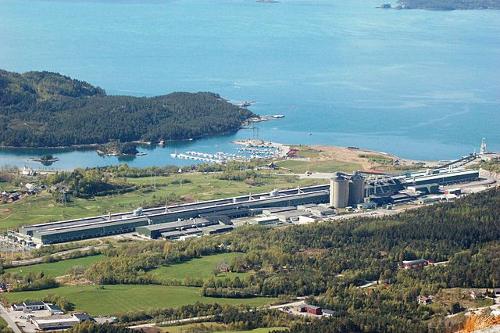 View of the aluminium factory Sør-Norge Aluminium AS at Husnes, NorwayPhoto: Jostein Røstbø CC 3.0 Unported no changes made
Other important products are nitrogen and calcium nitrate. Also important are the wood finishing and paper industries, shipbuilding and cement industries. The chemical and petrochemical industries are becoming increasingly important due to the extraction of natural gas and petroleum. The main refineries are located at Bamble, Rafsnes and Mongstad. The construction sector is also of great importance.
Trade
Norway has had a surplus on the trade balance since 1989, mainly due to oil exports. Important export products are also machines, metals (aluminum), paper and cellulose, fish and chemical products. Total exports were $ 102.8 billion in 2017. Mainly machines, raw materials and semi-finished products, petroleum and petroleum products, foodstuffs, cars and ships are imported. Total imports were $ 95.1 billion in 2017. The main trading partners are the EU, the Scandinavian neighbors and the United States.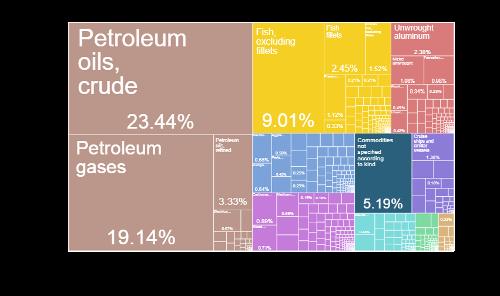 Export products NorwayPhoto: R Haussmann, Cesar Hidalgo, et. al. CC 3.0 Unported no changes made
Traffic
There have never been many roads and therefore a coastal shipping has always played a central role in transportation. Since the arrival of the railways, typical 'station cities' have emerged inland. The rail network is not extensive. From Narvik there is a connection to the Swedish railway network with an ore line to Kiruna.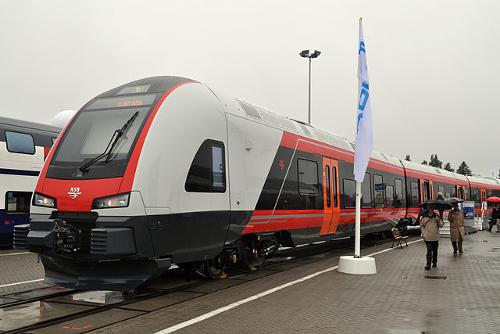 NSB train, NorwayPhoto: MPW57 CC 3.0 Unported no changes made
The Hurtigrute from Bergen to Kirkenes occupies a central place in passenger transport by sea. Transport by air is provided by SAS (also international), Braathens SAFE and Widerøe. From Norway there are ferry connections to Denmark, Germany, the Netherlands and England. Norway has the fifth largest merchant fleet in the world with more than 1,600 ships of 100 gross tons and larger. The shipping companies have significant interests in the petroleum industry. Norway is one of the first countries to specialize in super tankers.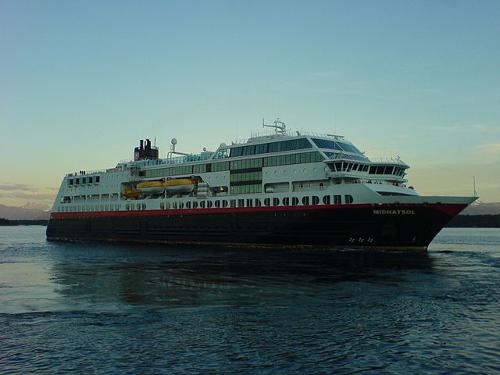 Hurtigruten ship, NorwayPhoto: I, Nsaa CC 3.0 Unported no changes made
The longest tunnel in the world was opened in Norway in 2001: the Laerdal Tunnel is 24.5 km long and starts 300 km northwest of Oslo and connects Oslo with Bergen.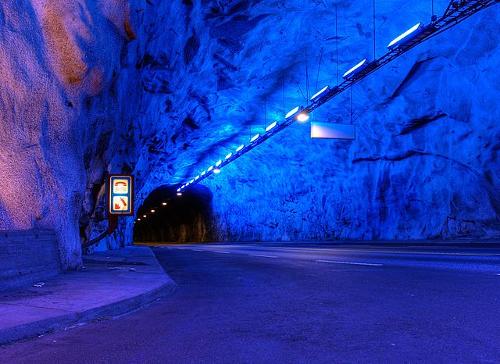 Laerdal tunnel, NorwayPhoto: Sergey Ashmarin CC 3.0 Unported no changes made
The listed Scandinavian Airlines, a part of the SAS Group and formerly known as the Scandinavian Airlines System, has been the joint airline of Denmark, Norway and Sweden since its inception in 1946. The governments of Sweden and Denmark still hold shares, the rest is in private hands. In March 2021, Scandinavian Airlines had a fleet of 132 aircraft.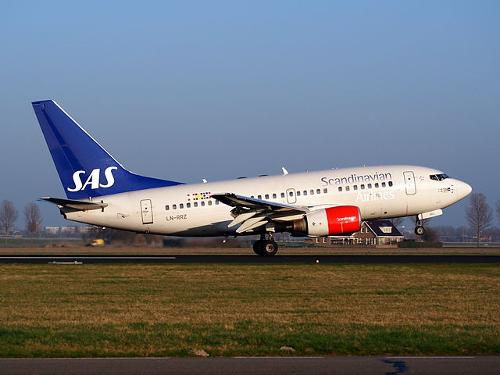 Boeing 737-683 Scandinavian Airlines (SAS), NorwayPhoto: Alf van Beem in the public domain
---
Sources
Dominicus, J. / Noorwegen
Gottmer
Hoogendoorn, H. / Noorwegen
ANWB
Meesters, G. / Zuid-Noorwegen
ANWB media
Schagen, K. / Noorwegen
Kosmos-Z&K
CIA - World Factbook
BBC - Country Profiles
Last updated November 2023
Copyright: Team
The World of Info