NEW ZEALAND
Economy


Cities in NEW ZEALAND
Economy
General
More than half of New Zealand's total land area is used as an agricultural or pasture land. The economy of a modern country like New Zealand is therefore highly dependent on a small number of agricultural products, in particular wool, meat and butter. Yet just under 7% of the workforce works in this agricultural sector, which accounts for more than 50% of export earnings (2017). The transition to a more industrial society is almost impossible due to the relatively small domestic market and the great distance from overseas markets. However, since 1984, the government has been trying to turn the agricultural economy, which is largely dependent on the British market, into a more industrialized, free market economy that can compete globally.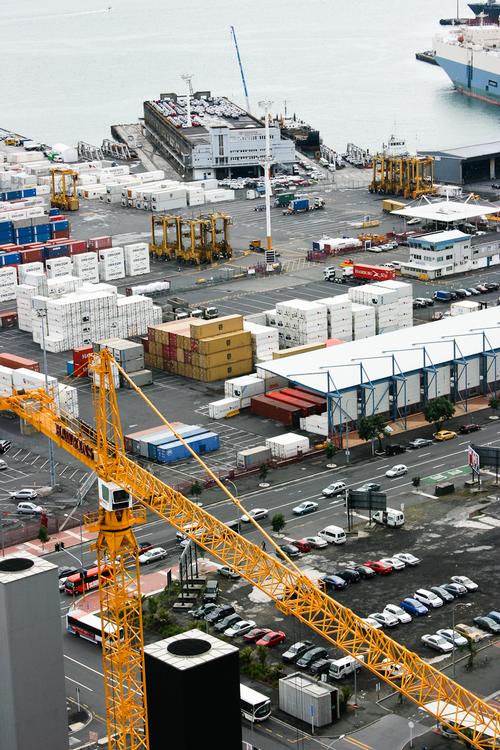 Port of Auckland container loading areaPhoto:http://www.freenzphotos.com CC 3.0 no changes made
In any case, this approach has resulted in an increase in per capita income and an improvement in the technological capacities of the industrial sector. The inflation rate was also contained and among the lowest in the industrialized world (2013: 1.9%). However, the economic future remains uncertain due to the high dependence on the economic situation in Asia, Europe and the United States. In 2017, the Gross National Product was $ 189 billion, that is, $ 39,000 per capita. Economic growth was 3% in 2017. Although access to the European Union has become more difficult, New Zealand has managed to increase exports to Asian countries, the Middle East and the United States, leaving a trade surplus. In 2017, 4.7% of the labor force were unemployed. The share among the Maori population is three times as large.
Agriculture, livestock farming, fishing and forestry
Livestock farming is the most important sector in agriculture, with approximately 9 million cattle. The dairy farms and the companies with intensive sheep and beef cattle farming are mainly located on the North Island. New Zealand is one of the world's largest exporters of lamb and mutton. Extensive sheep farming in the highlands of the South Island mainly serves for wool production. New Zealand is the third wool producing and second wool exporting country in the world. There are about 50 million sheep and there are companies that have more than 12,000 sheep.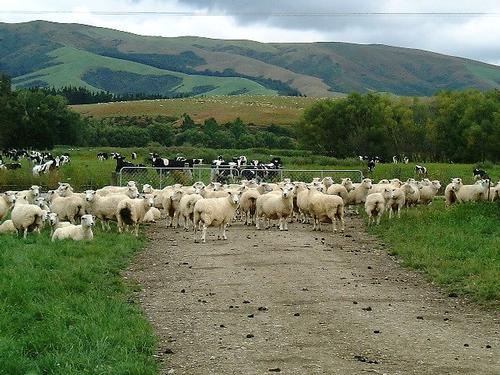 New Zealand has a lot of sheep, a great lotPhoto: Rob Young from United Kingdom CC 2.0 Generic no changes made
The crop yield, which mainly focuses on the cultivation of grain, oats, barley, potatoes, vegetables, fruit and tobacco, fully covers domestic demand. Special products include the "kumara", a sweet potato that only grows on the North Island and "tamarillos", a type of fleshy tomatoes. Nashis is a cross between an apple and a pear. Important export products are kiwis, which were once imported themselves, passion fruit, apples and pears. For the domestic market, oranges, limes, cherries, plums and apricots are grown.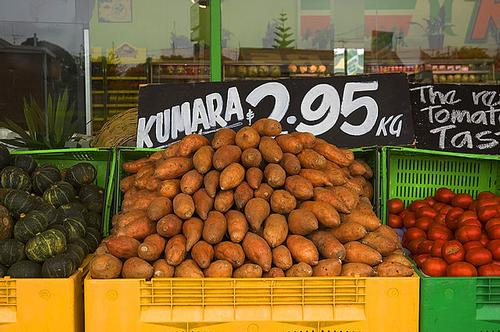 Kumaras for sale in Thames North Island, New ZealandPhoto: James Shook aka JShook CC 2.5 Generic no changes made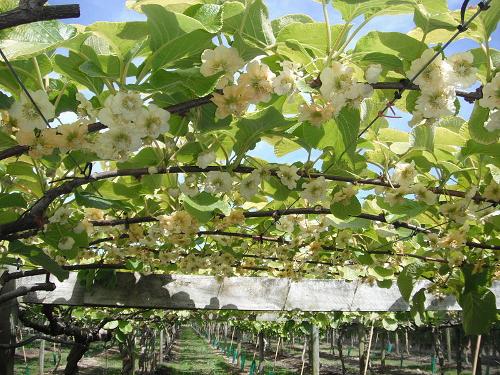 Kiwis, improtant export product of New ZealandPhoto: A.J.Morris CC 3.0 Unported no changes made
The rich fishing grounds around New Zealand, which also include oysters, lobster and mussels, have been exploited considerably more professionally since the 200-mile zone was established. An annual quota system ensures that the different fish species are managed responsibly. Fish farms are also on the rise.
A quarter of New Zealand's surface is covered with forests (which used to be 80%), which increasingly supply raw materials for the timber industry. The wood industry exports, among other things, wood, wood pulp, paper and veneer.
Mining, industry and energy
New Zealand's major resources are coal, natural gas, gold, silver and limestone. The six natural gas fields cover a large part of the energy demand, but these fields are expected to produce less in the future. A number of oil fields have also been put into production in the Tasman Sea.
Industry employs 20% of the workforce and this sector contributes 21.5% to GNP (2017). People mainly work in small and medium-sized companies and heavy industry is rare. Industry accounts for approximately 25% of total exports. Important branches of industry are: metal and machine industry, the wood, cellulose, furniture and paper industry, the leather and upholstery industry and the food industry. Bluff on the South Island is home to the largest aluminum smelter in the Southern Hemisphere.
Power generation and supply are government-owned and provided by hydropower and geothermal power plants. The country has great hydropower potential due to the numerous rivers and lakes. Three quarters of the electricity is generated by hydropower. Solar and wind energy are also becoming increasingly important.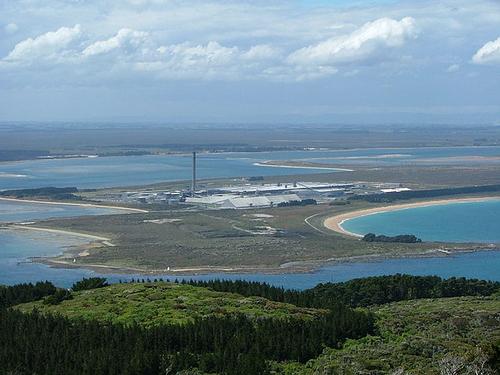 Tiwai Point Aluminium Smelter, New ZealandPhoto: Unknown CC 2.5 Generic no changes made
Trade
Agricultural exports are still the main source of income. Main export products are therefore livestock, meat and meat products, wool, butter, pulp, paper, cheese and skins. In 2017, exports amounted to $ 37.4 billion and the main customers are: Japan, Australia, China and the United States. Imports are mainly machines and transport equipment, fuels and chemicals. In 2017, $ 39.7 billion was imported. Main suppliers are: China, Australia, Japan, the United States and Germany.
Traffic
New Zealand has an extensive road network (in total 100,000 km) in both North and South Island. It is noteworthy that New Zealand has 15,800 bridges. The rail network (4,273 km) connects the main population centers and is privatized in 1990 by New Zealand Rail Ltd. operated, which also maintains an extensive bus network.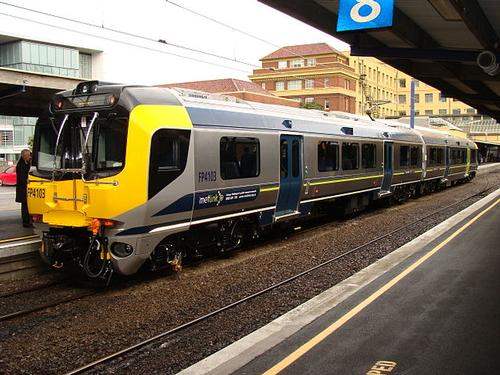 Matangi electric multiple unit train FP/FT 4103 at Wellington railway stationPhoto: Matthew25187 at en.wikipedia CC 3.0 Unported no changes made
Maritime shipping is very important to the economy of New Zealand. The main ports are: Whangarei, Wellington, Auckland, Picton, Lyttelton and Taurange. Aviation is indispensable for domestic traffic due to the large distances that sometimes have to be covered. Many small private airlines, Air New Zealand and air taxi services maintain the connections. International air traffic is maintained by Air New Zealand and numerous foreign airlines. International airports exist in Auckland, Christchurch and Wellington.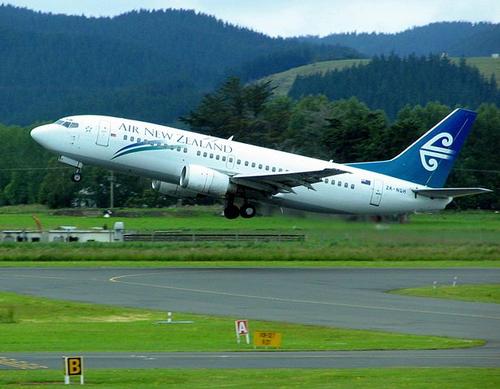 Boeing 737 of Air New ZealandPhoto: Benchill CC 3.0 Unported no changes made
---
Sources
Driessen, J. / Reishandboek Nieuw-Zeeland
Elmar
Gebauer, B. / Nieuw-Zeeland
Lannoo
Gebauer, B. / Nieuw-Zeeland
Elmar
Hanna, N. / Nieuw-Zeeland
Kosmos-Z&K
Harper, L. / New Zealand
Rough Guides
New Zealand
Macmillan
Te gast in Nieuw-Zeeland
Informatie Verre Reizen
Williams, J. / New Zealand
Lonely Planet
CIA - World Factbook
BBC - Country Profiles
Last updated November 2023
Copyright: Team
The World of Info