NEW ZEALAND
Language


Cities in NEW ZEALAND
Language
English, with a clearly audible accent, and Maori (since 1987) are the official languages of New Zealand. There is a kind of "Kiwi snake":
Some examples of this are:
Rattle your dags! = hurry up!
Mate / cobber = buddy
Goes like a bomb = runs like a train
Not much chop = doesn't pay
Loopies = tourists
Full as a bull = drunk
See ya = goodbye
Wops-wops = deep in the province
Maori is spoken by more than 3% of the population and the Maoris themselves speak both languages. The number of Maori who still speak Maori among themselves is getting less and less.
Maori has some similarities with Indonesian dialects and Polynesian languages as spoken in Tonga, Samoa, the Cook Islands and French Polynesia.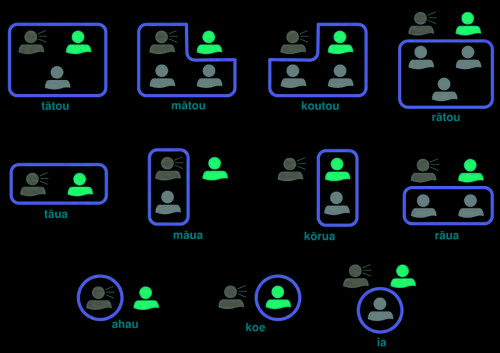 Maori pronouns New ZealandPhoto: Wiremu Stadtwald Demchick CC 4.0 International no changes made
The Maori alphabet has only fifteen letters: the a, e, h, i, k, m, n, o, p, r, t, u, w, ng, and wh. The last letter is pronounced as a hard f. Maori has no S-sounds.
Most geographic names are of Maori origin and translate well, such as:
Ao = cloud
Tea = white
Roa = long
Ao tea roa is then "land of the long white clouds", the Maori name for New-Zealand.
Some Maori words and expressions:
Aroha = love
Haere-mai = welcome
Hui = gathering of the tribe
Manu = bird
Peruperu = war dance
Roto = more
Rangi = heaven
Waiata = song
Waka = canoe
wai = water
The word Maori was first used by the Europeans and means normal or ordinary.
Sources
Driessen, J. / Reishandboek Nieuw-Zeeland
Elmar
Gebauer, B. / Nieuw-Zeeland
Lannoo
Gebauer, B. / Nieuw-Zeeland
Elmar
Hanna, N. / Nieuw-Zeeland
Kosmos-Z&K
Harper, L. / New Zealand
Rough Guides
New Zealand
Macmillan
Te gast in Nieuw-Zeeland
Informatie Verre Reizen
Williams, J. / New Zealand
Lonely Planet
CIA - World Factbook
BBC - Country Profiles
Last updated May 2022
Copyright: Team
The World of Info