FLORIDA
Religion


Cities in FLORIDA
Popular destinations USA
Religion
General
Approximately 40% of the total population of Florida is Protestant, with Baptists, Methodists, and Pentecostals as the largest faith communities.
Just over a quarter of the population is Roman Catholic, 3% is Jewish, 1% is Jehovah's Witness and 14% of the population belongs to various small faith communities. Approx. 16% of the population is non-religious, including the spiritualists of the Cassadag community.
Most Catholics and Jews live in South Florida; the Jews there make up 12% of the population, after New York the highest percentage of the population. South Florida also has an increasing Muslim population and followers of Santería, a mix of West African and Catholic customs. Voodoo customs are practiced by Haitians.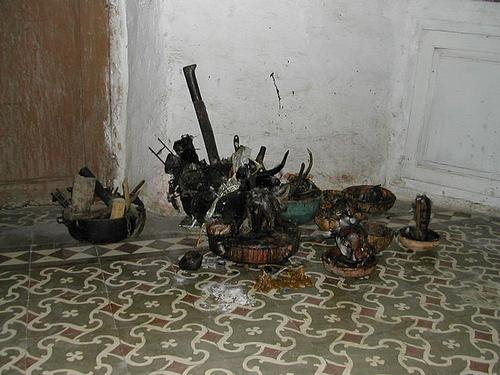 Remains of a Santería-offering ritual, Miami, FloridaPhoto: James Emery CC 2.0 Generic no changes made
Ecclesiastical buildings
Apalachicola - Trinity Episcopal Church: Church built in New York State that was shipped to Apalachicola in sections along the Atlantic coast and the Florida Keys and reassembled in 1836.
Key West - St. Paul's Episcopal Church: 1912 church dedicated to the patron saint of castaways. Some windows are therefore stained with nautical scenes.
Miami - Gesù Church: This Downtown-Miami church is owned by the oldest Catholic parish in Miami and dates back to 1922. The stained-glass windows were made in Munich, Germany. The church has no pillars and an impressive marble altar.
Miami - 1917 Church in the Coconut Grove area of the Plymouth Congregational Church Society, an independent part of the United Church of Christ (UCC).
Miami - Coral Gables Congregational Church: Church built in Spanish Baroque style, a replica of a church in Costa Rica. Built in 1923 by George Merrick, the architect of the church was Richard Kiehnel of the architectural firm of Kiehnel & Elliott. George Merrick was also the creator of the new town of Coral Gables, which was not completed by a hurricane in 1926 and the stock market crash of 1929.
Miami - Ermita de la Caridad del Cobre: Modernist church for Cuban refugees built in 1966, dedicated to the patron saint Our Lady of Mercy. The church has a lot of symbolism: the six pillars represent the six traditional provinces of Cuba, under the altar is Cuban soil and stone, along with water from a refugee boat.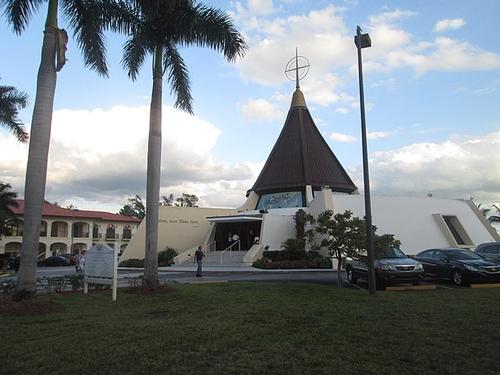 Ermita de la Caridad del Cobre, Miami, FloridaPhoto: Ivan Curra CC 3.0 Unported no changes made
Miami Beach - Miami Beach Community Church: Miami Beach's first church, built in 1921.
Miami Beach - Temple Emanu-El: Considered one of the most beautiful synagogues in the United States, built in Byzantine-Moorish style. Founded by the Orthodox Jewish Congregation Jacob Joseph of Rabbi Joseph Rackovsky and built in 1948 with 1,400 seats. The great Abdallah Ibn Salam Synagogue of Oran, Algeria, served as an example.
Palm Beach - Bethesda-by-the-Sea Church: church built in gothic revival style.
Palm Beach - St. Edward's Church: 1927 church built in Spanish revival style.
Palm Beach - Royal Poinciana Chapel: 1898 church originally built by Henry Morrison Flagler (1830-1913). The church was later moved and reconstructed in 1973.
St. Augustine - Cathedral Basilica of St. Augustine: what can be considered the first church on American soil burned down several times, in 1586, 1702 and 1887. In 1976 the church was given the status of basilica. Beautiful wall drawings by Hugo Ohlms (1905-1990) about life in St. Augustine.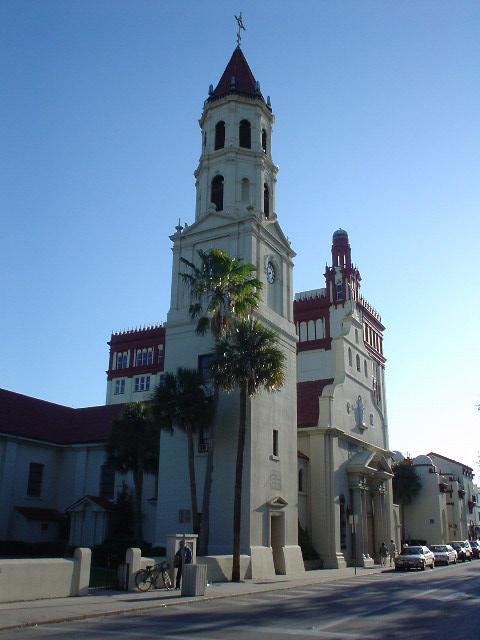 Cathedral Basilica, St. Augustine, FloridaPhoto: Wikiwopbop CC 2.5 Generic no changes made
St. Augustine - Flagler Memorial Presbyterian Church: 1890s Presbyterian Church, funded and named after American industrialist and founder of Standard Oil and the Florida East Coast Railway, Henry Morrison Flagler. Flagler, who dedicated the church to his daughter Jenny who died prematurely and they lie in the mausoleum with his daughter. Church is in the Venetian Renaissance style with a floor of Siena marble, a copper dome and a magnificent organ.
Tarpon Springs - St. Nicholas Orthodox Cathedral: Greek Orthodox cathedral, built by imposing some kind of tax on the capture of sponges. Construction of the church was completed in 1943.
Tarpon Springs - Unitarian-Universalist Church: Special church due to the presence of a collection of paintings by landscape painter George Innes Junior (1854-1926), who wintered in Tarpon Springs from 1902-1926.
Koreshan sect
Cyrus Reed Teed (Delaware County 1839 - New York 1908) was a physician and self-proclaimed alchemist who became a religious leader and called himself "messiah." In the fall of 1869, after an accident involving electricity, he passed out. When he regained consciousness, he believed he had been visited by a holy spirit who told him he was the Messiah. Teed's mission was to liberate mankind and so he changed his first name to Koresh, the Hebrew word for Cyrus.
Teed had some curious points of view. He believed, for example, that the earth revolved around the sun and that humanity did not live on the planet, but in the planet. The sun would be a battery-powered device and the stars merely refracted rays of light from that same sun. He also preached and was a follower of cellular cosmology, alchemy, reincarnation, immortality, celibacy and communism. All together he called Koreashianism and he started preaching his thoughts in the 1970s in New York. Here he also founded the 'Koreshan Unity, and moved to Chicago a little later.
Around 1900, members of the now defunct Koreshan sect settled just south of Fort Myers. The sect's most notable position was that they believed that humanity lived on the inside of a hollow earth.
The sect was founded by New Yorker Cyrus Reed Teed, who after a revelation bought some land in southwest Florida and built homes, workshops, and communal spaces there. Men and women were completely equal according to Teed and he abolished private property. Family ties and sex between cult members were prohibited; only through adoption and recruiting new members could the sect continue to grow. In 1961 the sect ceased to exist.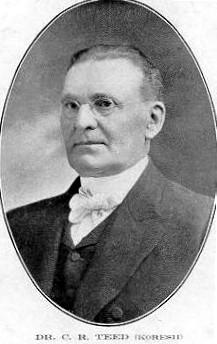 Cyrus Teed, founder of a Florida sectPhoto: public domain
---
Sources
Bailey, Ruth / Florida
Van Reemst, Uitgeverij Unieboek, Het Spectrum BV
BBC - Country Profiles
CIA - World Factbook
Elmar Landeninformatie
Hull, Sarah / The rough guide to Florida
Rough Guides
Karlin, Adam / Discover Florida
Lonely Planet
Karlin, Adam / Florida
Lonely Planet
McKechnie, Gary / Florida : de reisgids voor een actieve & culturele vakantie
Kosmos Uitgevers
Pinck, Axel / Florida
ANWB
Sanders, Bert / Florida : reizen met insider tips
Van Reemst
Skolnick, Adam / Florida & the South's best trips : 28 amazing road trips
Lonely Planet
Wikipedia
Last updated April 2023
Copyright: Team
The World of Info