FLORIDA
Language


Cities in FLORIDA
Popular destinations USA
Language
Due to the great Caribbean and South American influences, especially in southern Florida, English is even considered a second language in large parts of Florida. This is also due to the large number of Spanish-language media. Many Florida residents speak a mixture of English and Spanish called 'Spanglish'. Spanish is particularly widely spoken in Tampa, Miami, and South Florida, where Haitian Creole is also found.
One in four Floridians, which is more than 5 million inhabitants, speaks a language other than English at home, and three quarters of them speak Spanish. About half of Spanish speakers admit to not having a good command of English ... because they simply don't need it.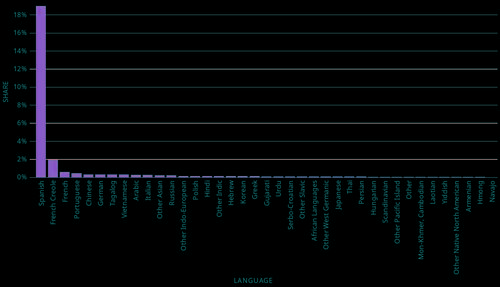 Overview of languages spoken in FloridaPhoto: Datawheel in the public domain
Approx. 500 Seminole and Miccosukee Indians still speak Miccosukee.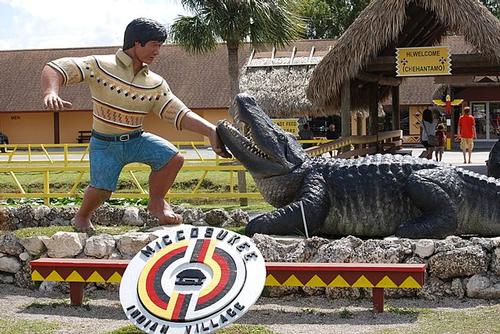 Miccosukee village, FloridaPhoto: Olekinderhook CC 3.0 Unported no changes made
---
Sources
Bailey, Ruth / Florida
Van Reemst, Uitgeverij Unieboek, Het Spectrum BV
BBC - Country Profiles
CIA - World Factbook
Elmar Landeninformatie
Hull, Sarah / The rough guide to Florida
Rough Guides
Karlin, Adam / Discover Florida
Lonely Planet
Karlin, Adam / Florida
Lonely Planet
McKechnie, Gary / Florida : de reisgids voor een actieve & culturele vakantie
Kosmos Uitgevers
Pinck, Axel / Florida
ANWB
Sanders, Bert / Florida : reizen met insider tips
Van Reemst
Skolnick, Adam / Florida & the South's best trips : 28 amazing road trips
Lonely Planet
Wikipedia
Last updated May 2023
Copyright: Team
The World of Info