FLORIDA
Miami

Miami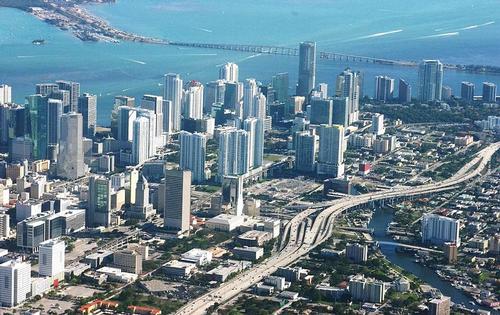 MiamiPhoto: Ron Reiring CC 2.0 Generic no changes made
Miami is a city in the state of Florida and was founded on July 28, 1896. Miami is the largest city in southern Florida. Although the city was often devastated by hurricanes, Miami slowly recovered and grew into an international financial and cultural center with global city status. The city has ties to North, South, Central America and the Caribbean and is known as the gateway to America.
Location
Miami is located on the northern part of Biscayne Bay between the Everglades and the Atlantic Ocean. Miami is located at latitude 25°47 north and longitude 80°13 west. Miami has a total area of 143.15 km², of which 92.42 km² is land and 50.73 km² is water. About 400,000 people live in Miami.
Weather
The city of Miami has a fairly mild climate and the weather is often very sunny and warm. The city is located next to the ocean and therefore there is high humidity even in the middle of summer. A sea breeze can bring refreshment. In general, the best times to visit Miami are from May to early June and from mid-September to October. Then the weather is most pleasant.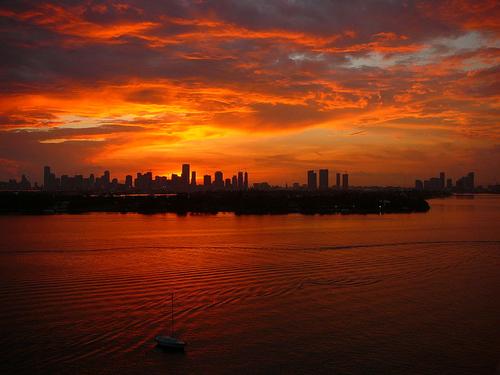 Miami SunsetPhoto: Averette at Englsh Wikipedia CC 3.0 Unported no changes made
In winter, Miami has mild average temperatures of 13°C to 15°C. Outside the winter months, temperatures vary little and remain consistently warm with average summer temperatures ranging from 25°C to 30°C.
History
More than 10,000 years ago, the Tequesta Indians were the first inhabitants of Miami. They lived here peacefully until the Spanish claimed the land in the 16th century. In the 19th century, residents of Bahamas came to Miami to recover shipwrecks. Seminole Indians joined them, along with runaway slaves. This mix of cultures became the hallmark of Miami today.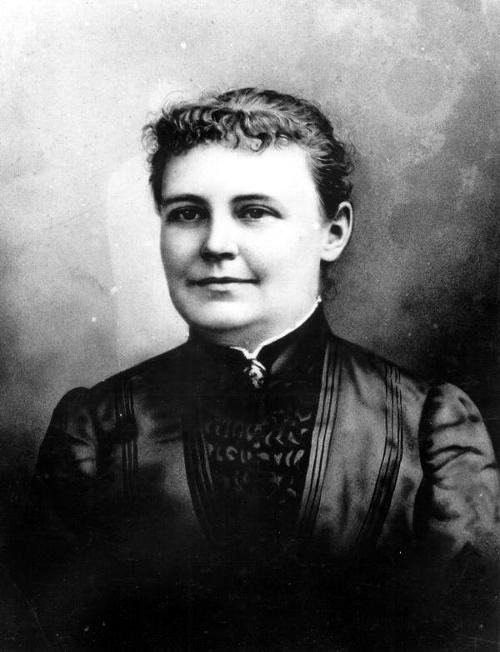 Julia Tuttle MiamiPhoto: Public Domain
Julia Tuttle, a wealthy widow, bought 640 acres of land on the north bank of the Miami River in 1891. Several years later, she persuaded wealthy tycoon Henry Flagler to expand his railroad to Miami. Flagler built a luxury hotel next to a railway line and made a city plan. Miami officially became part of the nation in 1896, with only 300 residents at the time.
In 1926, Miami was hit by a severe hurricane that killed about 100 people and destroyed thousands of homes. During the Great Depression, approximately 16,000 people became unemployed. Miami emerged from this trough. Much of the recovery can be attributed to the aviation industry. Pan Am brought economic growth back to Miami, and returning World War II soldiers brought new population growth.
Much of Miami's culture is the result of Cuban influence. In the ten years after Fidel Castro came to power in 1959, Cuban immigrants flocked to Miami. The majority of these immigrants settled in the Riverside neighborhood, now known as "Little Havana". A new wave of Cuban immigrants came in 1980, and more than 100,000 refugees settled in the Miami area. The Spanish-speaking community creates an authentic Cuban atmosphere in Miami.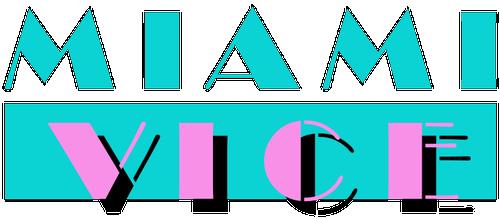 Logo Miami VicePhoto: Public Domain
Miami's upscale image was created as a result of a vibrant drug trade. The city will be home to chic homes, shops and luxury car dealers. The 1980s TV series Miami Vice portrays our times. Miami was shown to the nation as a tropical paradise. In 1992, Hurricane Andrew left a destructive trail through the city. Miami showed its strength through the rapid reconstruction. This multicultural society attracts hundreds of thousands of tourists every year.
Sights
This beautiful city is a popular tourist destination. The Miami Museum of Science and Planetarium, Vizcaya Museum, Little Havana and Bass Art Museum are city highlights.

Miami Museum of SciencePhoto: Knight Foundation CC 2.0 Generic no changes made
Visitors to the Miami Museum of Science and the Planetarium are immediately introduced to the Living Core, a ship-shaped structure showcasing South Florida's native flora and fauna. Elsewhere in the spacious exhibition halls, you will see exhibits on health and nutrition, technology and communication, and basic physics. The planetarium's high-tech digital dome offers the latest multi-media experience to explore the universe to its farthest reaches.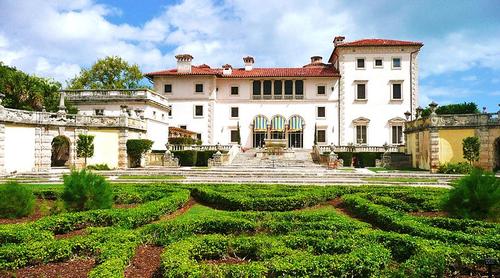 Vizcaya Museum MiamiPhoto: Averette CC 3.0 Unported no changes made
The Vizcaya Museum is a United States National Historic Heritage Site. It was once the home of James Deering. Visitors can view the furniture and the antiques collected by the entrepreneur.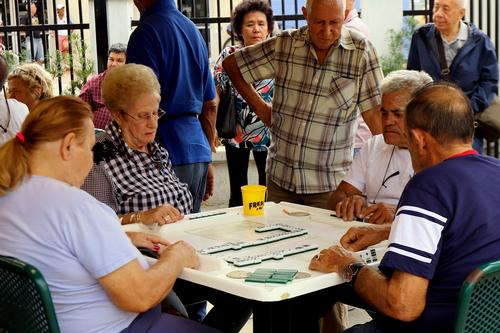 Domino Park in Little Havana in MiamiPhoto: Prayitno (CC BY 2.0) no changes made
In Little Havana, everything is permeated with Latin American culture. Colorful murals, monuments to the heroes of the past and present, older men playing dominoes while talking politics while rolling cigarettes, and the ever-present aroma of Cuban coffee define the atmosphere of Little Havana. Domino Park is played daily by the trained local population.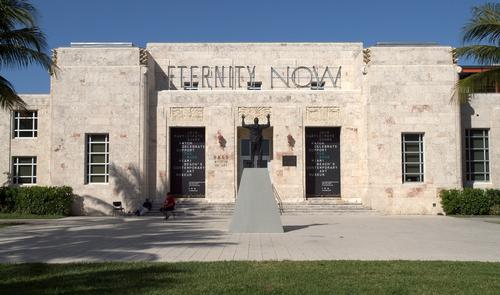 Bass Museum of Art MiamiPhoto: Jim Bowen (CC BY 2.0) no changes made
The Bass Museum attracts visitors with an eye for the rare and eclectic. The museum has a large collection of Renaissance and Baroque paintings, contemporary photography and much more. Since its establishment in 1963, the historic Art Deco building has been renovated and expanded several times. Highlights include Japanese woodcuts, Asian sculpture and ceramics, Rococo paintings, 19th century landscapes, Latin American paintings, 16th century French tapestries, and works by Rembrandt, Daumier and Toulouse-Lautrec. Contemporary sculptures in bronze, steel, fiberglass and polyester resin can also be admired.
The Miami Seaquarium, the Parrot Jungle Island, the Monkey Jungle, the Zoo and Miami Beach are the favorite places for children in the city.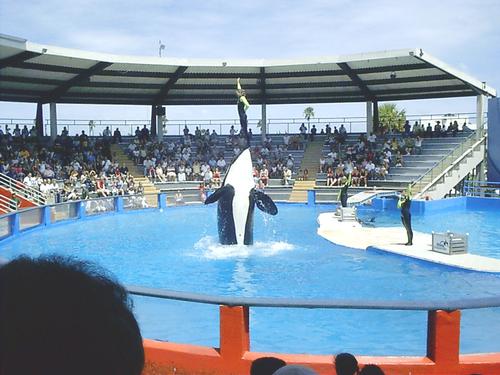 Show in Seaqaurium MiamiPhoto: Averette at Engish Wikipedia CC 3.0 Unported no changes made
The Seaquarium has huge saltwater pools, with a number of majestic orcas and friendly dolphins. These animals are the main attractions, along with sea lions, porpoises and a group of manatees. This 15 acre complex has regular shows and is always attractive to children. On the hottest days, consider attending an evening show as the temperature will be cooler and more pleasant.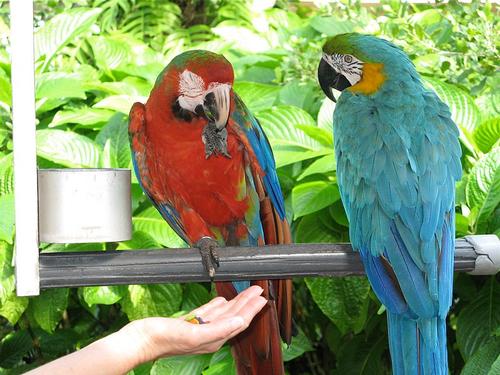 Jungle Island MiamiPhoto: Keith Allison CC 2.0 Generic no changes made
Jungle Island is a popular attraction and you'll see many friendly parrots and macaws, with rainbow-colored feathers, chirping happily as you stroll along shady paths past their aviaries. The gardens are designed to protect both residents and visitors from the warm Florida sun and contain hundreds of different types of shrubs, trees and flowers.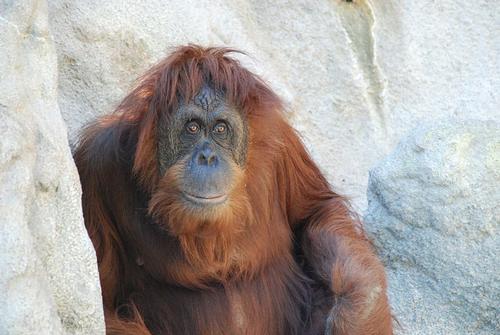 Orang Oetan in the Monkey Jungle in MiamiPhoto: Humberto Moreno (CC BY 2.0) no changes made
The Monkey Jungle is located in the north of the Homestead region. It is one of the few places in America where endangered primates are actively protected. This game park was established in the early 1930s and covers about 12 hectares, where about 400 different primates roam freely. You walk over covered walkways, which bring you close to the monkeys. Baboons, orangutans, gorillas, and more than 35 other types of monkeys move through the vegetation.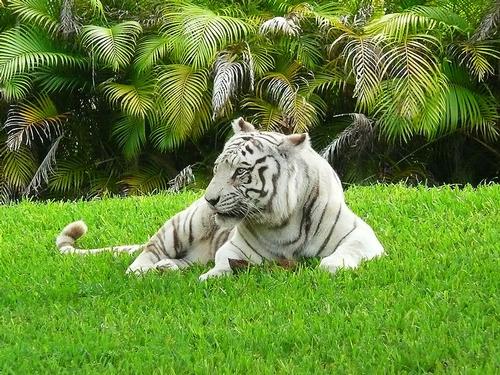 Bengal Tigers in Metrozoo MiamiPhoto: Marc Averette CC 3.0 Unported no changes made
The Metrozoo has a lot of wildlife and more than 900 species of rare and exotic animals. Barriers such as moats and hills are used instead of cages so that many animals roam freely. The snow-white Bengal tigers are one of the main stars of the South Miami zoo. There is over 372 acres of jungle in the Metrozoo and other crowd pullers include the black rhinos, giraffes, silverback gorillas, zebras, elephants, lizards, kangaroos, and koalas. An air-conditioned monorail train takes you past feeding places. The zoo is highly regarded and considered one of America's finest game reserves.
Tips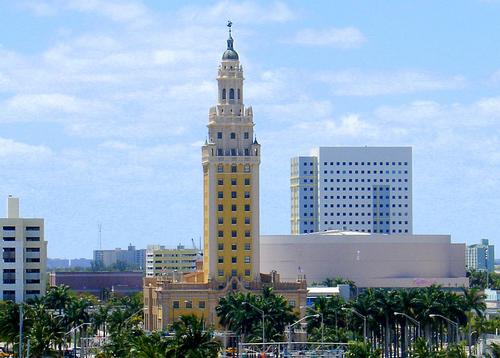 Miami Freedom TowerPhoto: Tom Schaefer CC 2.5 Generic no changes made
Located downtown, the Freedom Tower is one of Miami's many major historic sites. The Freedom Tower was built in 1924 as the home of the Miami News. In the 1960s, the Freedom Tower council was processing applications for political asylum during the first wave of Cuban immigration. The Freedom Tower was actually inspired by the Giralda clock tower in Seville. The Freedom Tower has been closed for a number of years due to restorations. Since the early 21st century, the tower has reopened as a museum of Cuban culture. To fully enjoy the Mediterranean features and detailed architecture of the Freedom Tower, it is best to view the tower from a distance.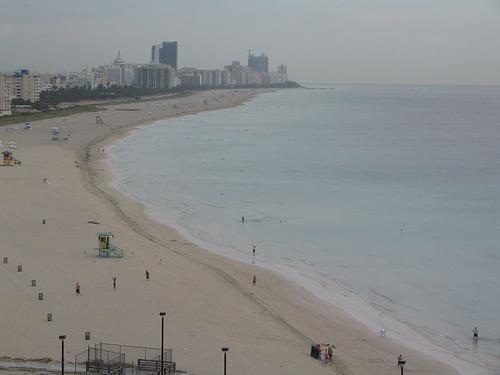 Miami BeachPhoto: public domain
The 15 miles of beaches make Miami a bit different from other major cities in America. It attracts a wide spectrum of tourists and visitors of all ages. Miami's beaches are packed with a diverse mix of teenagers, families and seniors, enjoying the Miami sun and Miami Beach's excellent facilities.