FLORIDA
Economy


Cities in FLORIDA
Popular destinations USA
Economy
Economic development began in the late 1800s, when Flagler and other northern financiers built railways and hotels for the sake of tourism. When rich phosphate fields were discovered in 1888, exploitation of the poor sandy soils was possible, partly due to imported potash. The development of major cities in the North and East of the United States gave warm Florida a market for its fresh fruits and vegetables; this development was stimulated by faster transport and better conservation options. Agriculture is now the second most important pillar of Florida's economy after tourism. Nearly a third of Florida's surface is used for agriculture by tens of thousands of farms.
Florida is the most important citrus fruit producer in the United States and there is also considerable (dairy) livestock and poultry production. In addition, the tobacco, peanut and cotton plantations in the north of the state and forestry are important sources of income. South of Lake Okeechobee is the second most important fruit and vegetable growing area in the United States, with peppers, tomatoes (including around Bradenton), strawberries, guavas, mangoes, figs, bananas, star fruits and hearts of palm as important products. Sugar cane cultivation is flourishing in the south of Florida, especially west and southwest of Lake Okeechobee (around Clewiston, among others).
In Tampa, and especially in the Ybor City district, the cigar industry was once of great importance, producing more than 110 million handmade cigars by 1900. Until about 1930, Ybor City was called the cigar capital of the world, before 1886 it was Key West. Companies such as Gonzalez y Martinez Cigar Company, La Faraona Cigars, King Corona Cigars, Long Ash Cigars, Nicahabana Cigars and Ybor Cigars Plus still make cigars by hand, while other companies machine the tobacco leaves, which are often imported from Honduras. Well-known cigars are the Tampa Sweetheart and Hav-a-Tampa.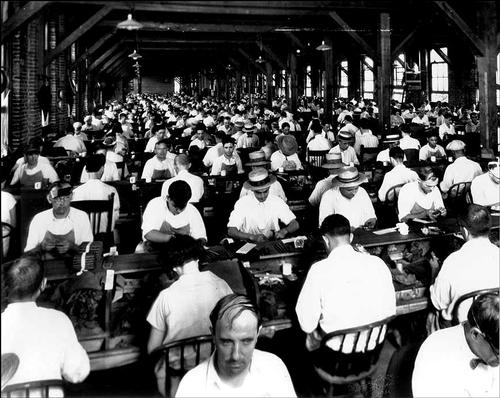 Cigar makers ca.1920 in Ybor City, FloridaPhoto: public domain
Over the years, hundreds of thoroughbred stud farms and specialized breeding centers have settled around Ocala in northeast Florida. The main ranching area is on the Kissimmee River, with the city of Kissimmee as Florida's 'cow capital'. The most important cow breed in Florida is Brahman, originally from India.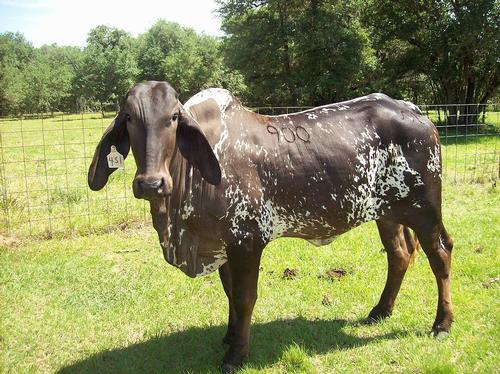 Brahman cow, FloridaPhoto: Sam Berry CC 3.0 Unported no changes made
After a period of five consecutive seasons with production decreases, the orange volume in the 2017/2018 season (75.5 million boxes) rose by 10% compared to the 2016/2017 season (68.7 million boxes). The sector's aim was to bring production back to the level of 100 million boxes. The turnover of this sector is around 7 billion euros and provides work for more than 45,000 people. Approx. A quarter of global orange production comes from Florida orange plantations, including around the city of Ocala and along the Indian River between West Palm Beach and Daytona, and more than half of all grapefruits come from Florida.
Industry is the most important means of subsistence after tourism. Air polluting industries are banned as much as possible in connection with tourism. The establishment in 1949 of the Cape Canaveral astronautics center reinforced industrialization on the Atlantic coast, including factories for electronics and aircraft equipment (West Palm Beach).
On the Gulf Coast, Tampa is one of the world's largest producers of canned tropical fruits. Pensacola has a significant synthetic fiber industry; nearby is Eglin Air Force Base, a huge air base. Fisheries in the Gulf of Mexico and forestry (paper industry) are also important. Florida also accounts for a third of the world's phosphate production and is a growing international financial center for the Caribbean.
More than 5,000 commercial fishing companies generate multi-billion dollar sales (about 5 billion a year) and one of the largest fishing fleets in the United States is located in Monroe County Harbor in the Florida Keys, with more than 300 commercial boats. Lake Okeechobee is also known for its large fish stock, catching more than 1,700 tons of fish every year, including the popular sunfish and catfish. Apalachicola Bay in the 'Panhandle' is the center of oyster farming in Florida: approx. 90% of Florida oysters are grown here and nationally approx. 10% of the total oyster production comes from this region. In the highly productive estuary, in addition to blue crabs, white, brown and pink shrimp are also caught.
About 97 million tourists visit Florida every year, of which the vast majority, about 85 million, come from the United States. All these tourists bring in about $ 70 billion annually and about 1 million jobs are directly dependent on tourism. Despite the very high temperatures, Florida no longer has a low season thanks to the invention of air conditioning. Partly due to the arrival of Walt Disney World at Orlando in 1971, the number of hotel beds in the Orlando conurbation reached the gigantic number of approximately 140,000, only Las Vegas has more hotel beds available. Florida, with cruise ports such as Miami, Fort Lauderdale, Port Canaveral and Tampa, is an important hub for cruise trips, mainly to the Bahamas and the Caribbean.
Florida does not have soil treasures on a large scale, only the production of phosphate, among other things a raw material for fertilizers, is a quarter of the world total. Of less importance are the natural gas and petroleum fields on mainland Florida, the richer fields off the coast are still being left alone for ecological reasons.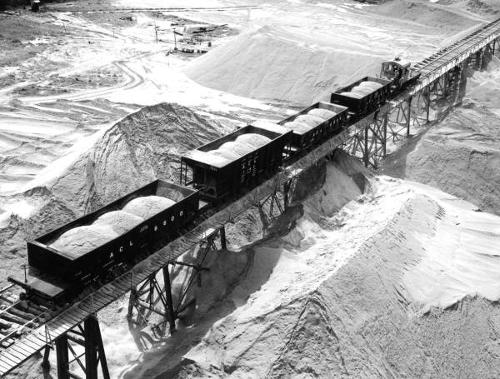 Phosphate is disposed of from Mulberry, FloridaPhoto: Florida Memory in the Public Domain
In Florida, fulgurite or 'lightning tubes' (quartz melts due to the high temperature of the lightning strike) are also found, hollow tubes of molten rock or sand that largely consist of the mineral lechatelierite. Nice to find for collectors, but of no commercial value.
---
Sources
Bailey, Ruth / Florida
Van Reemst, Uitgeverij Unieboek, Het Spectrum BV
BBC - Country Profiles
CIA - World Factbook
Elmar Landeninformatie
Hull, Sarah / The rough guide to Florida
Rough Guides
Karlin, Adam / Discover Florida
Lonely Planet
Karlin, Adam / Florida
Lonely Planet
McKechnie, Gary / Florida : de reisgids voor een actieve & culturele vakantie
Kosmos Uitgevers
Pinck, Axel / Florida
ANWB
Sanders, Bert / Florida : reizen met insider tips
Van Reemst
Skolnick, Adam / Florida & the South's best trips : 28 amazing road trips
Lonely Planet
Wikipedia
Last updated November 2023
Copyright: Team
The World of Info