DENMARK
Geography and Landscape

Basic information
Official language
Danish
Capital
Copenhagen
Area
42.434 km²
Population
5,826,188 (2021)
Currency
Danish crown (DKK)
Web
.dk
Code.
DNK
Tel.
+45

Cities in DENMARK
Geography and Landscape
Geography
The kingdom of Denmark is located in northwestern Europe and is part of Scandinavia. Denmark has a short land border in the south with the German Schleswig-Holstein (68 km). Denmark is bordered to the west by the North Sea, to the north by the Skagerrak and to the east by the Kattegat, the Sound and the Baltic Sea.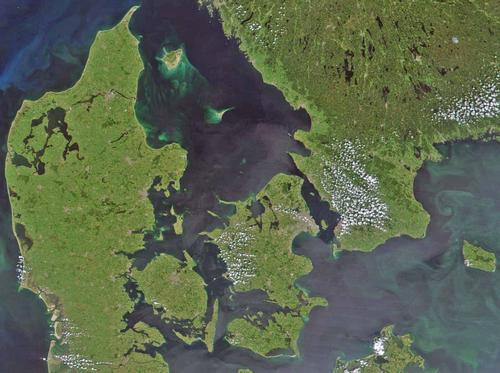 Denmark Satellite photoPhoto: Public domain
Denmark has an area of 43,077 km2. It consists of the Jutland peninsula and 474 islands of which about 100 are inhabited. The coastal strips has sandy beaches, mudflats, dunes and dikes. There are many sandbanks and reefs off the coast of West Jutland. Here are also long and wide beaches. The east coast of Jutland is a fjord coast whose inlets are long and wooded. This in contrast to the Norwegian fjords, which are very steep. The easily navigable fjords penetrate deep into the country from the east coast. The very rugged coast of Denmark has a coastline of 7500 km, almost as much as the 10 times larger neighboring country Sweden.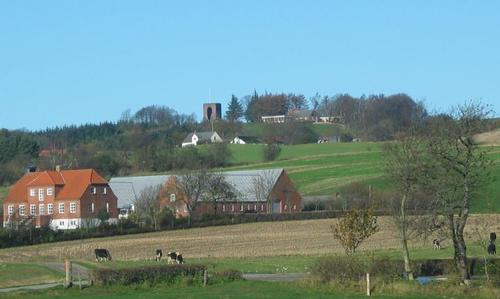 Ejer Baunehøj, Denmark's highest pointPhoto: Hans Jørn Sorgaard Andersen CC 3.0 Unportedno changes made
Landscape
Although low-lying, the Danish landscape has varied wavy shapes. The highest point is Ejer Baunehøj on the Jutland ridge (172 meters). The lowest point is Lammefjord, -7 meters below sea level. Lolland is low and flat and must be protected against storm surges by dikes. The island of Bornholm does not belong geologically to Denmark; the soil is of a completely different composition from the rest of Denmark. Scattered all over the country are many small and large erratic stones, remnants of different ice ages. The longest river is Gadenå, 160 km long. Around the island of Møn and Southeast Sjælland there are steep chalk cliffs that reach a height of ± 140 meters.
Faeroe Islands in short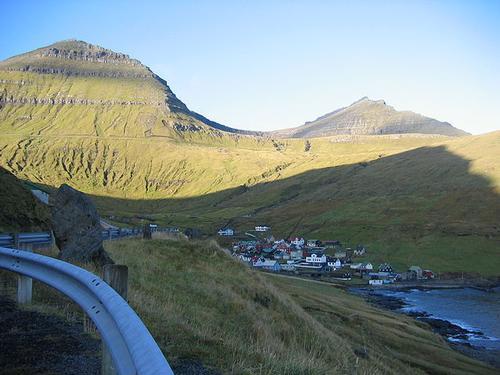 Village of Funningur at the foot of the Slættaretindur (left) and the Gráfeli (right), Faroe IslandsPhoto: Mulder1982 in the public domain
The Faroese population is largely descended from Vikings who settled on the islands from the 9th century onwards. The Faroe Islands have been politically linked to Denmark since the 14th century. Independent administration from 1948. The Faroe Islands consist of 17 islands of which 16 are inhabited.
Location: Northern Europe, between the Norwegian Sea and the North Atlantic Ocean, halfway between Iceland and Norway.
Area: 1399 km2
Population: 45,296
Population density: ± 32 per km2
Climate: mild winters, cool summers, often cloudy or foggy and very windy
Highest point: Slaettaratindur 882 meters
Population structure:
0-14 years 23%
15-64 years 63%
65+ 14%
Average life expectancy: 78.43 years
Religion: Evangelical Lutheran
Languages: Faroese and Danish
Capital: Torshavn Faroese name: Foroyar
Gross National Product: $ 700 million
Industry: fish processing, shipbuilding, construction
Agriculture: milk, potatoes, vegetables, sheep, salmon and other fish
Export: $362 million including fish and fish products, animal food; main export partners: Denmark, England, Germany, France, Spain and Import: $315 million including machinery, transportation equipment, fuel, salt; main import partners: Denmark, Norway, Great Britain, Germany, Sweden and the United States.
Greenland in short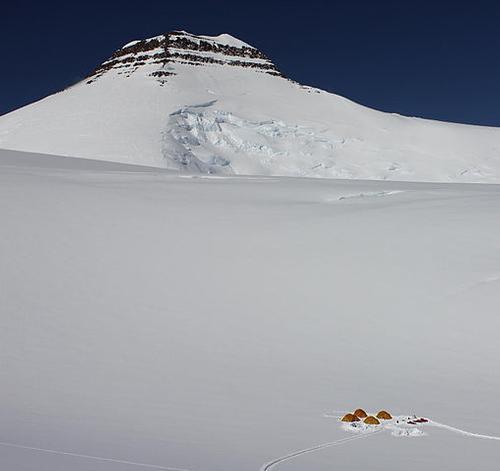 Gunnbjørn Fjeld, GreenlandPhoto: Maxim Bouev in the public domain
The world's largest island, 84% of which is covered with ice. Independent board since 1979.
Location: North North America between the Arctic Sea and North Atlantic Ocean northeast of Canada.
Surface area: 2,175,600 km2 of which 341,700 km2 ice-free
Population: 56,309
Population density: approximately 0.16 inhabitants per km2 of ice-free land
Population structure:
0-14 years 27%
15- 64 years 68%
65+ 5%
Average life expectancy: 68.07 years
Ethnic groups: Greenlanders (including Inuit) 87%, Danes and other groups 13%
Religion: Evangelical Lutheran
Languages: Greenlandic (East Inuits), Danish and English
Highest point: Gunnbjorn 3700 meters
Capital: Nuuk (Godthab)
Greenlandic name: Kalaallit Nunaat
Gross National Product: $ 945 million
Industry: fish processing (especially shrimp), pelts, shipbuilding (small ships)
Agriculture: vegetables, sheep, reindeer, fishing
Exports $ 363 million: fish and fish products (95%); main export partners: Denmark, Japan, Great Britain
Import $ 421 million: machinery and transportation equipment, food, live animals, petroleum products; main import partners: Denmark, Iceland, Japan, Norway, United States, Germany, Sweden.
---
Sources
Bendure, G. / Denmark
Lonely Planet
Denemarken
Lannoo
Dominicus, J. / Denemarken
Gottmer
Europese Unie : vijftien landendocumentaties
Europees Platform voor het Nederlandse Onderwijs
Hoogendoorn, H. / Denemarken
ANWB
Steinmetz, P. / Reishandboek Denemarken
Elmar
CIA - World Factbook
BBC - Country Profiles
Last updated November 2023
Copyright: Team
The World of Info