DENMARK
Population


Cities in DENMARK
Population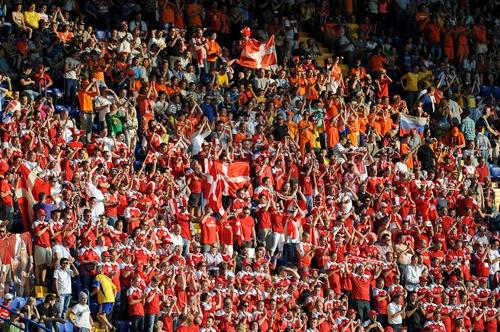 Danish football supportersPhoto: Football.ua CC 3.0 Unported no changes made
The kingdom of Denmark had 5,605,948 inhabitants in 2017. The average population density is about 130 per km2. Population density is higher in parts of East Jutland and on the large islands. The least densely populated districts are Viborg and Rinkøbing with only 50 inhabitants per km2. About 88% of the population lives in cities. The largest cities are Copenhagen with 1.2 million inhabitants, Aarhus (265,000), Odense (173,000) and Aalborg (155,000). In 2017, the population growth was 0.22%. The population structure is typical of a prosperous country like Denmark. The population between 0 and 14 years is 16.4%, between 15 and 64 years 64.4%, and above 65 years 19.2%. The average life expectancy is 79.5 years, men 77.1 years and women 82.1 years. (2017) The vast majority of the population of Denmark is Danish. The group of Germans and Scandinavians is the largest of the original immigrants. After the immigration wave of the 1960s, many Yugoslavs, Pakistanis and Turks continued to live in Denmark. A small minority of German-speaking Danes live in South Jutland.
Denmark is one of the richest and most economically developed countries in the world.
It is remarkable that two thirds of the population has a surname that ends in sen. The name Jensen, Hansen or Nielsen has 23% of the population.
---
Sources
Bendure, G. / Denmark
Lonely Planet
Denemarken
Lannoo
Dominicus, J. / Denemarken
Gottmer
Europese Unie : vijftien landendocumentaties
Europees Platform voor het Nederlandse Onderwijs
Hoogendoorn, H. / Denemarken
ANWB
Steinmetz, P. / Reishandboek Denemarken
Elmar
CIA - World Factbook
BBC - Country Profiles
Last updated May 2023
Copyright: Team
The World of Info