DENMARK
Religion


Cities in DENMARK
Religion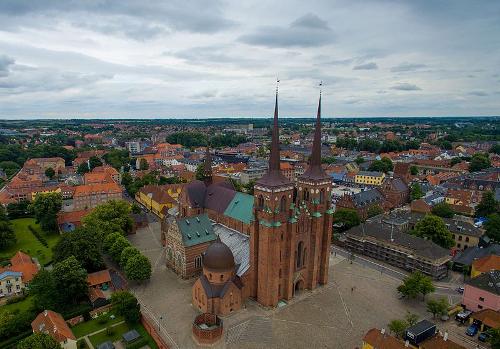 Roskilde Cathedral in Roskilde, DenmarkPhoto: CucombreLibre CC 2.0 Generic no changes made
Christianity gained a foothold on Danish soil from about 1100. Although freedom of religion has existed in Denmark since 1849, by constitution the Evangelical Lutheran Church is the national church of Denmark and is therefore largely state-funded. The Lutheran Church was established in 1536 by Hans Tavsen, a friend of Luther.
The king is the head of the church, which has nine dioceses. Each of the 2,100 Lutheran congregations is governed by a council elected by believers. A woman was first admitted to office in 1947. In 1940 the designation state church was replaced by people's church. About 87% of the population is Evangelical Lutheran.
After the 1536 reform, Roman Catholicism was little more. Not until 1953 did Denmark get a Roman Catholic bishop again. At present there are about 32,000 Roman Catholics. There are also about 6,500 Jews.
In November 2003 it was announced that Denmark officially recognized the adherents of the old pre-Christian Scandinavian religion as a religious community. Worshipers of the gods Thor and Odin thus received the right to marry and tax exemption for gifts. The 'pagan' movement Forn Sidr (The Old Tradition), 240 members strong, has been working since 1999 for recognition of its religion.
---
Sources
Bendure, G. / Denmark
Lonely Planet
Denemarken
Lannoo
Dominicus, J. / Denemarken
Gottmer
Europese Unie : vijftien landendocumentaties
Europees Platform voor het Nederlandse Onderwijs
Hoogendoorn, H. / Denemarken
ANWB
Steinmetz, P. / Reishandboek Denemarken
Elmar
CIA - World Factbook
BBC - Country Profiles
Last updated May 2023
Copyright: Team
The World of Info