ARGENTINA
Population


Cities in ARGENTINA
Population
Composition, distribution and demographics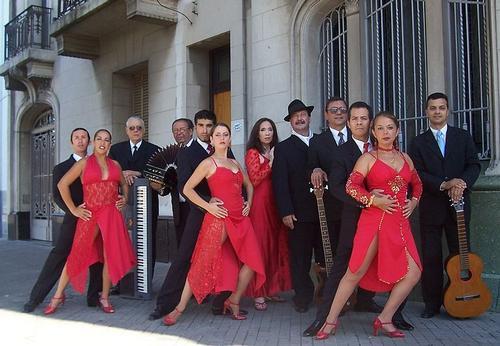 Tango Ensemble ArgentiniaPhoto: Sergio grazioli CC 3.0 Unported no changes made
Argentina has a largely white population (80%) that is mainly of Italian and Spanish descent. There are also many Argentines of German, English and Eastern European descent, and Argentina is, more than any other country in Latin America, a nation of immigrants. Approx. 5% of the total population consists of mestizos (people of mixed Indian-white descent) or "cabezitas negras", who mainly live in the poor south and west of the country.
From 1850, the first wave of immigrants came to Argentina, mostly farmers and pastoralists from Ireland, Wales and the Basque Country. From the late nineteenth century to 1930, the second wave of immigrants came, mainly from Italy, but also from Spain, Lebanon, Poland, Ukraine, Greece and Yugoslavia. Most were manual laborers who went to live in the big cities.
After the Second World War, a new wave of immigration of mainly economic refugees. In recent decades, many immigrants from South Korea and Japan have come to work in Argentina, and the greater prosperity also attracts many Chileans, Bolivians and Paraguayans.
The number of Indians is estimated at between 300,000 and 340,000, and that number is still decreasing. Until well into the nineteenth century, hundreds of Indian tribes (including Araucanos, Querandies and Guaranies) still lived in colonial Argentina, but lived in isolation in small communities. Argentina has never known highly developed peoples such as Incas or Maya.
At the moment there are still 15 Indian people living in Argentina. Many Indians still live in the province of Chaco, namely the Tobas, Matacos and Pilagás. Guaraní Indians live in Misiones province and Tehuelche Indians in Chubut and Santa Cruz provinces. Mapuche Indians live in the vicinity of Esquel and in the northwest, in Jujuy, Catamarca and Salta, a small group of Coyas still live.
The Argentinian Jewish community (approx. 300,000) is the largest in Latin America and the fifth in importance in the world. It wasn't until 1998 that Congress passed a law against racial discrimination and hatred of Jews. Yet this turned out not to be nearly enough to end anti-Semitism in Argentina. As late as 1994, more than 100 people were killed in a bomb attack on a Jewish community center in Buenos Aires.

Due to the economic problems, many Argentines seek refuge in other countries, including Spain, Italy and the United States. It is estimated that there are currently approximately 600,000 Argentines living abroad.

Population composition by origin::
Spain 40%
Italy 40% (mainly in Buenos Aires, Córdoba and Salta)
Germany, Croatia, Netherlands, France, Great Britain, Greece, Ireland, Poland, Czech Republic, etc. 10%
Ukraine, Belarus, Russia 5%
Syria, Lebanon 5% (mainly in the provinces of San Juan, Rioja and Salta)
It may be clear that there are hardly any direct descendants of all these population groups. Most Argentines have long been a mix of different origins. Yet these are the official figures of the Argentine government. At the moment about 13% of the population was born abroad.

Of the Argentine population, which numbered almost 44.3 million souls in 2017, 92% live in cities. Buenos Aires is the largest city with 3 million inhabitants and Greater Buenos Aires (including the urban area) has even 15.2 million inhabitants. About half of Argentina's population lives in the province of Buenos Aires.
Other large urban agglomerations are Córdoba, La Matanza (San Justo) and Rosario. Villas miserias (slums) are located around the big cities, but less so than in other Latin American countries. The least populated is Patagonia, where only 1% of the population lives; the most densely populated is the La Plata basin.
Population density: 16 inhabitants per km2

Population growth is quite low, 0.91% in 2017.
Age structure (2017)
0-14 years: 24.6%
15-64 years: 63.8%
65+: 11.6%
The birth rate was 16.7 per 1000 inhabitants in 2017
The death rate in 2014 was 7.5 per 1000 inhabitants
Life expectancy at birth: men 74.2 years, women 80.6 years
---
Sources
Argentinië
Van Reemst
Doef, P. van der / Argentinië
Elmar
Encarta Encyclopedie
Holtwijk, I. / Argentinië : het land van Máxima
Bert Bakker
Thielen, J. / Argentinië : mensen, politiek, economie, cultuur, milieu
Koninklijk Instituut voor de Tropen ; Novib
CIA - World Factbook
BBC - Country Profiles
Last updated May 2023
Copyright: Team
The World of Info