ARGENTINA
Vacations and Sightseeing

Basic information
Official language
Spanish
Capital
Buenos Aires
Area
2.780.400 km²
Population
45,605,826 (2021)
Currency
Argentinian peso (ARS)
Web
.ar
Code.
ARG
Tel.
+54

Cities in ARGENTINA
Vacations and Sightseeing
Argentina is especially rich in natural beauty and has many recreational opportunities in the field of water sports, sport fishing and hunting. Furthermore, the capital Buenos Aires attracts many domestic and foreign tourists.
Also worth seeing are the city of Córdoba and old provincial capitals in the north such as Tucumán, Jujuy and Catamarca with their buildings from the colonial period, such as Santiago del Estero, the oldest city in the country, founded in 1553, and Salta, an important tourist center. The province of Misiones is also home to the world-famous waterfalls in the Iguaçú River, one of the country's greatest tourist attractions.
Iguacu Waterfalls ArgentinaPhoto: Flauta CC 3.0 Unported no changes made
In the province of San Luis you can still see rock paintings in caves and caves.
Characteristic for Argentina are the pampas, the almost endless lawns that extend in the province of La Pampa, but also beyond. The province of Mendoza borders this province, which has the highest peaks of the Andes, with the highest peak being the Aconcagua. The province is also famous for its wine and many mineral springs.
There are also famous sources in Rio Hondo (Aguas del Sol) in the province of Santiago del Estero. The lake district of Bariloche (a national park) in the southwest is also popular with tourists. The main town in that area is San Carlos de Bariloche, which is a winter sports center in winter. Cueva de las Manos (Caves of the Hands) is the name of an archaeological site in Río Pinturas, which contains a special collection of cave art from 13,000 to 9,500 years ago.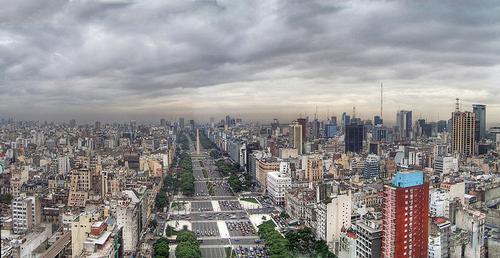 Buenos Aires ArgentinaPhoto: Galio CC 2.0 Generic no changes made
Buenos Aires is the capital of Argentina. It is also Argentina's largest city. Some of the must see sights of Buenos Aires include Caminito, Cancha de Boca, and the House of Culture. There are many interesting museums in Buenos Aires. Some provide a glimpse into local history and culture, some contemporary art, some science and technology. A few museums on the local history of Buenos Aires are Cabildo de Lujan, Centro Cultural Recoleta, and Museo Historiographical Nationale. The life of Argentina's most famous woman is explored in the very popular Evita museum. Located in the same building once used by the Eva Peron Foundation in Buenos Aires, you can split the Museo Evita into different sections, each highlighting a different part of Evita Peron's life. Her clothes and her voting card are among the objects on display here. Read more on the Buenos Aires page of TheWorldOfInfo.
---
Sources
Argentinië
Van Reemst
Doef, P. van der / Argentinië
Elmar
Encarta Encyclopedie
Holtwijk, I. / Argentinië : het land van Máxima
Bert Bakker
Thielen, J. / Argentinië : mensen, politiek, economie, cultuur, milieu
Koninklijk Instituut voor de Tropen ; Novib
CIA - World Factbook
BBC - Country Profiles
Last updated April 2023
Copyright: Team
The World of Info