ARGENTINA
Language


Cities in ARGENTINA
Language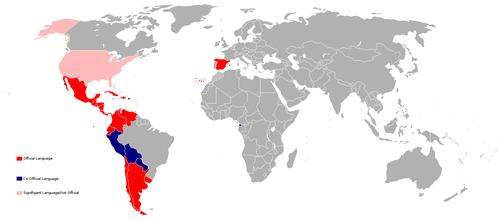 Spanish language mapPhoto: Public domain
The official language of Argentina is Spanish, which differs slightly in terms of grammar, pronunciation and word choice from European (Castilian) Spanish. These many small differences make Spanish-Argentinean a very own language. The Italians have made the Spanish-Argentinean language lilting and softer in sound.
In addition to certain dialects of Spanish, several other languages are also spoken. The second language is English, which is still spoken mainly by many people in the cities. In Buenos Aires, the "lunfardo" has been spoken since the end of the nineteenth century. This slang language contains many Italian, Portuguese, French, German and African words.
The large immigrant groups, such as the Italian, French and German, still speak some of their own languages. In addition, a few Indian languages are spoken, including Guaraní, Quechua and Aymara. Because the surviving Indian tribes are getting smaller and smaller, the Indian languages are in danger of disappearing quickly.
---
Sources
Argentinië
Van Reemst
Doef, P. van der / Argentinië
Elmar
Encarta Encyclopedie
Holtwijk, I. / Argentinië : het land van Máxima
Bert Bakker
Thielen, J. / Argentinië : mensen, politiek, economie, cultuur, milieu
Koninklijk Instituut voor de Tropen ; Novib
CIA - World Factbook
BBC - Country Profiles
Last updated November 2023
Copyright: Team
The World of Info