ARGENTINA
Religion


Cities in ARGENTINA
Religion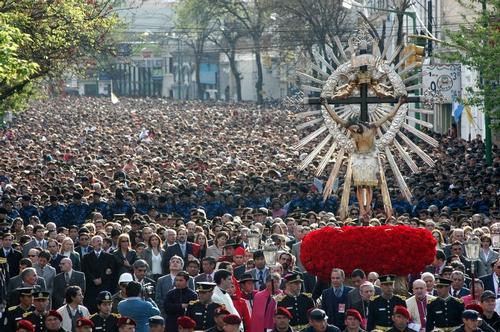 Procession ArgentinaPhoto: Nestor Troncoso CC2.0 Generic no changes made
More than 90% of the population belongs to the Roman Catholic Church, although only 20% of Catholics still regularly attend church. There is freedom of religion, the Roman Catholic Church is not a state church. Until recently, presidential candidates had to be Catholic. It was not until 1994 that the relevant article was deleted from the constitution. The Roman Catholic Church has always had a lot of influence on Argentine society, including education. For a long time, the leadership of the church supported the aristocracy in particular and later the many military juntas. Until 1966, the Catholic Church was even constitutionally under government control. During the Videla regime, the Church did not distance itself until the end of the frequent violence. There are 13 archdioceses and 44 dioceses. In 2013, Cardinal Jorge Mario Bergoglio of Buenos Aires is elected Pope of the Roman Catholic Church. He is the first South American to hold this position.
The patron saint of Argentina is the Blessed Virgin Mary, "La Virgen de Luján. Every year on May 8 and in the first week of October, millions of pilgrims from all parts of the country flock to Luján to pray to the Virgin Mary.
2% of the population, mainly of German descent, is Protestant, 2% is Jewish. In Buenos Aires there is a church for every religion, such as mosques, synagogues, a Russian Orthodox church and even a Danish Protestant church.
In some areas the Roman Catholic Church adapted to Native American religions. The different cultures mingled for centuries, especially in the folk festivals. In the northwest, for example, the religion of the Coya Indians is still emphatically present with its own rituals such as the burning of a Judas figure during the Easter feast.
The carnival is often still closely linked to Indian mythology. The festivities then begin with the excavation of the earth goddess, Pachamama, who is returned to the earth on the last day of the festival.
Sources
Argentinië
Van Reemst
Doef, P. van der / Argentinië
Elmar
Encarta Encyclopedie
Holtwijk, I. / Argentinië : het land van Máxima
Bert Bakker
Thielen, J. / Argentinië : mensen, politiek, economie, cultuur, milieu
Koninklijk Instituut voor de Tropen ; Novib
CIA - World Factbook
BBC - Country Profiles
Last updated December 2022
Copyright: Team
The World of Info