ARGENTINA
Society


Cities in ARGENTINA
Society
State structure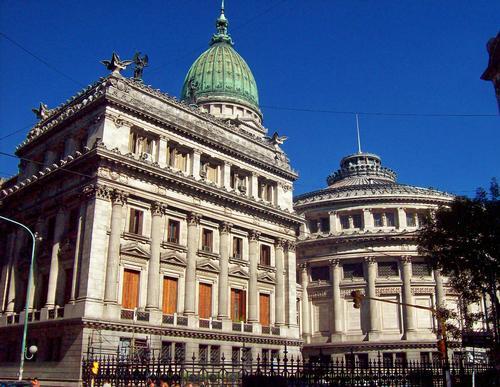 Argentina Congreso NacionalPhoto: Roberto Fiadone CC 2.5 Generic no changes made
Argentina formally has a federal presidential democracy, enshrined in the constitution dating back to 1853. There is separate executive, legislative and judicial branches, with a president at the head of the executive branch. The president, whose power has been somewhat curtailed under the new 1994 constitution, appoints and dismisses the prime minister and the ministers. He is also Commander in Chief of the Armed Forces and may be re-elected once for a further four years. The president can be fired by Congress through an impeachment procedure. The nomination by the president of the prime minister may be rejected by a majority vote of Congress.
The legislative branch consists of the National Congress (Congreso Nacional), formed by the Senate of 72 members and the Chamber of Deputies with 257 members. Senators have been elected directly by the population for six years since 2001 and members of the Chamber of Deputies for four years. A lottery procedure is used to determine which senators will stay on for two, four or six years. The Senate is headed by the Vice President.
The president and vice president are elected for a four-year term by direct election. Elections are held every two years for one third of the Senate seats and half of the seats in the House.
Voting is compulsory for all citizens aged 18 to 70. At the provincial level, each province elects its own governor. The current political situation is described in the chapter history.
Administrative division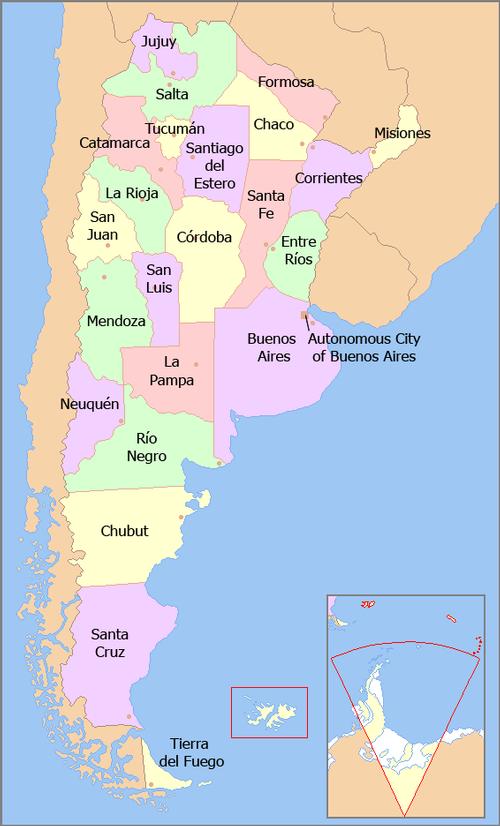 Argentina ProvincesPhoto: Bleff CC 3.0 Unported no changes made
Argentina consists of 22 provinces, the federal district of Buenos Aires and the national area Tierra del Fuego (Tierra del Fuego). The provincial parliament elected by direct elections elects a governor.
The new 1994 constitution gives the provinces greater autonomy.
| | | | |
| --- | --- | --- | --- |
| province | capital city | surface | population |
| Buenos Aires | La Plata | 307.571 km | 14.000.000 |
| Catamarca | Catamarca | 102.602 km | 340.000 |
| Chaco | Resistencia | 99.633 km | 990.000 |
| Chubut | Rawson | 224.686 km | 420.000 |
| Córdoba | Córdoba | 165.321 km | 3.100.000 |
| Corrientes | Corrientes | 88.199 km | 935.000 |
| Distrito Federal | Buenos Aires | 203 km | 2.800.000 |
| Entre Ríos | Paraná | 78.781 km | 1.165.000 |
| Formosa | Formosa | 72.066 km | 490.000 |
| Jujuy | S.Salvador de Jujuy | 53.219 km | 615.000 |
| La Pampa | Santa Rosa | 143.440 km | 305.000 |
| La Rioja | La Rioja | 89.680 km | 300.000 |
| Mendoza | Mendoza | 148.827 km | 1.600.000 |
| Misiones | Posadas | 29.801 km | 970.000 |
| Neuguén | Neuguén | 94.078 km | 480.000 |
| Río Negro | Viedma | 203.013 km | 560.000 |
| Salta | Salta | 155.488 km | 1.100.000 |
| San Juan | San Juan | 89.651 km | 625.000 |
| San Luis | San Luis | 76.748 km | 370.000 |
| Santa Cruz | Río Gallegos | 243.943 km | 200.000 |
| Santa Fe | Santa Fe | 133.007 km | 3.100.000 |
| Santiago d. Estero | Santiago d. Estero | 136.351 km | 810.000 |
| Tierra del Fuego | Ushuaia | 21.571 km | 105.000 |
| Tucumán | S.Miguel de Tucumán | 22.524 km | 1.350.000 |
Education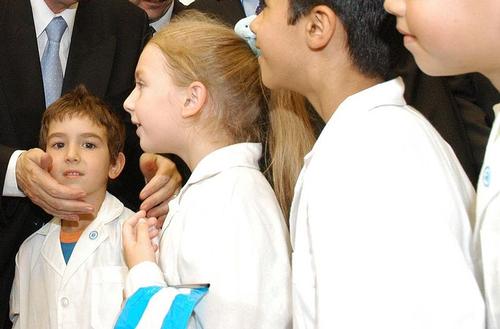 Argentina white school uniformsPhoto: Public domain
About 10 million Argentines are in education. Children are of compulsory school age and must attend primary school for seven years and some form of further education for three years. Then they can go to high school or university. The literacy rate is one of the highest in Latin America at more than 95%. Nevertheless, the quality of public primary, secondary and university education has declined in recent years due to reduced accessibility and the quality of teacher training. As a result, private schools are on the rise and a quarter of all Argentinian pupils now follow this type of education.
Argentina has more than 50 universities, including 24 state universities.
The University of Buenos Aires is one of the oldest educational institutions in Argentina, with more than 170,000 students.
Typically Argentinian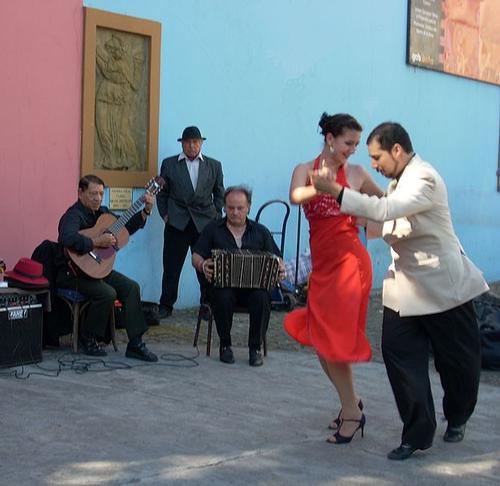 Tango La Boca Buenos AiresPhoto: WiDi CC 3.0 Unported np changes made
TANGO
The tango dance originated in the port areas of Buenos Aires, La Boca and San Telmo. In the nineteenth century people of European and African descent mingled with the local population, and from the different kinds of music and dance that were brought along, the tango was created in the late nineteenth century. The tango was initially only danced by the poor people in the "conventillo", tenements where these people lived, but over the years it has become a popular dance form among all population groups. Especially when well-known musicians included the tango in their repertoire, dance became all the rage in Europe.
Between 1920 and 1930 tango reached its peak: many tango schools were formed and there were countless tango orchestras. The most important Argentine tango singer ever was Carlos Gardel, who was born Charles Romualdo Gardés in 1890 in France.
The tango is usually played in a small line-up of guitar, bass, violin, piano and one or two bandonéons, a small accordion.
In Buenos Aires you can study tango at Fundacíon del Tango.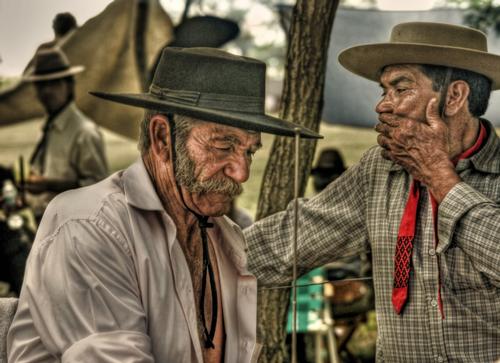 Gauchos ArgentinaPhoto: José María Pérez Nuñez CC 2.0 Generic no changes made
GAUCHO's
The word gaucho comes from the Native American Quechua word "huacho", which means "orphan". The gauchos, often mestizos, have long been the symbol of Argentina. As early as the eighteenth century, they traveled across the grasslands of pampas, taming wild horses and herding cows. At the end of the eighteenth century, large tracts of land were sold by the government to wealthy people. They drove the gauchos from their work area, leaving the gauchos in social isolation. In effect, they were forced to enter the service of the "estancias", the gigantic agricultural and livestock companies.
Gauchos are easily recognizable by a "bombacha", loose-fitting trousers, a belt with a silver buckle and a "poncho", a kind of cape. Furthermore, they always carry with them a "facón", a long silver knife, and the "boleadoras", a lasso with three long leather straps at the ends with a leather ball or stone attached to it. Fleeing cattle are caught with this throwing rope. The boleadoras was originally an invention of the Tehuelche Indians. The horse they ride is called "caballo criollo".
Sources
Argentinië
Van Reemst
Doef, P. van der / Argentinië
Elmar
Encarta Encyclopedie
Holtwijk, I. / Argentinië : het land van Máxima
Bert Bakker
Thielen, J. / Argentinië : mensen, politiek, economie, cultuur, milieu
Koninklijk Instituut voor de Tropen ; Novib
CIA - World Factbook
BBC - Country Profiles
Last updated December 2022
Copyright: Team
The World of Info