ABU DHABI
Population


Population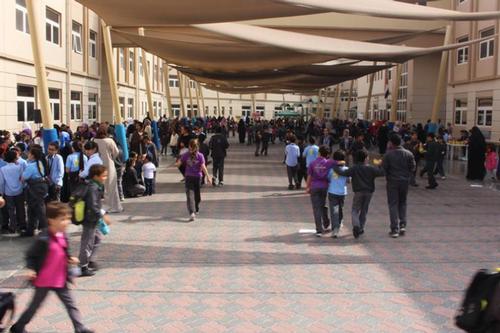 Abu Dhabi studentsPhoto: Firas Elayan CC4.0 International no changes made
According to a 2020 estimate, the Emirate of Abu Dhabi has about 3 million inhabitants, but only 30% of the area of Abu Dhabi is inhabited. Abu Dhabi city and surroundings have approximately 1.4 million inhabitants, the second city of the emirate is Al Ayn with approximately 600,000 inhabitants and Al Gharbia with approximately 250,000 inhabitants. Abu Dhabi city is the second largest city in the United Arab Emirates after Dubai. Due to the harsh climatic conditions, few people live outside the cities, only 12% of the population of the United Arab Emirates live in villages or in communities for expatriates. The population of Abu Dhabi has exploded in barely fifty years, from about 90,000 in 1960 to nearly 3 million today.
The population of the United Arab Emirates has about 150 nationalities. The majority of the inhabitants of Abu Dhabi (approx. 80%) are therefore expats and guest workers from Asia, Africa, Australia, Europe and North America, but also illegal immigrants, mainly from Nepal, Sri Lanka, India, Pakistan and Bangladesh.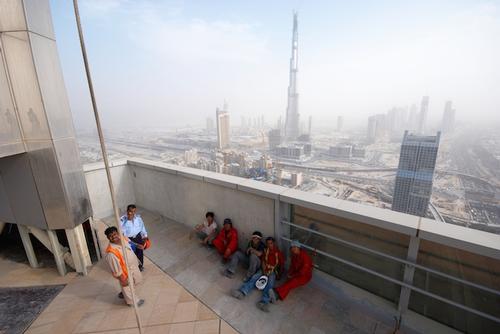 Abu Dhabi foreign construction workers take a restPhoto: Piotr Zarobciewicz CC3.0 no changes made
Of the non-Gulf Arabs, often highly educated, unlike the other Asian foreigners, most come from Egypt, Syria, Palestine, Lebanon, Jordan, and Algeria. The majority of Western foreigners are from England, the rest are from countries such as the United States, Australia, Ireland, New Zealand, Scotland and Canada.
Unique to the United Arab Emirates in general, and therefore also to Abu Dhabi, is the very remarkable population composition with twice as many men as women, especially among the working population aged 15-65, which comprises 70% of the population.
Population distribution among the different emirates:
| | |
| --- | --- |
| Abu Dhabi | 34% |
| Dubai | 32% |
| Sharjah | 19% |
| Ajman | 5% |
| Ras Al Khaimah | 5% |
| Fujairah | 3% |
| Umm Al Quwain | 1% |
---
Sources
BBC - Country Profiles
CIA - World Factbook
Last updated August 2023
Copyright: Team
The World of Info