SLOVENIA
Economy


Cities in SLOVENIA
Economy
General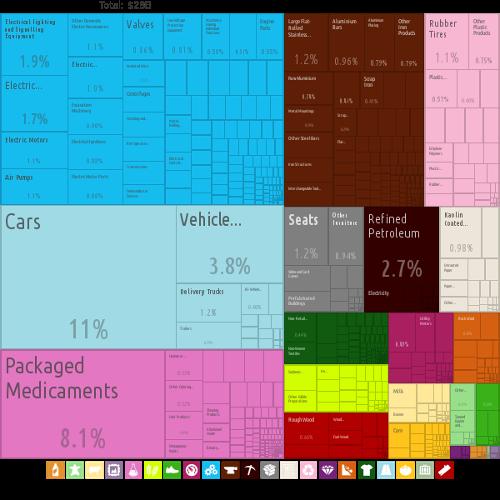 Export SloveniaPhoto: Alexander Simoes, Cesar Hidalgo, et. al CC 3.0 no changes made
Slovenia has a relatively modern developed industry, a well-functioning agricultural sector and rich natural resources. The civil war in Yugoslavia (1991–1992), coupled with a temporary boycott by foreign countries, caused much damage to the country, but compared to the other republics Slovenia was able to start building it up earlier. Slovenia has qualified for EU membership and was among the first group of Central and Eastern European countries with which the EU has started accession acts. The country meets all the criteria set in the Maastricht Treaty. In 2004 Slovenia joined the EU and in 2007 Slovenia adopted the Euro.
In 2017, the economy grew by 5% at an inflation rate of 1.4%. Unemployment fell to around 6.6%. GDP per capita was $ 34,500 in 2017, much more than in the other former republics of Yugoslavia or in countries such as Hungary and the Czech Republic. The balance of payments is slightly positive in 2013.
The Slovenian economy is increasingly taking on the character of a service economy, and this sector already accounts for more than 65.9% (2017) of the gross domestic product and this percentage is set to increase. Important parts of this sector are mainly the tourist industry and further transport, telecommunications and financial services.
Agriculture, livestock, forestry and fishing
Agriculture is becoming less and less important to the Slovenian economy. In 2017, this sector only contributed 1.8% to the gross national product and only about 5.5% of the labor force was still employed in this sector. Slovenia has thus become a net importer of foodstuffs. The farms are generally family businesses with an average size of less than 5 hectares, which are often affiliated with some cooperative.
Due to the climate and soil conditions, the agricultural land mainly consists of grassland. About 250,000 ha is suitable for arable farming and horticulture and the main products are fruit, wheat, corn and potatoes. About 21,000 ha is used for viticulture.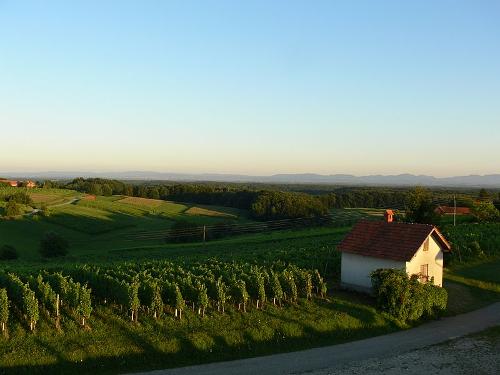 Vineyard SloveniaPhoto: IgorMar in the public domain
The main agricultural activity is animal husbandry (55% of agricultural activities), and this involves the production of meat, milk and eggs. This mainly happens on small-scale farms with an average of only five animals. The highly industrialized production of chicken meat has declined sharply in recent years.
Although approximately 45% of the land is covered with forests, hardly any exploitation takes place. Wood production has fallen sharply in recent years and is now only about 2 million m3 per year. Wood production consists of 60% coniferous wood.
The woodworking and furniture industries are still important to Slovenia. This industry comprises approximately 70 companies with a total of 20,000 employees, half of which work in the furniture industry.
The fishing industry is slowly dying. There are only a few ships suitable for sea fishing.
Mining and energy supply
Mining only plays a marginal role. There are limited supplies of iron, lead, zinc and copper ore, lignite, mercury, lignite and petroleum. Lignite has long been the main product, but the difficult production conditions and relatively poor quality have steadily reduced production. Almost all lignite mines are currently closed because they were heavily loss-making. The production of stone, sand and gravel seems to be the most likely from an economic point of view.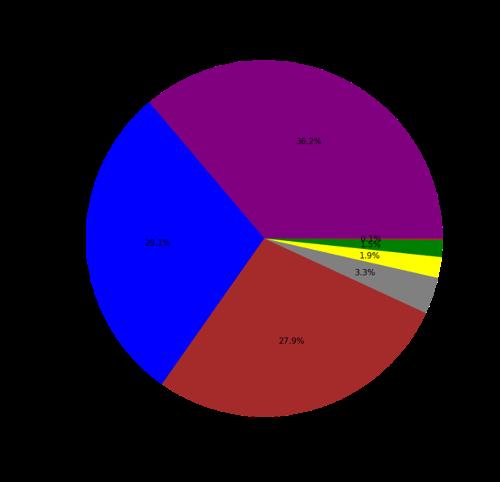 Energy sources used by SloveniaPhoto: Matclime CC 4.0 International no changes made
The main energy supplier is the Krško nuclear power plant, which, despite the intention to do so, has not yet been shut down. The remaining energy is supplied by coal, natural gas and oil cogeneration plants. Yet Slovenia is highly dependent on imported energy, mainly oil and gas.
Industry general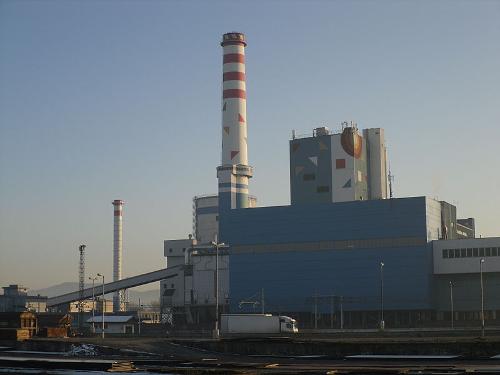 Ljubljana power plant, SloveniaPhoto: Simon Cerne at Slovenian Wikipedia CC BY-SA 3.0 no changes made
Slovenia is the most technologically advanced of all Central European countries. Industry contributes 32.2% to GDP and 31.2% of the labor force is employed in this sector (2017). Most of the industry is located in large cities such as Jubljana, Maribor, Koper, Celje and Kranj. Of the more than 50,000 registered companies, nearly 60% have fewer than 50 employees; only 2% have more than 250 employees.
Mechanical engineering is carried out on a limited scale, as well as metal production and processing. There are also textile factories and factories for electronic and household appliances. There is also the chemical industry and wood processing. High-quality and technically advanced products include precision instruments, electrical products and household appliances.
The highest returns are currently being achieved in the production of chemicals, food and drink, machinery and rubber and plastic. Industries in microelectronics, optical electronics and biotechnology are emerging.
In the city of Novo Mesto there is a large car factory, the Revoz factory, where Renault models are made for the European market.
Construction industry, chemicals and plastics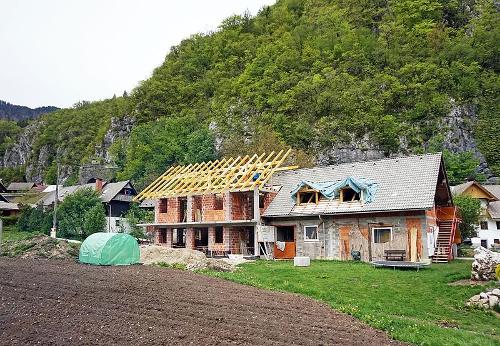 Building construction SloveniaPhoto: Tiia Monto CC 3.0 Unported no changes made
The Slovenian construction sector employs more than 50,000 people and contributes about 6% to GDP. Since the beginning of this century, the construction industry has benefited greatly from the road construction program initiated by the government. Foreign investment in the Slovenian construction industry is increasing every year.
The Slovenian chemical industry is a growth sector (especially pesticides and agro-chemicals). Imports and exports both grew by approximately 20%. The industry focuses mainly on fine chemicals and pharmaceutical products. This sector provides 5.5% of total employment and 9.5% of GDP.
Trade, banking and insurance
Slovenia's trade policy emphasizes the development of trade with the countries of the European Union, thereby compensating for the disappearance of the important markets in the former Yugoslavia. Once the political and economic problems in these countries are resolved, it is expected that trade with those countries will pick up again. The most important trading partner has now become Germany.
The main export categories of the Slovenian industry are: cars, electrical appliances, furniture, paper, medicines, metal products and clothing.
The main imports are oil and oil products, electrical machinery, tools, equipment, industrial machinery, iron, steel and metal products.
Almost 50% of Slovenian imports are supplied by the EU countries Germany, Italy, Austria and France. The total value of the imports was $ 30 billion in 2017. The main export partners are Germany, Italy, Austria, Croatia, France and Russia. The total value of exports was $ 32 billion in 2017. Slovenia thus has a stable trade balance.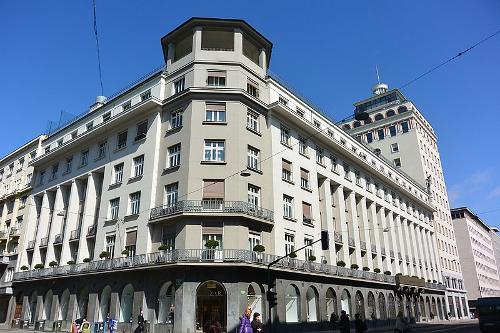 Bank of SloveniaPhoto: Alois Staudacher CC 2.0 Generic no changes made
All banks are supervised by the Bank of Slovenia, which also fulfills the function of Central Bank. Around 2001, there were 25 banks in Slovenia with a balance sheet total of approximately EUR 14 billion. The market share of the three largest banks has been around 50% for several years now. About 17 companies are active in the Slovenian insurance sector. Foreign companies are not yet very active in the Slovenian insurance market.
Traffic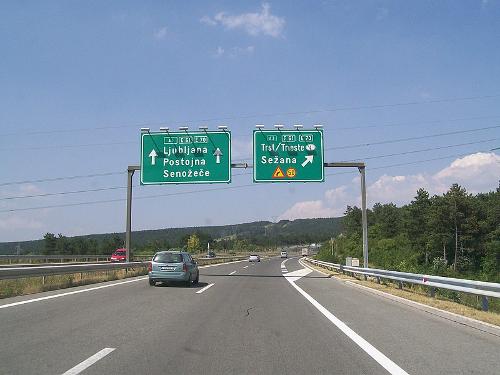 Highway SloveniaPhoto: Kliek CC 4.0 International no changes made
Slovenia has always been well accessible as a transit country. There are even more motorways under construction, particularly to Austria. The Slovenian road network has a length of approximately 18,000 kilometers, of which more than 80% is paved.
After road transport, the railways are the most important form of freight transport in Slovenia. The rail network also mainly has a transit function to Zagreb and Belgrade, although it also connects the main cities domestically. Slovenia has a fairly dense railway network with a length of 1200 kilometers (approx. 500 km electrified). It is an important link in rail traffic between the more southerly part of Europe and Western Europe and between Central and Eastern European countries and Italy. In 2000, the missing part of the direct rail link between Slovenia and Hungary was completed.
Ljubljana, Maribor and Portoroz have an international airport. The largest airport in Slovenia is Aerodrom Ljubljana. Maribor airport is specialized in freight traffic and charter flights with tourists. Portoroz airport is mainly used for passenger transport, sports, tourism and business flights.
The port of Koper is located on Slovenia's short coastline and is an important point of entry for Hungary, Austria and the hinterland. Koper's main competitors are Trieste in Italy and Rijeka in Croatia. Koper has eleven specialized, well-equipped terminals for handling different types of goods.
---
Sources
Buma, H. / Reishandboek Slovenië
Elmar
Derksen, G. / Slovenië, Istrië (Kroatië)
Gottmer
Wilson, N. / Slovenia
Lonely Planet

CIA - World Factbook

BBC - Country Profiles
Last updated April 2023
Copyright: Team
The World of Info