SLOVENIA
Plants and Animals


Cities in SLOVENIA
Plants and Animals
Plants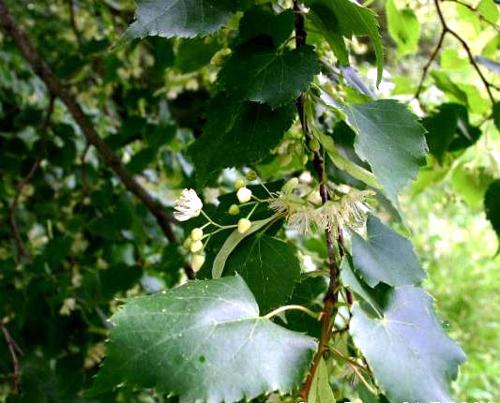 Winter lime, National tree of SloveniaPhoto: Unknown CC 3.0 Unported no changes made
The Slovenian flora consists of approximately 2,900 tree and plant species. Seventy of these species are endemic and only occur in Slovenia, or were first reported here. These varieties are mainly found in the Julian Alps, including the Triglav rose, the Julian poppy, the Carniolic primrose, the Carniola lily, Clusi's gentian and Zois' bell flower.
Approx. 50% of Slovenia is still covered with forests (1 million ha). The lower-lying forests mainly consist of deciduous and coniferous forests with horsetails, ferns and herbs in between. Slovenian deciduous trees are birch, beech, chestnut, poplar and willow. The winter lime is Slovenia's national tree.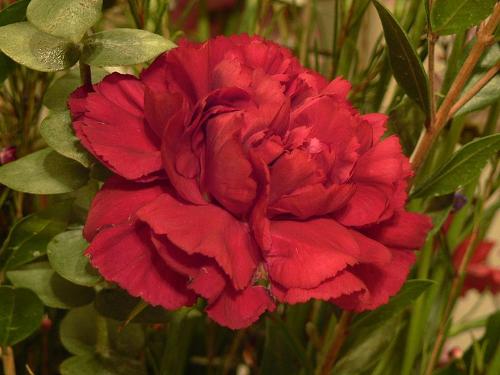 Carnation is the national flower of SloveniaPhoto: Rick Kimpel CC 2.0 Generic no changes made
In the higher areas you will find coniferous forests with, among other things, larches. Above 2000 meters lies the tree line and just below that only a few conifers grow. Palm trees and olive trees are found on the warm Adriatic coast.
In the mountains mainly alpine flora is found. In the rest of the country, cowslip, poppy, snowball, bellflower, violet and sedge are common flower types. Slovenia's national flower is the carnation.
Animals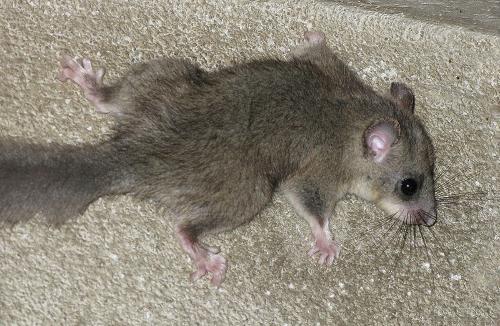 Dormouse, SloveniaPhoto: Michael Hanselmann CC 3.0 Unported no changes made
Well-known animals are chamois, ibex, marmot, hare, rabbit, ptarmigan, partridge and pheasant. Not so often seen are the fox, the weasel and the badger. Dangerous guests include lynxes, wolves, wild boars and brown bears, which are increasingly common.
The dormouse or dormouse is a cross between a squirrel and a mouse in appearance. The animal hibernates for seven months and feeds on seeds, nuts, berries and insects. It is a delicacy for Slovenians. The larger variant Glis glis is mainly found in Slovenia.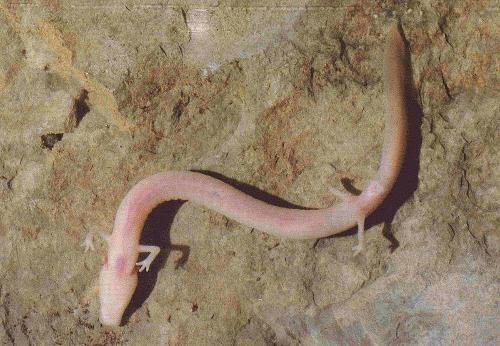 Proteus Anguinus, SloveniaPhoto: Gzen92 CC 4.0 Internationaal no changes made
Special are the rare cave hedgehog and the blind, white to pale pink Proteus anguinus, a cave salamander that is unique to Slovenia, it is not without reason that this is the national animal of Slovenia next to the Lipizzaner horse, and only occurs in the Karst area. This cave amphibian is also known as elm or cave olm and the Slovenes call it "moèeril". This animal is not related to other amphibians and can go without food for years. A black variant was also discovered in 1990.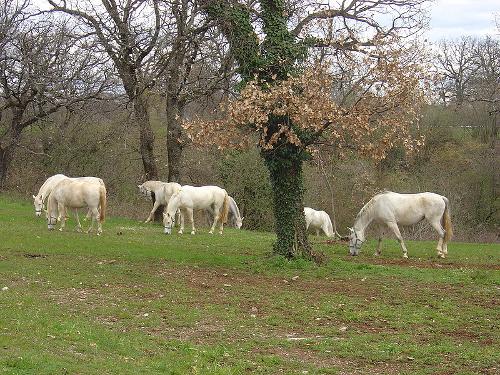 Lipizzan horses, SloveniaPhoto: Husond CC 4.0 International no changes made
Common birds such as heron, golden eagle, hoopoe, roller, black grouse, and migratory birds such as wild goose and mallard duck. The stork breeds from March to September and is mainly found in the Pomurje.
Lipica horses have been bred in the world-famous Lipica Stud since 1580. The Lipizzan was initially a cross between Andalusian horses and a local breed. A few centuries later, this new breed was crossed with white arabs, creating the well-known white fungi.
Triglavski narodni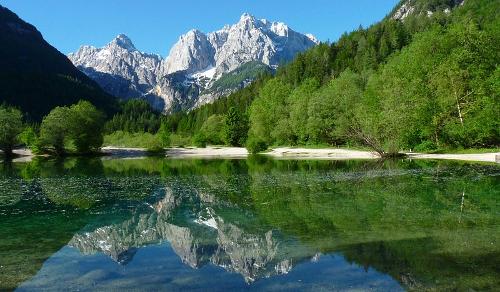 Triglavski Narodni national park, SloveniaPhoto: Se90 CC 3.0 Unported no changes made
Triglavski Narodni (approx. 84,000 ha) is a national park with mountains, valleys, waterfalls, glaciers, lakes and streams and covers almost the entire Julian Alps. In addition to Slovenia's highest mountain, the Triglav, this area also contains the Danjavec, the Rjavina and the Plaski Vogel.
Endemic plant and animal species here include the Soca trout, a particular beetle species, the Julian poppy and the butterfly species Erebia styx trentae.
Sources
Buma, H. / Reishandboek Slovenië
Elmar
Derksen, G. / Slovenië, Istrië (Kroatië)
Gottmer
Wilson, N. / Slovenia
Lonely Planet

CIA - World Factbook

BBC - Country Profiles
Last updated November 2022
Copyright: Team
The World of Info