SLOVENIA
Climate and Weather


Cities in SLOVENIA
Climate and Weather
Except on the Adriatic coast, Slovenia has a Central European, weak continental climate. A narrow strip on the coast has a Mediterranean climate with warm summers and relatively mild winters. It is certainly not mild in winter when the dreaded strong northeasterly wind, the "burja", blows.
The rest of the country has a continental climate with mild to hot summers and, especially in the mountains, cold winters. The number of hours of sunshine varies from 1700 hours in Ljubljana to 2300 hours in Portorož.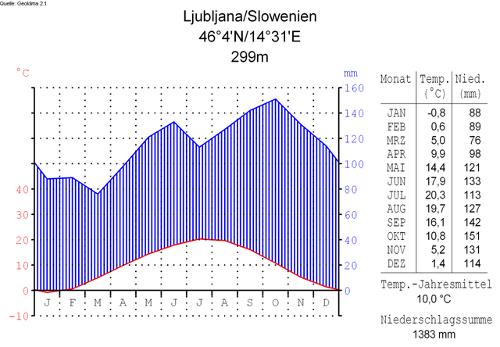 Climate Ljubljana, SloveniaPhoto: Hedwig in WashingtonCC 3.0 Unported no changes made
Average annual rainfall is 1200–1400 mm. Most precipitation falls in the mountainous northwest (approx. 3000 mm per year, in winter usually in the form of snow), the least in the east, in the Prekmurje (800 mm per year). Most rain falls in the months of October and November, but a lot of precipitation can also fall in May and June. January and February are the driest months.
Inland temperatures can range from -20°C in winter for the mountainous areas to 35°C in summer in the eastern plains and valleys. The average temperature for all of Slovenia is 21°C in August and -2°C in January. On the coast, the average July temperature is 24°C.
Sources
Buma, H. / Reishandboek Slovenië
Elmar
Derksen, G. / Slovenië, Istrië (Kroatië)
Gottmer
Wilson, N. / Slovenia
Lonely Planet

CIA - World Factbook

BBC - Country Profiles
Last updated November 2022
Copyright: Team
The World of Info