SLOVENIA
Population


Cities in SLOVENIA
Population
Slovenia had 1,972,126 inhabitants in 2017 and the population density was approximately 97 inhabitants per km2. Approx. 83% of the population consists of Slovenes. In the west, especially in the coastal towns, there is an Italian minority (approx. 3000 persons), while in the extreme north-east, near the border with Hungary, in Prekmurje, a Hungarian minority lives (approx. 9000 persons). These minorities are the only recognized and legally protected minorities and have a representative in the National Assembly. Other population groups are Croats (1.8%), Serbs (2%), Bosniaks (1.1%) and Macedonians. These groups have sometimes been working in Slovenia for decades as labor immigrants or are recent refugees from other parts of the former Yugoslavia. After independence in 1991, these labor immigrants were given the choice of whether or not to become a Slovenian citizen. Descendants of German immigrants mainly live in Kocevje in the south of Slovenia.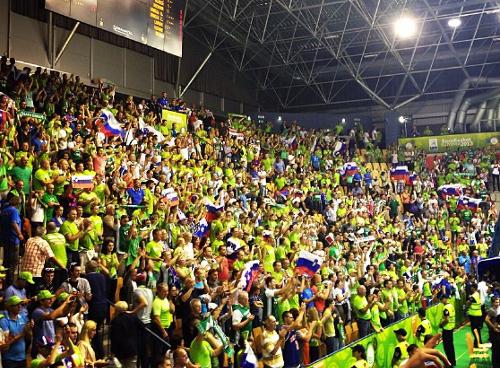 Slovenian Basketball FansPhoto: Gremi35 CC 3.0 Unported no changes made
Slovenian minorities live in Italy (approx. 50,000), Hungary (approx. 5,000) and Austria (approx. 15,000) and around 400,000 descendants of Slovenian immigrants live in the rest of the world. A large majority of these immigrants live in the United States and Canada. Cleveland in the United States is the largest "Slovenian" city outside of Slovenia.
Approx. 55% of the total population lives in cities.
The largest cities in Slovenia are: Ljubljana with 286,900 inhabitants and Maribor with 110,000 inhabitants
Since the mid-1990s, the population has been declining due to the declining birth rate. The situation has stabilized since 1998, but in 2017 there was again a natural population decline of -0.31%. Furthermore, the population will continue to age; the number of people over 65 is likely to increase from 15% in 1999 to 26% in 2025. Currently (2018) the counter stands at almost 20%
Some figures:
Natural population growth -0.31% (2017).
Births (per 1000 inhabitants) 8.2 (2017).
Mortality (per 1000 inhabitants) 11.6 (2017).
Life expectancy total population 78.3 - women 82.2 - men 74.8 years (2017).
Slovenia's population pyramid is more like that of Western European countries than that of other southern Balkan states. This means that the aging population is increasing, as can be seen from the comparison below.
Population by age in 2017:
0-14 years 13.3%
15-64 years 67.2%
65+ 19.5%
---
Sources
Buma, H. / Reishandboek Slovenië
Elmar
Derksen, G. / Slovenië, Istrië (Kroatië)
Gottmer
Wilson, N. / Slovenia
Lonely Planet

CIA - World Factbook

BBC - Country Profiles
Last updated August 2023
Copyright: Team
The World of Info