AUSTRIA



Cities in AUSTRIA
Geography and Landscape
Geography
Austria (officially: Republik Österreich) is a federal republic and is located in the center of Europe. It has land borders with Switzerland and Liechtenstein to the west, Hungary to the east, Slovenia and Italy to the south, and Germany, the Czech Republic and Slovakia to the north. A quarter of the surface of Austria is low and hilly. The rest belongs to the middle and high mountains. The highest peaks reach a height of almost 4000 meters. The highest mountain is the Grossglockner, almost 3800 meters. Much of the country is occupied by the Eastern Alps.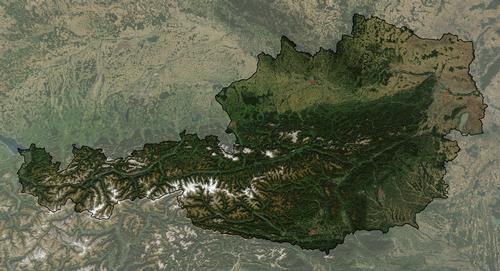 Austria Satellite photo:NASAPhoto: Public domain
Landscape
To the east the mountains descend to the hilly country of the Vienna Woods and to the lowlands. The Alpine foreland runs from the northern edge of the Alps to the capital Vienna. It is an area with ridges, forests, meadows and wide valleys. Eastern Austria consists of plains and hills. Under the influence of the weather and the flora and fauna, the Alps are eroding and a landscape with high peaks and deep valleys is created. Snow avalanches are a recurring phenomenon every year and cost a lot of victims. In the winter and in the spring when the snow starts to melt, the chance of snow avalanches is greatest.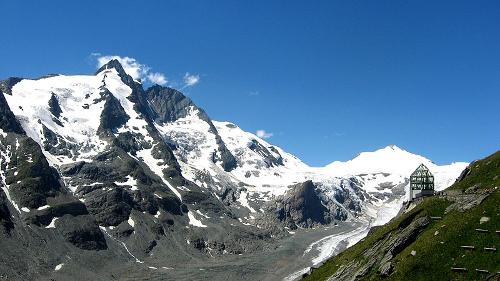 Grossglockner, AustriaPhoto: Michieliosios CC 3.0 Unported no changes made
Glaciers are slow-flowing ice and snow rivers. The speed at which glaciers can move in the Alps is 30 to 150 meters per year. Austria has about 2000 Alpine glaciers. Austria's main river, the Danube, flows on Austrian soil for about 350 kilometers.
Austria has about 90 lakes. The Traun basin in particular is rich in lakes, including the Attersee, Austria's largest Alpine lake.
---
Sources
Bendien, M. / Midden-Oostenrijk
ANWB media
Europese Unie
Europees Platform voor het Nederlandse Onderwijs
O'Bryan, L. / Oostenrijk
Gottmer
CIA - World Factbook
BBC - Country Profiles
Last updated November 2023
Copyright: Team
The World of Info