SLOVENIA
Society


Cities in SLOVENIA
Society
State structure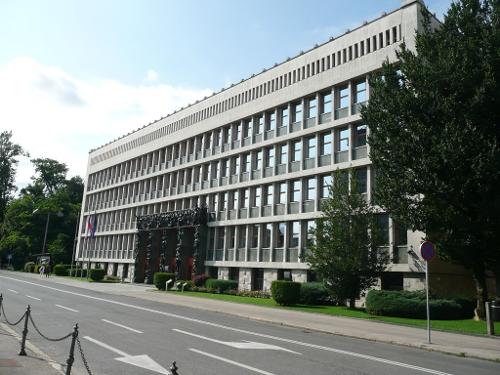 Parliament building SloveniaPhoto: Philippe Hässig CC 2.0 no changes made
Slovenia was the northernmost state of the former Socialist Republic of Yugoslavia from 1943 to June 1991. After Tito's death in 1980, the Serbs tried to take power in Yugoslavia. This was for Slovenia in 1989 to demand the right of secession. In June 1991 the independent Republic of Slovenia was unilaterally proclaimed. The Yugoslavs tried by force to keep Slovenia within the Yugoslav Republic, but after only ten days of struggle, the Yugoslavs withdrew from Slovenia and independence was a fact.
The amended 1991 Constitution, which entered into force in December 1992, enshrines Slovenia's independence and sovereignty, as well as the separation of legislative, executive and judicial powers. Legislative power in Slovenia lies with the National Assembly (Državni Zbor; 90 seats) and the State Council (Državni Svet; 40 representatives of interest groups: 22 local interest representatives, 12 members on behalf of employees and employers and six members with non-economic interests) . The State Council has a more limited function than parliament and can only request a reconsideration of legislation. The Slovenian parliament also has two representatives of the Italian and Hungarian minorities. Parliamentary elections are held every four years, presidential elections every five years. The president can be elected for up to two five-year terms.
The president is the head of state, but parliament has control over the military. The president is the commander in chief of the army, but otherwise has a mainly ceremonial function.
The government is headed by a prime minister, who is nominated by the president, but requires the approval of the National Assembly. For the current political situation see chapter history.
Administrative division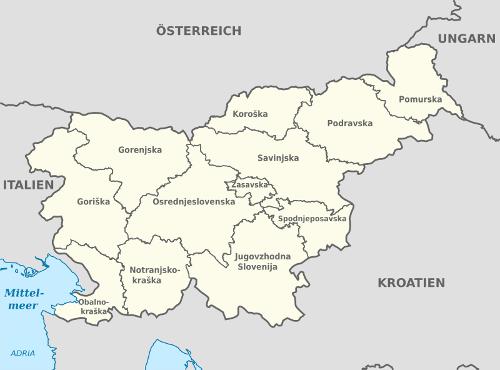 Administrative division of SloveniaPhoto: TUBS CC 3.0 Unported no changes made
Slovenia is divided into 148 municipalities with limited self-government. Much is decided by the central government and financially one is almost completely dependent on the central government.
Slovenia is further divided into 12 regions:
Region capital
Gorensjka Kranj
Goriska Nova Gorica
Obala in Kras Koper
Notranjska Postojna
Osrednja Ljubljana
Dolensjak Novo Mesto
Posavje Krsko
Zasavje Trbovlje
Koroska Slevenj Gradec
Savinjska Celje
Podracje Maribor
Pomurje Murska Sobota
Education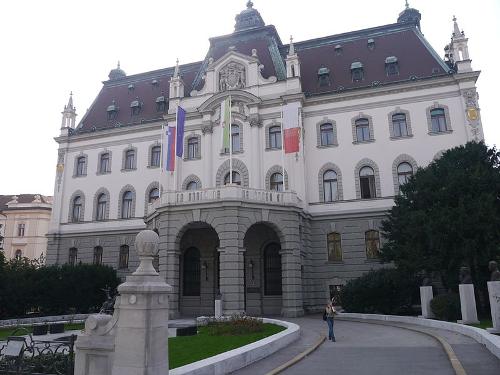 University of Ljubljana, SloveniaPhoto: Jay Galvin CC 2.0 Generic no changes made
The Slovenian population is generally highly educated and less than 1% is illiterate. Primary education (osnovna šola) is compulsory and free up to the age of 15. Secondary education (srednja šola) lasts an average of four years. Some schools train for a profession, for example a nurse; other schools such as the "gimnazije" train students for university. Those who follow a three-year vocational training attend a technical school (poklicna šola). Ethnic Italians and Hungarians can choose whether to be taught in their own language
Slovenia has two universities, the University of Ljubljana and the smaller university in Maribor. In total, approximately 50,000 students study here. An entrance exam is often required to be admitted. Most students attend Ljubljana Economics Faculty and Maribor Engineering Faculty. The university courses last at least four years and can be followed by a doctoral year that is concluded with the writing of a dissertation. Medical courses last approximately seven years.
Healthcare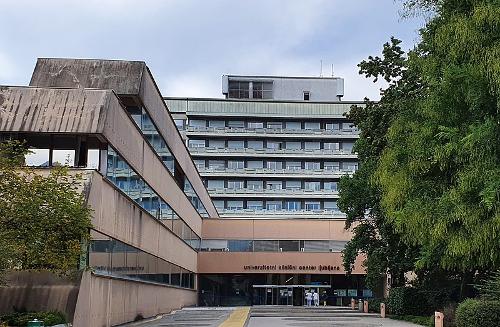 University Hospital in Ljubljana, SloveniaPhoto: Pritlicjelevo CC 4.0 International no changes made
Slovenia has a well-developed healthcare system. In 1999 Slovenia had 26 hospitals, almost all of them operating in the public sector. Fifteen of these were general hospitals. There were a total of nearly 11,000 hospital beds.
In addition, there are approximately 600 outpatient clinics and consultation offices that provide general ambulatory services. There are also approximately 700 specialized outpatient clinics.
In 1999 Slovenia had almost 4500 doctors, of which about 1100 work in general hospitals and about 1250 in health centers. At the time, about 500 doctors worked in private clinics or counseling centers and the rest worked in public health facilities, spas and other specialist facilities.
Dentistry is also at a high level. Even many Austrians make use of dental care in Slovenia. The number of dentists in 1999 was 1,200.
---
Sources
Buma, H. / Reishandboek Slovenië
Elmar
Derksen, G. / Slovenië, Istrië (Kroatië)
Gottmer
Wilson, N. / Slovenia
Lonely Planet

CIA - World Factbook

BBC - Country Profiles
Last updated October 2023
Copyright: Team
The World of Info