FRANCE
Climate and Weather


Cities in FRANCE
Popular destinations FRANCE
Climate and weather
France shows a great variation in climatic conditions, mainly due to the decreasing influence of the Atlantic Ocean to the east, the influence of the Mediterranean Sea in the southeast and the presence of mountains such as the Alps and the Pyrenees. France is generally in the flow of westerly winds and therefore most of the country has a moderate maritime climate. Temperatures are gradually increasing from north to south.
France has four different climates.
Along the coast of the Mediterranean Sea and in the southern part of the Rhone Valley, there is a Mediterranean climate where summers are dry and warm and winters mild and humid. Notorious in the Rhône valley is the mistral, a strong cold wind that blows from the Massif Central through the valley of the river to the Mediterranean Sea. This wind sometimes feeds into a storm because the Rhône valley functions as a draft hole. The least precipitation falls in the southeast: Avignon and Marseille, with 600 mm per year, with a maximum in both spring and autumn, as well as a sharp minimum in July.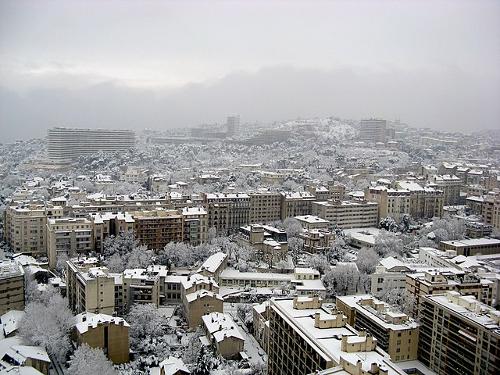 Heavy snowfall in southern Marseille, FrancePhoto: Compo CC 4.0 Internationall no changes made
In the west there is a moderate maritime climate with relatively small differences between summer and winter temperatures. The average annual temperature in this region is 11 °C. Rain falls in all seasons, although autumn has the most rainy days. The annual amount of precipitation is on average more than 1000 mm in many places. Brittany has the most pronounced maritime climate
In the east there is a continental climate with cold winters; the number of frost days is on average 83. In summer the average temperature is 19 °C and there is relatively little rainfall.
In the center of France there is a transitional climate with characteristics of both a sea and a land climate. Compared to the temperate maritime climate, the temperature differences between summer and winter are larger, while the average rainfall is less and is around 650 mm per year.
As a result of the slow heating in the spring and the slow cooling of the seawater in the autumn, the temperature near the coast is often much higher in the autumn than in the spring. Although most of France has a moderate climate, the observed temperature extremes are still far apart: Paris occasionally has maximum temperatures of about 40 ° C and an absolute minimum of -16 ° C.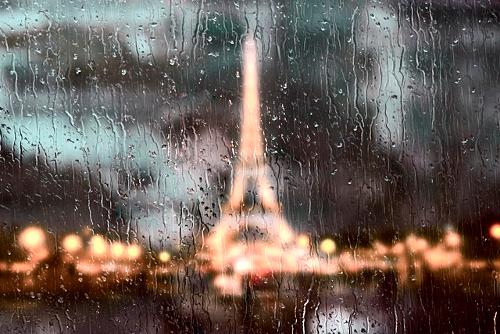 Rainy Paris, FrancePhoto: Domwlive CC 2.0 Generic no changes made
The amount of precipitation is largely determined by the presence of mountains: Biarritz at the foot of the Pyrenees with almost 1500 mm per year and Annecy in the Alps with almost 1300. Significant snow occurs almost exclusively in the mountains: in the Pyrenees lies a layer of snow at 2500 m altitude for more than 200 days a year.
Besides the mistral mentioned earlier, other local winds are the föhn-like autan and the cold northern bise.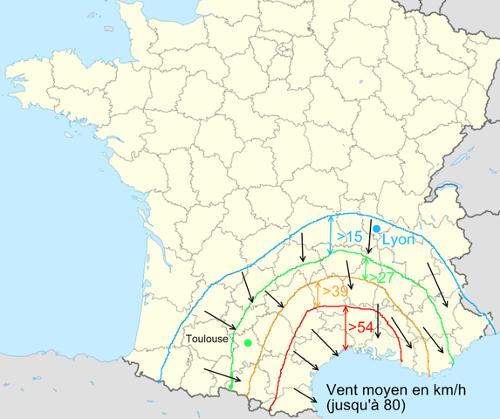 Area where the mistral blows in FrancePhoto: Vi..Cult.. CC 3.0 Unported no change made
---
Sources
Bailey, R. / Frankrijk
Kosmos-Z&K
France
Lonely Planet
Frankrijk
Van Reemst
CIA - World Factbook
BBC - Country Profiles
Last updated August 2023
Copyright: Team
The World of Info