COSTA RICA
Economy


Cities in COSTA RICA
Economy
General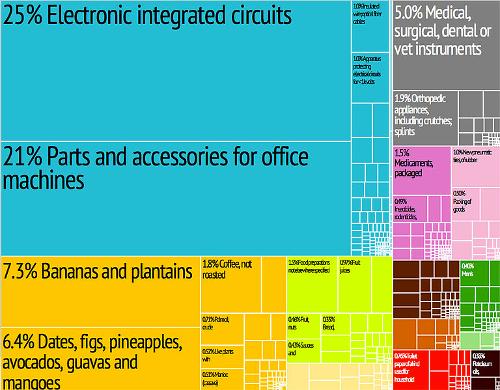 Export Costa RicaPhoto: R Haussman, Cesar Hidalgo, et. al. CC 3.0 no changes made
Costa Rica is the most prosperous country in Central America. The abolition of the army made it possible to invest a lot of money in education and the political calm made the country attractive for foreign investors. Important was the establishment of the American microprocessor manufacturer Intel in 1998. The arrival of Intel led several other high-tech companies to establish themselves in Costa Rica.
Right now, the Costa Rican economy is in a kind of transition phase. Work is in progress to transform the economy based on traditional agricultural products into an economy that makes modern products based on high technology. The service sector, including tourism, has also grown enormously. In fact, tourism is the main source of foreign exchange and provides employment for a large number of Costa Ricans.
As a result, the economy grew strongly from 1998 to 2003, despite a stagnation in 2000 and 2001. In 2003 the economy grew again by 5.6% and in 2004 by more than 4.4%. A trade agreement with the United States will enter into force in 2009, boosting economic growth. In the years 2010 to 2013, the economy will grow at approximately 4% per year, after which growth will slow down somewhat and in 2017 it will be 2.7%
The biggest bottleneck for Costa Rica is still the large financing deficit and the associated outstanding debts, which have been reduced considerably in recent years. The debt is 50% of GDP at the end of 2017.
As is so often the case, only a small part of the population really benefits from increasing prosperity. About a quarter (21.7% in 2017) lives below the poverty line. Although that is not as clear to see in Costa Rica as many other third world countries.
Agricultural sector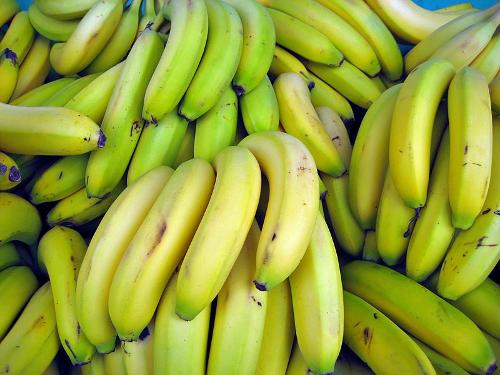 Bananas Costa RicaPhoto:Marlith CC 3.0 Unported no changea made
Until the late 1980s, agriculture was the most important economic sector in Costa Rica. Due to the rise of the high-tech industry, agriculture is only responsible for 5.5% of the gross national product. Approx. 14% of the Costa Rican working population works in agriculture (2017), of which 50,000 in banana production. Thanks to better methods, agricultural production increased by 20%.
Traditionally, the main agricultural products of Costa Rica are bananas, coffee, sugar, cocoa and meat. After Ecuador, Costa Rica is the world's second largest exporter of bananas. Both the banana industry and the coffee industry are under pressure from competition and low world market prices. In Costa Rica, bananas are grown in endless plantations in the Caribbean lowlands.
Coffee cultivation is concentrated in the Valle Central and takes place on relatively small plantations owned by the local population. The harvest is processed by large cooperative coffee roasters.
In order not to depend only on traditional products, efforts have been made since the 1980s to specialize and diversify the range of agricultural products. More and more people are aiming for fruit, specialty coffees and floriculture.
Costa Rican fishermen mainly catch sardines, tuna fish, shark and shrimp. The cultivation of freshwater fish, especially tilapia, is on the rise.
Beef exports have fallen dramatically since its promising beginnings in the 1960s. Livestock farms for meat production are located in the north and northwest of Costa Rica. The livestock sector is in the hands of a small number of powerful farmers with extensive estates with large herds of zebu. The production of milk in the Valle Central is of little importance. Livestock farming had the major disadvantage that large tracts of forest were cut down throughout Costa Rica for grazing land, resulting in extensive soil erosion.
Food and beverage industry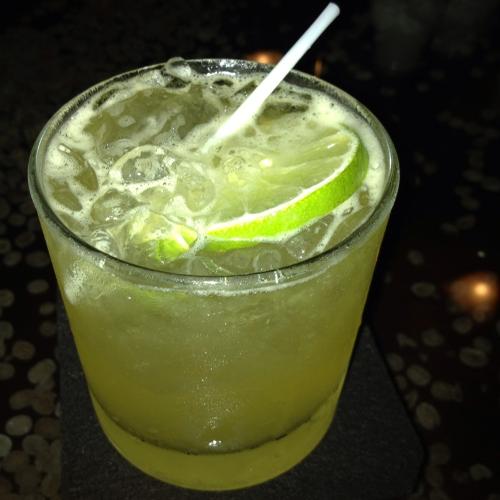 Cocktail with fruit juice Costa RicaPhoto: David Berkowitz CC 2.0 Generic nio changes made
The food sector is very important to the economy of Costa Rica. There are approximately 13,000 companies, which provide approximately 50,000 jobs in small and medium-sized businesses. The main products are dairy, meat, sausage, poultry products and bakery products. The production of tropical fruits, fruit juices, sweets and chocolate is increasing.
The main imports are ice cream, beef, grain, spirits, wine, beer and various non-alcoholic drinks.
Construction, infrastructure and ICT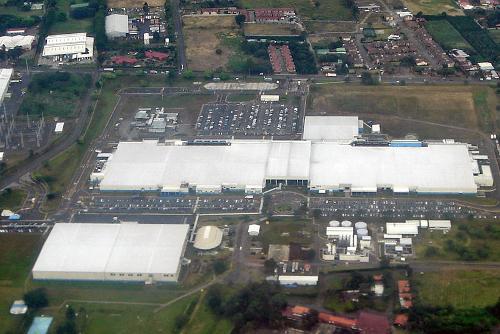 Intel factory in Costa RicaPhoto: Mariordo Mario Roberto Duran Ortiz CC 3.0 no changes made
The construction and infrastructure sector has performed well over the last ten years, both in terms of major infrastructure works and civil construction.
Various infrastructure projects have been started in recent years, including airport works, road works, port works, hospitals and hotels, resorts and restaurants for the tourism sector.
The developments in this sector are also leading to a growth in the demand for machines and equipment. Almost all of these are imported from mainly the United States, but also from Germany, Japan and Brazil. Costa Rica is a fairly large player in the field of ICT, with, among other things, a large Intel factory where microprocessors are manufactured.
Energy supply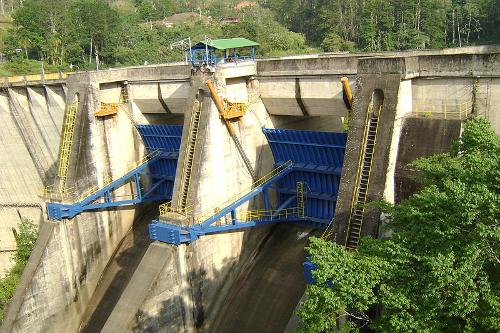 Hydroelectric power station in Costa RicaPhoto: Equesgo16 in the public domain
In the field of energy supply, Costa Rica occupies an important place among the Central American states. Approx. Costa Rica gets 95% of its energy from renewable sources.
By far the most important source of energy in Costa Rica is hydropower; more than 80% of the annual energy requirement is covered by this. New hydropower plants are planned that will generate so much hydropower that Costa Rica can export a large part of the electricity.
Other important sources of energy are geothermal energy from volcanoes and hot springs, wind energy, solar energy and bioenergy.
Traffic and transport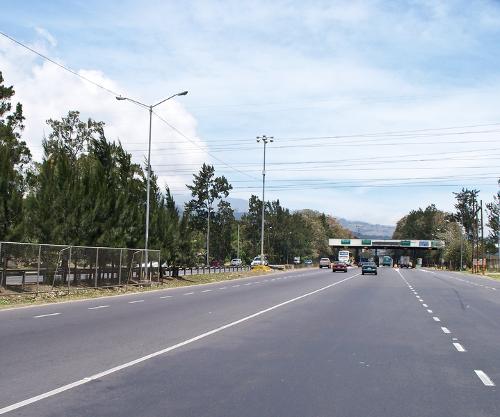 Panamerican Highway in Costa RicaPhoto: Ll1324 in the public domain
The Inter-American highway forms the north-south connection and connects Costa Rica with neighboring Panama and Nicaragua. The road network in itself is quite extensive with approximately 35,000 kilometers, but only 20% is paved. Almost all roads run through the capital San José.
Railways run from San José to the seaports of Puerto Limón on the Caribbean coast and Puntarenas on the Pacific coast. In total, the Costa Rican rail network covers approximately 950 kilometers. However, the rail network is in a very poor condition and freight transport is still limited.
The national airline LACSA flies from Juan Santamaría International Airport near San José to North and Central America and the Caribbean. A second international airport is Daniel Oduber's, located near Liberia in northwestern Costa Rica. Many charter flights depart from here to popular Pacific Ocean beach destinations.
Private companies maintain domestic traffic. In total Costa Rica has about 15 airports.
Costa Rica has four major ports: Puerto Limón, Moín, Puntarenas and Caldera. The first two ports account for approximately 80% of all sea freight.
---
Sources
Daling, T. / Costa Rica : mensen, politiek, economie, cultuur
Koninklijk Instituut voor de Tropen/Novib

Luft, A. / Reishandboek Costa Rica
Elmar

Mays, B. / Costa Rica
Kosmos-Z&K Uitgevers

Müller, B. / Costa Rica
Van Reemst

O´Bryan, L. / Costa Rica
Gottmer/Becht

Te gast in Costa Rica
Informatie Verre Reizen

CIA - World Factbook

BBC - Country Profiles
Last updated November 2023
Copyright: Team
The World of Info