COSTA RICA
Language


Cities in COSTA RICA
Language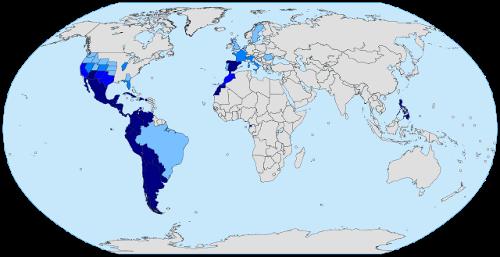 Spanish language mapPhoto: Michael Jester in the public domain
The official language in Costa Rica is Spanish. This Spanish differs considerably in pronunciation, vocabulary and sentence construction from the Spanish on the Iberian Peninsula. Yet it is said that the Costa Ricans, along with the Columbians, speak the most intelligible Spanish in the world.
The Castellano, spoken in Spain, is well understood by the Costa Ricans.
In general, all letters are spoken except the "h". The Costa Ricans very often use diminutives. They use "ico" as the reduction output, so they say "momentico" for "a short moment" (Spanish: momentito).
The remote Indian communities still speak an indigenous language. The most common Indian language is Bribrí. Other Indian languages are Cabecar, Guaymi and Maleko.
On the east coast there are some enclaves where Negro or Pidgin English is the main language. The English spoken on this coast comes from Jamaica and Barbados.
---
Sources
Daling, T. / Costa Rica : mensen, politiek, economie, cultuur
Koninklijk Instituut voor de Tropen/Novib

Luft, A. / Reishandboek Costa Rica
Elmar

Mays, B. / Costa Rica
Kosmos-Z&K Uitgevers

Müller, B. / Costa Rica
Van Reemst

O´Bryan, L. / Costa Rica
Gottmer/Becht

Te gast in Costa Rica
Informatie Verre Reizen

CIA - World Factbook

BBC - Country Profiles
Last updated May 2023
Copyright: Team
The World of Info